I've been waiting over a year to share this recipe with you! At the end of last summer, I developed this ice cream, which is inspired by my all-time favorite dessert from a sweet shop in the city called Sweet Rehab, which combined these same flavors: raspberries, cream, and pistachios. I knew it would translate perfectly as an ice cream, and I'm happy to report I was right!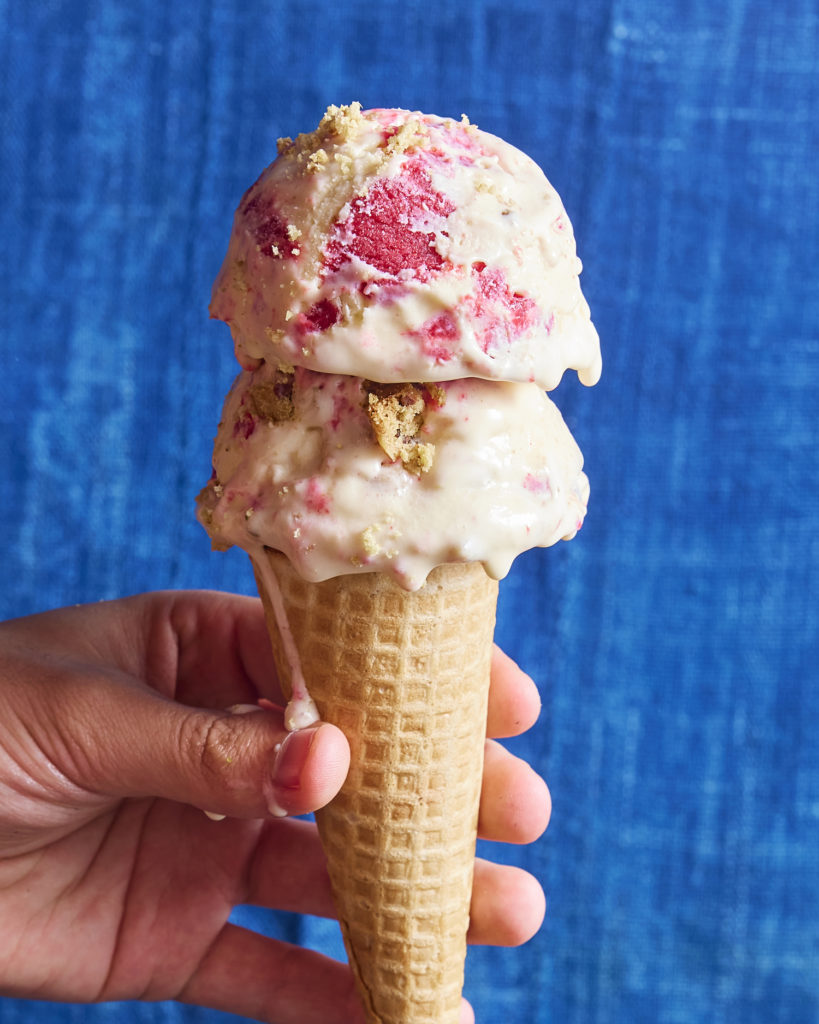 The base is a simple but rich vanilla creme anglaise, so I knew I could have fun with how I incorporated the raspberries and pistachios. I turned the raspberries into a gorgeous, bright sauce so that the sweet and tart flavors can really shine while berries are in season all summer.
With sweet, rich, and tangy flavors covered, I had to go crunchy and salty with the pistachios by turning them into a buttery shortbread cookie. The combination of all three elements is absolutely sublime; this is truly one of those desserts that tastes a beautiful as it looks!
Raspberry Swirl Ice Cream with Salted Pistachio Shortbread
Ingredients
For the Vanilla Ice Cream
1

cup

whole milk

3/4

cup

150g sugar

2

cups

heavy cream

¼

teaspoon

salt

5

large egg yolks

1

teaspoon

vanilla extract
For the Pistachio Shortbread
1 ½

cups

195 grams all purpose flour

3/4

cup

shelled pistachios

¼

cup

50 grams sugar

¼

teaspoon

salt

¾

cup

1 ½ sticks cold, unsalted butter, cubed

½

teaspoon

vanilla extract

1

teaspoon

flaky sea salt
For the Raspberry Swirl
1

pint

raspberries

3-4

tablespoons

sugar

Juice of ½ a lemon

about 2 tablespoons
Instructions
Prepare ice cream machine or bowl according to package directions. (I use a KitchinAid stand mixer attachment.)

In a medium saucepan over medium heat, warm milk, sugar, heavy cream, and salt until scalded (milk should be steaming, with tiny bubbles around the edges, but not simmering). Stir the mixture often to ensure the sugar dissolves and doesn't burn.

While milk heats, in a separate bowl, whisk egg yolks briefly, just to combine. Once milk is scalded, slowly pour about a third of the milk mixture into the yolks, whisking constantly, to temper them. Pour the tempered yolks back into the saucepan, whisking constantly again. Cook the custard, stirring constantly with a rubber spatula, until the mixture thickens and coats the spatula, 7 to 10 minutes. If using an instant read thermometer, the mixture should be around 170ºF.

Strain mixture through a fine mesh sieve into a mixing bowl, then place over a bowl of ice water and whisk to cool. Once mixture feels barely warm or room temperature, usually about 5 minutes later, cover bowl with plastic wrap and place in the refrigerator to chill for at least 4 hours, but preferably overnight.

While custard chills, make the mix-ins.

Preheat oven to 350ºF and grease and line an 8×8 baking pan with parchment.

In a food processor, combine flour, pistachios, sugar, and salt, and mix on low until ingredients are combined and pistachios are roughly chopped, about 1 minute. Add butter and vanilla, and mix again on low until a rough dough forms, 1 to 2 minutes. Scrape down sides of the bowl, then pulse a few times to ensure everything is well combined.

Turn out dough into prepared pan, and use a greased hand or flat-bottomed cup to press the dough into an even layer. Sprinkle with flaky sea salt.

Place in oven and bake until lightly golden brown on top, 20 to 25 minutes.

Remove from oven and cool on a wire rack for 10 minutes, then use parchment paper to remove from pan and cool on the wire rack completely. (It's okay if the shortbread breaks when you take it out since it will be crumbled for the ice cream.)

While shortbread cools, make the raspberry sauce.

In a medium saucepan, heat raspberries, sugar, and lemon juice, stirring often to bread up the raspberries. Bring to a simmer and cook until the raspberries have broken down and released most of their juices, about 5 minutes.

Carefully transfer mixture to a blender and add 2 tablespoons of water. Mix on high until the mixture is smooth, 30 seconds to 1 minute.

Pour raspberry sauce through a fine mesh strainer to remove the seeds, then cover and refrigerate to chill for at least 1 hour.

Once vanilla base is chilled, attach the frozen bowl and start mixer on stir speed. Pour base in slowly. Churn for 20-30 minutes, or until soft serve consistency. (If not using the KitchenAid ice cream attachment, churn ice cream according to your machine manufacturer's instructions.)

In a resealable, airtight container, layer your ingredients, starting with ice cream, then swirls of raspberry sauce, and crumbles of shortbread. (Note that you'll only use about half of the shortbread, and the rest can be used for garnishing or snacking.) I used a quart-sized rectangular tupperware and divided the ingredients roughly into quarters for my layers.

Place the container in the freezer for at least 4 hours to firm up, but preferably overnight.

Homemade ice cream keeps for 2 to 3 weeks in the freezer.
Nutrition