Thanksgiving may have come and gone but delicious desserts are still here! I would bet that you have some leftover cranberry sauce in your fridge right now, and this simple recipe will turn into a beautiful, flavorful tart. (Any cranberry sauce will work, but if you don't have some left over, I have a delicious recipe for one here.) You make a simple pastry packed with warm spices – cinnamon, ginger, and cloves – and mix them with almond flour and butter until they form a shaggy dough. This gets pressed into a tart pan, blind baked until it's toasted, fragrant, and golden brown, and then cooled. All that's left to do is fill it with that vibrant, sweet, tangy cranberry sauce and garnish with sliced orange if you're really feeling fancy. This tart couldn't be easier to make and is an amazing way to eliminate food waste after the holidays!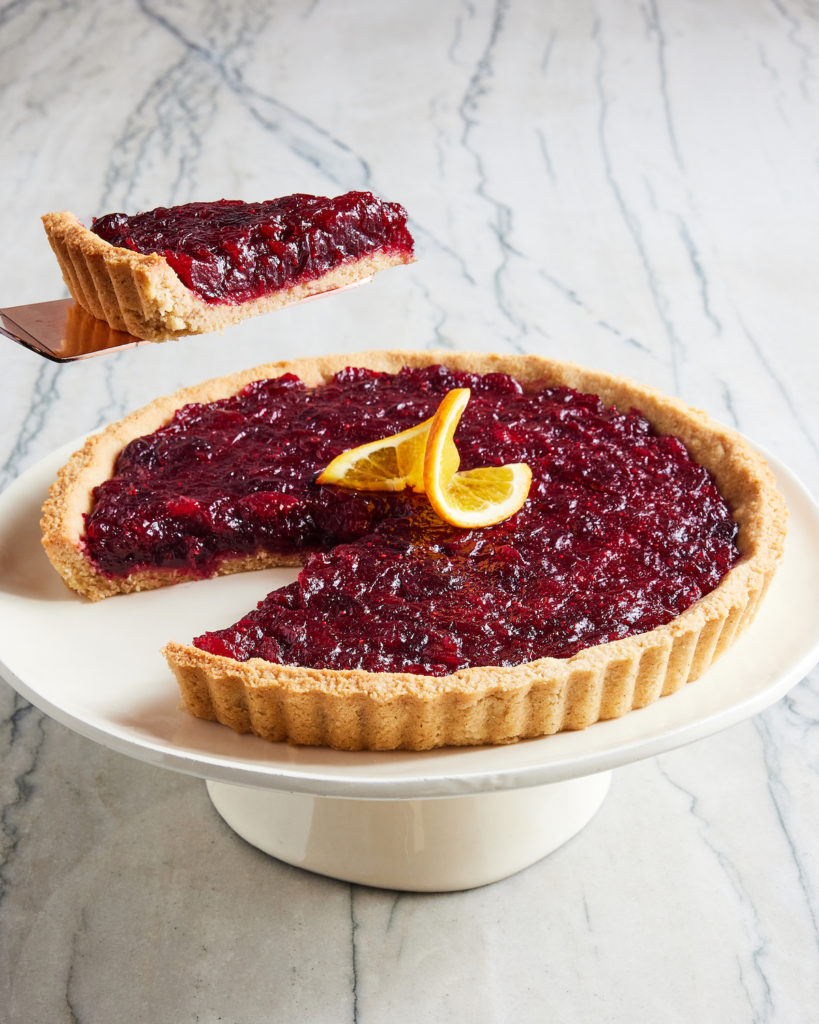 Leftover Cranberry Sauce Tart
Ingredients
2

cups

cranberry sauce

cooled

2

cups

224 grams almond flour

½

cup

60 grams powdered sugar, sifted

1/4

teaspoon

salt

1

teaspoon

cinnamon

¼

teaspoon

ground ginger

⅛

teaspoon

cloves

1

stick

½ cup unsalted butter, at room temperature
Instructions
In a stand mixer fitted with a paddle attachment, mix dry ingredients on low until evenly combined. Add butter and increase speed to medium until mixture comes together into a shaggy dough.

Transfer dough to a tart pan and use clean hands or a flat-bottomed glass to press into an even layer across the bottom and up the sides. Trim any overhang for a clean edge and then freeze for 20 minutes.

Preheat oven to 350°F while dough chills.

Remove from freezer and use a fork to dock the bottom of the dough evenly. Place in oven and bake for 15 minutes to 20 minutes, or until golden brown and dry to the touch.

Remove from oven and cool completely on a wire rack. Once cool, fill with cranberry sauce and spread into an even layer.

Garnish with orange slices if desired and serve.