Making a Classic South Indian Breakfast

I hope at this point, my deep love and appreciation for Indian food is known far and wide. However, most of my experience is with the rich, creamy curries of Northern India! With that in mind, I wanted to give some serious love to the other areas of this beautiful country. I turned to the southern area of India, known for incorporating coconut, lemongrass, curry leaves, and tamarind to pack tons of flavor into their food!
To echo those flavors, I start out with sambar, a tangy, bright soup, then blitz together a creamy coconut chutney to serve on the side and finish it all off with a classic mixed vegetable uttapam.
Sambar
Cook Time
1 hour, 20 minutes
Total Time
2 hours, 5 minutes
Ingredients
For the Dal
½ cup toor dal (pigeon pea lentils)
½ teaspoon turmeric
Kosher salt, to taste
For the Sambar
2 tablespoons vegetable oil
½ teaspoon black mustard seeds
6 curry leaves
1 dried Kashmiri chili
½ medium yellow onion, medium dice (about 1 cup)
1 plum tomato, medium dice
1 small carrot, medium dice (about ¼ cup)
1 small Russet potato, peeled and medium dice (about 1 cup)
3-4 okra, cut into 2 inch pieces (optional) (about ½ cup)
2 teaspoons tamarind concentrate
1 ½ teaspoons brown sugar
½ teaspoon turmeric
½ teaspoon chili powder
½ teaspoon coriander
½ teaspoon cumin
Chopped cilantro, for garnish
Instructions
In a medium sauce pot, add toor dal and rinse with cold water. Drain and repeat several times until the water runs clear.
To the same pot over high heat, add 3 cups of water, turmeric and salt. Bring to a boil, then reduce heat to a simmer, cooking for about 30 minutes, or until dal is soft. Remove from heat and transfer ⅓ cup of lentils to a small bowl and set aside. Add remaining dal to a food processor or blender and process until a smooth consistency is formed. Reserve both.
About 15 minutes into the dal cooking, start the sambar.
In a large pot over medium low heat, add vegetable oil and allow to heat for 1 minute, or until the oil begins lightly shimmering. Then add black mustard seeds, curry leaves and dried chillies, cook for 1 minute, or until sizzling and aromatic (be careful, as the curry leaves will pop and sputter). Add onions, cook for 4-5 minutes, or until slightly golden brown on the edges. Add tomato, carrot, potato and okra to the pot. Cook for 5-6 minutes, or until lightly browned on all sides. Add turmeric, chili powder, coriander and cumin and cook for 1-2 minutes, or until fragrant. Then add 5 cups of water, blended and reserved lentils, tamarind and brown sugar and cook for an additional 40 minutes, or until reduced and thickened.
Serve garnished with cilantro.
© 2022 Eitan Bernath Productions, LLC.
Ingredients
For the Coconut Puree
1 ½ cups grated coconut (desiccated or fresh)
1 Thai green chili
½ inch piece of ginger
½ teaspoon kosher salt
For Tadka
1 tablespoon vegetable oil
1 teaspoon black mustard seeds
1 teaspoon cumin seeds
10 curry leaves
3 dried Kashmiri chilis
Instructions
Add coconut, green chili, ginger, salt, and 1 cup water to a blender. Blend until smooth then pour into a bowl.
In a small skillet over medium heat, add oil. Once barely shimmering, add black mustard seeds, cumin seeds, curry leaves, and dried red chilies. Fry for 30-45 seconds then pour on top of the coconut puree. Stir to combine then store in an airtight container for up to 1 week.
© 2022 Eitan Bernath Productions, LLC.
Ingredients
½ cup chopped red onion (about ½ medium onion)
1 medium tomato (about ½ cup chopped)
½ cup chopped green bell pepper (about ⅓ green bell pepper)
2 tablespoons chopped cilantro
1 tablespoon diced green chili, such as Indian green chili or serrano
1 tablespoon cumin seeds
Vegetable oil, for greasing
2 cups store bought dosa or idli batter
Kosher salt, to taste
Instructions
In a small bowl mix onion, tomato, bell pepper, cilantro, green chili and cumin until fully combined. Set aside.
To a large nonstick skillet or Indian tawa over medium heat, add 2 teaspoons vegetable oil. Once oil is shimmering, add ⅓ cup of batter to the skillet and gently spread the batter to 6-8 inches wide. Immediately sprinkle ¼ cup of vegetable mixture on top.
Cook for about 1 ½ minutes, or until bottom is lightly golden brown, then flip and cook for an additional 1 ½ minutes, or until the other side is lightly golden brown. Remove from skillet, transfer to a plate, then season with salt. Repeat with remaining batter and vegetables. Serve immediately with dal and chutney.
© 2022 Eitan Bernath Productions, LLC.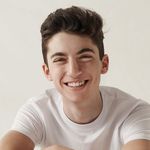 Eitan Bernath
Eitan Bernath is a chef, food & lifestyle content creator, entertainer, TV personality, and entrepreneur, best known for his viral videos on social media that showcase his cooking expertise and captivating personality.