I call Wild Mushroom Risotto my mental health dinner. It's therapeutic and relaxing to cook PLUS it makes me happy while I'm eating it. I've done weekly therapy on Monday nights after work and have had a tradition of either taking myself out to dinner or cooking myself something a little special at home. Risotto is one of my favorite because its a great opportunity to put down your phone and get lost in the endless string and mouthwatering aromas.
Remember to take some time by yourself to enjoy good food, to be alone in your own thoughts, and check in with yourself because you're kinda stuck with you, every day, so might as well be your own best freind!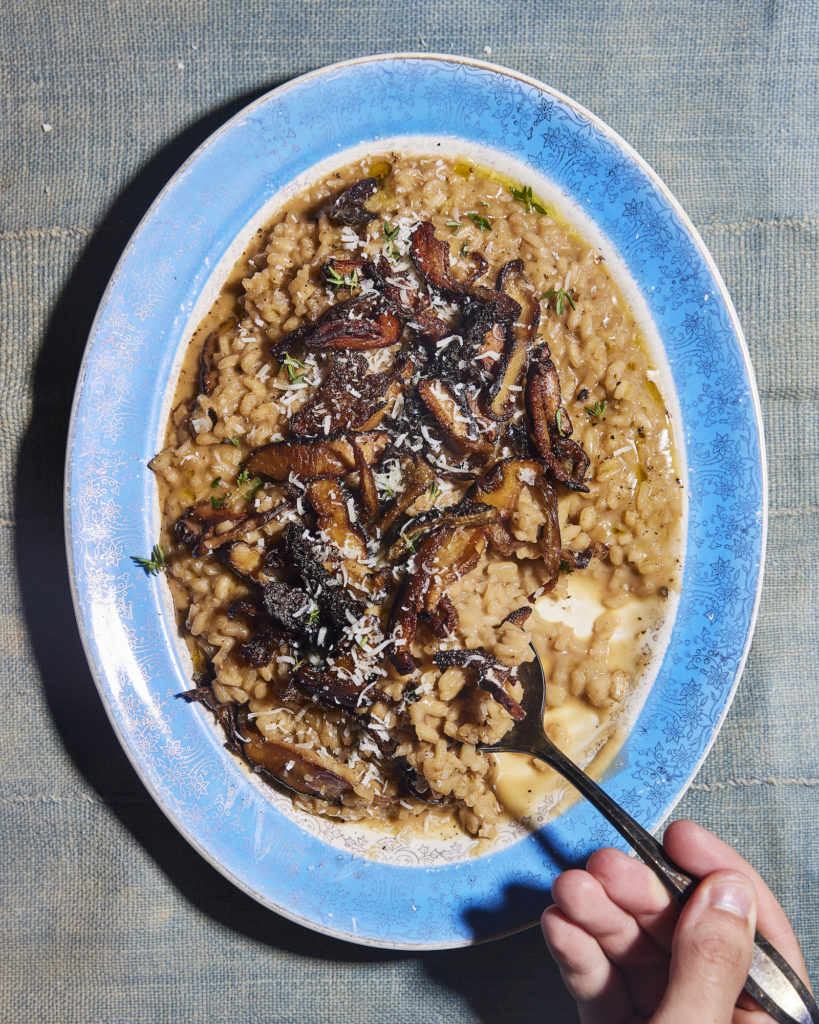 Wild Mushroom Thyme Risotto
Ingredients
4

cups

vegetable broth

(I used mushroom broth)

10

tbsp

extra virgin olive oil

12

oz

fresh wild mushrooms, sliced

1

large shallot, minced

3

garlic cloves, minced

1

tbsp

fresh minced thyme, plus more for garnish

1.5

cups

arborio rice

1

cup

white wine

.5

cup

grated parmesan cheese

plus additional for serving

.25

cup

mascarpone cheese

Kosher salt, to taste

Freshly ground black pepper, to taste
Instructions
In a medium pot, bring the broth to a simmer over low heat.

Heat 3 tablespoons of olive oil in a medium pot over medium heat. Add in half the mushrooms and sauté until tender and beginning to brown, 8-10 minutes. Using a slotted spoon, transfer the cooked mushrooms to a bowl, leaving the leftover oil in the pan, repeat with remaining mushrooms.

Into the same pan, add remaining 2 tablespoons of olive oil, shallot, thyme, garlic, and a pinch of salt. Cook until the shallots begin to soften, about 4 minutes. Add in the rice and cook for 2 minutes, stirring often, until the edges are translucent and the rice starts to smell nutty. Pour in the white wine to deglaze the pan and simmer, continually stirring, until the wine has reduced by half, about 1 minute.

Begin adding the simmering broth, one 3/4 cup at a time, stirring occasionally, until the rice has absorbed most of the liquid. Continue adding broth until the rice is al dente and creamy. After 25-30 minutes start tasting the rice to check it's doneness, it should be tender, but with a slight bite left to it.

Once fully cooked, remove from heat and add in the grated Parmesan cheese and mascarpone and stir until fully melted and combined. Add in the cooked mushrooms and stir to combine. Season with salt and freshly ground pepper. Top with grated parmesan and a drizzle of extra virgin olive oil.

Serve the risotto immediately.