Snickerdoodles are one of my favorites cookies of all time and that's because I absolutely love cinnamon, especially in desserts. When I set out to make these cookies, I knew I couldn't do another, average snickerdoodle cookie. Who needs that when there are already so many great ones on the internet? I decided to go big or go home! You know those cookies you see in bakeries that are almost the size of your face? The kind of cookie you may just want to eat one of? A cookie that you might say is substantial or gigantic? The grandfather of all cookies? That is THIS SNICKERDOODLE! The only baking tip I have for it is to make sure you use cream of tartar for the classic, snickerdoodle texture. A fun fact about me is that when I was a kid, I decided I didn't believe in cream of tartar and would fully ignore it in any recipe it was in. Now that I'm older, I understand that it has an actual chemical purpose in baking, and I never skip it. If for some reason, you don't believe in cream of tartar either, let this recipe be the one to change your mind!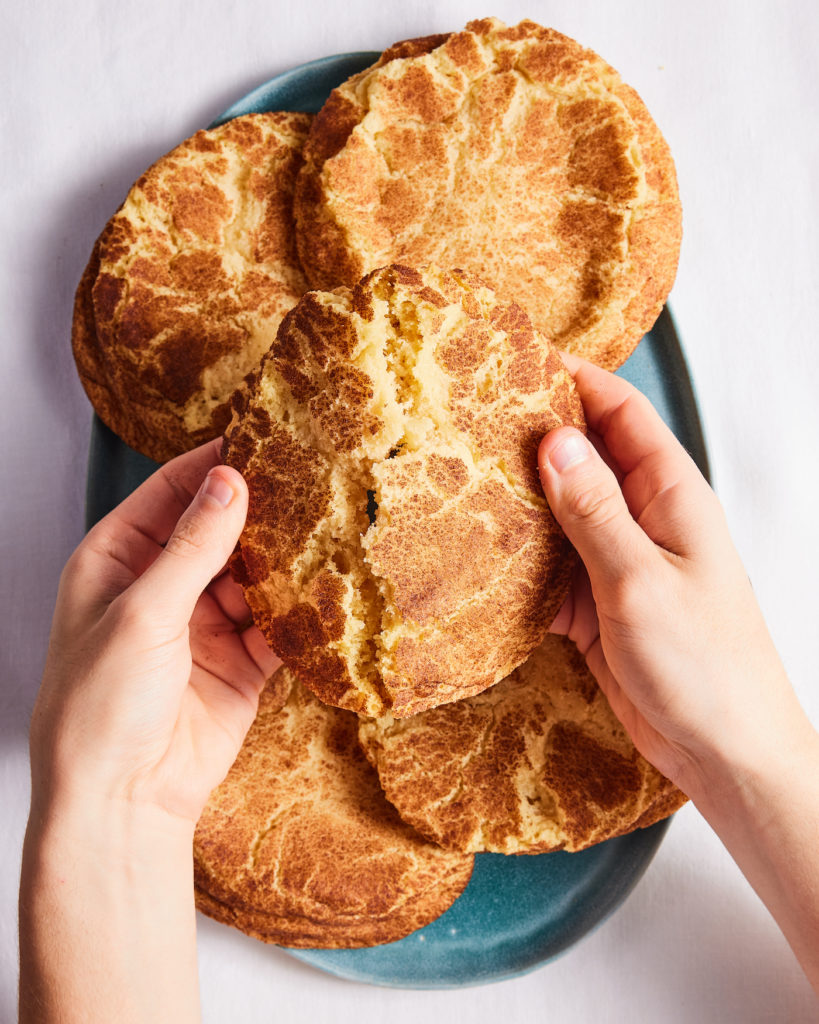 Jumbo Bakery-Style Snickerdoodles
WHAT YOU'LL NEED
For the Dough
2 ¾

cups

330 grams all-purpose flour

2

teaspoons

cream of tartar

1

teaspoon

baking soda

½

teaspoon

salt

½

cup

1 stick butter, room temperature

½

cup

vegetable shortening

1 ½

cups

300 grams sugar

2

eggs

room temperature

1

tablespoon

vanilla extract
For the Cinnamon Sugar Coating
2

tablespoons

sugar

2

teaspoons

ground cinnamon
Instructions
In a medium bowl, add flour, cream of tartar, baking soda, and salt, and whisk to combine.

In the bowl of a stand mixer fitted with a paddle attachment, add butter, shortening, and sugar. Mix on medium high until well combined, and light and fluffy, 3-4 minutes. Scrape down sides of bowl, then add eggs and vanilla, and mix on medium until well combined, about 1 minute. Add dry ingredients and mix on low until just combined, 30 seconds or so.

Scoop ½ cup portions of dough, roll into balls, and place on a sheet pan lined with parchment paper. (Balls can be close together at this stage.)

Mix 2 tablespoons sugar and cinnamon together. Roll balls of dough in mixture until well coated then place back on pan. Place in refrigerator for 1 hour uncovered, or up to 24 hours covered.

Preheat oven to 350°F convection (375°F standard) and line 2 more sheet pans with parchment paper. (If you don't have 3 sheet pans or 3 racks in your oven, bake cookies in batches.)

Remove dough from refrigerator and evenly space 3 dough balls on each prepared pan. Bake for 17 minutes, or until edges are barely golden and center is puffed. If baking in a standard oven, rotate cookies, front to back and top and bottom racks, halfway through baking time.

Carefully remove from baking sheets immediately and cool on a wire rack. If needed, repeat with remaining dough until all cookies are baked.
Tried this recipe?
Tag %eitan% on Instagram!