Deviled eggs are one of my all-time favorite foods to make for entertaining! They may be small in size, but they are PACKED with flavor and they come together in no time. Deviled eggs also make for a nice, filling starter; they're more substantial than a vegetable or salad before a meal, so if one of your guests arrives hangry, rest assured this appetizer will tide them over until dinner is served.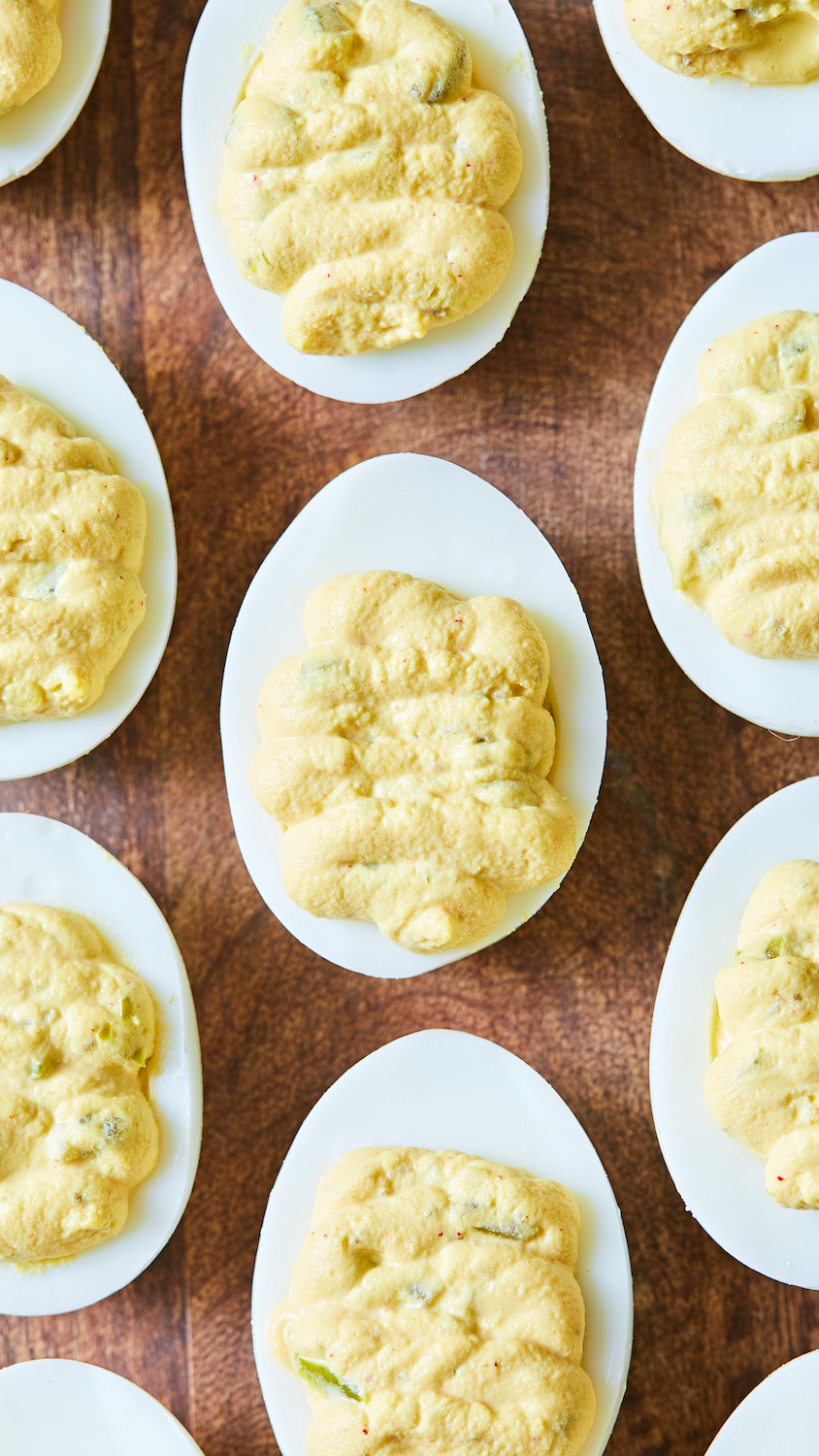 I originally developed this recipe when I was much younger, back in 2015. Since then, I've upgraded and adapted the recipe to my favorite version here! Speaking of adaptations, let me just say: most deviled eggs are really boring, with the same old ingredients every single time. My recipe REALLY spices it up, with pickled jalapeños for heat, sour cream and Dijon mustard for depth of flavor and tang, and all topped with a sprinkled of smoked paprika in place of the usual sweet paprika. When everything gets mixed together, you're left with a creamy, smoky, spicy, flavorful deviled egg, with little bursts of heat throughout from the jalapeños. No one will skip the deviled egg tray when you serve these at your next party; it's an absolutely delicious bite!
---
1. What if I don't like spicy food?
It's so easy to adjust the heat in this recipe. Reduce the amount of jalapeño to suit your taste, and if you don't like heat at all, you can omit them entirely! The sour cream, garlic powder, Dijon mustard, and smoked paprika will still give you tons of flavor and a delicious bite.
---
2. Sour cream in a deviled egg?
While the usual store bought mayo lends lots of creamy goodness to a deviled egg, it lacks big flavor. The addition of sour cream solves this problem, with a richer, tangier flavor that really takes these eggs over the top.
---
3. Egg Peeling 101
Peeling hard boiled eggs can be tricky, so here are a few things I do that help them come out beautifully every time: 1. Immediately rinse your eggs under cold water or place in an ice bath after boiling. 2. Make sure to crack the shell well at the wider, "bottom" end of the egg; this is where the air pocket is inside, and the easiest place to start peeling. 3. Peel your eggs in a bowl of water; you can easily wash off the shell to see what's left, and the water will seep between the shell and the egg, helping you peel faster.
Pickled Jalapeño Deviled Eggs
WHAT YOU'LL NEED
1

dozen large eggs

¼

cup

mayonnaise

2

tablespoons

sour cream or crème fraîche

1

teaspoon

Dijon mustard

2

tablespoons

pickled jalapeño peppers

plus more for garnish

2

tablespoons

pickled jalapeño juice

¼

teaspoon

garlic powder

¼

teaspoon

smoked paprika

plus more for garnish

Kosher salt

to taste

Freshly cracked black pepper

to taste
Instructions
In a Dutch oven, or large sauce pot, fill halfway with water and bring to a boil. While water is coming to a boil, add eggs to a large mixing bowl and cover with warm water. This will bring the eggs up to room temperature, which helps prevent cracking during cooking process.

Once water has come to a boil, gently add eggs into water with a spider or large slotted spoon. Boil for 12 minutes. While eggs are cooking, prepare an ice bath. In the same large mixing bowl, discard warm water and add enough cold water and ice to cover eggs.

When eggs have finished cooking, remove from pot into ice bath and allow to cool completely. Then peel and slice in half lengthwise.

Add yolks to bowl of a food processor and transfer egg whites to a large serving tray and refrigerate until ready to use.

Process egg yolks until a fine crumble has formed, about 15 seconds. Then add mayonnaise, sour cream, Dijon, jalapeños and juice, garlic powder and smoked paprika and process until the mixture is a smooth puree, 30 seconds to 1 minute. Taste and season with salt and pepper, and pulse once more to combine.

Transfer egg yolk mixture to piping bag fitted with tip of your choosing, or large plastic resealable bag. If using a plastic bag, push egg yolk mixture to one corner and cut a small hole in the tip of the bag.

Remove egg whites from refrigerator and pipe enough filling that the mixture rises slightly above the hole in the egg white. Repeat until all egg whites have been filled. Then top each with a small pickled jalapeño slice, sprinkle with smoked paprika and refrigerate until ready to serve.
Nutrition
Calories:
330.75
kcal
Carbohydrates:
2.25
g
Protein:
19.17
g
Fat:
26.67
g
Saturated Fat:
7.06
g
Trans Fat:
0.06
g
Cholesterol:
566.75
mg
Sodium:
414.36
mg
Fiber:
0.41
g
Sugar:
0.99
g
Vitamin A:
257.34
IU
Vitamin C:
6.73
mg
Calcium:
94.97
mg
Iron:
2.76
mg
Tried this recipe?
Tag %eitan% on Instagram!