It's hard to choose the thing I love most about a mezze spread, but if I had to pick, it would be the sheer variety of flavors and textures. The different veggies range from snappy to crunchy, the pita is chewy yet soft, and the dips are everything from super smooth to chunky. The beauty of a mezze platter is that none are exactly alike, but the one thing they have in common is that they're always a symphony of texture and flavor. They are my favorite choice as a starter for any get together, since they're super customizable by nature. Your guests can choose what they like and skip what they don't without having to tell you they don't like something you've served them. Happy guests, happy host!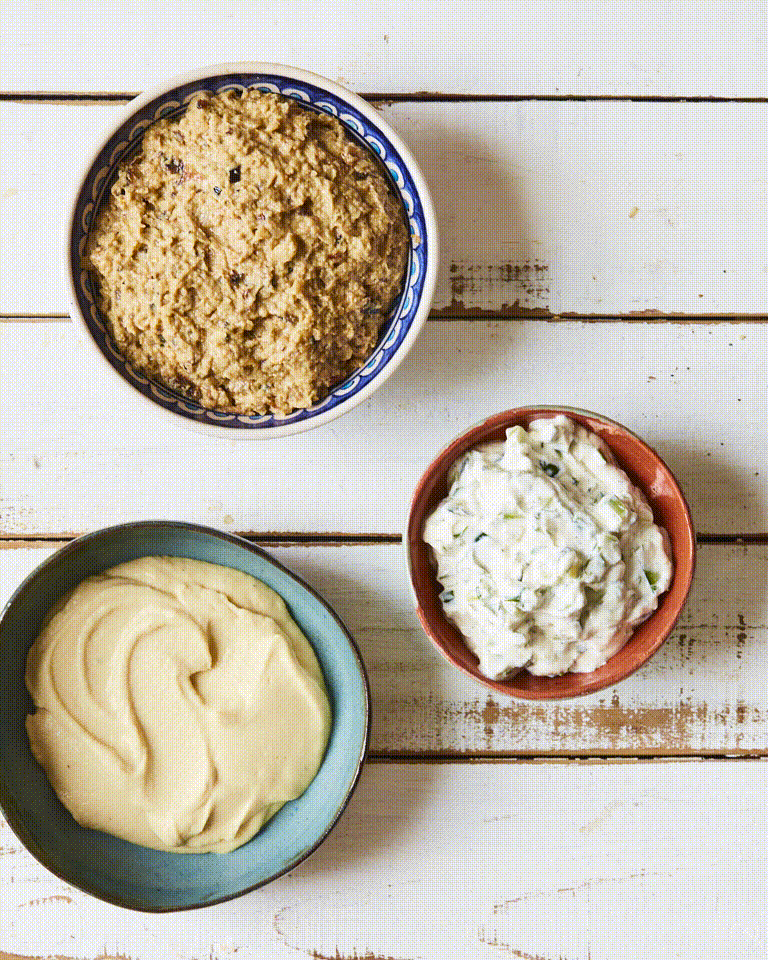 I think the dips are the star of the show here, and first up, we have fava. The word fáva (φάβα) in Greek actually refers to yellow split peas, and the dish itself is known as fava, rather than hummus (thus the translation issue of most assuming fava is made with fava beans!). The yellow split pea is grown everywhere in Greece, but Santorini is most famous for their cultivation. Fava is earthier and much more subtle than hummus, and I think you'll love this classic variation if you've only had the chickpea version. Next, we have tzatziki, which is actually a variation on Indian raita, and ironically, the ONLY two ways I will voluntarily consume yogurt! Tzatziki is garlicky, bright, and herby, and a perfect compliment to anything spicy on your platter. Finally, the baba ghanoush, which is made from roasted, charred eggplant, and lends the dip delicious smokiness and a perfect, velvety texture. It's a great way to try eggplant if you think you don't like it!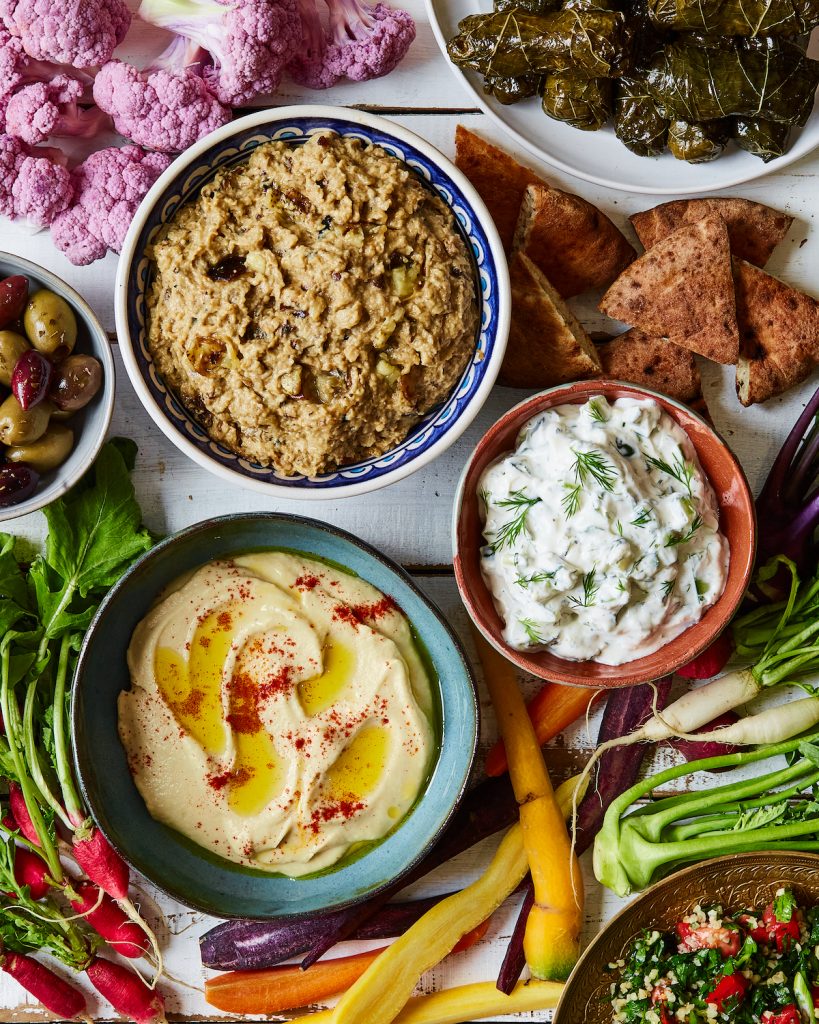 For the accompaniments, I love to add a fresh, herby tabbouleh and classic Greek grape leaves; they meld with the flavors of the platter beautifully but are also delicious all their own. There's such a wide variety of options for mezze that you can't possibly include them all in one platter, so always build yours based off of what you like best or what you have on hand. Some other ideas that would be great here are my Beef Souvlaki Kabobs for some extra protein, or my Homemade Pita Bread, but with these delectable dips, your platter will be a crowd please no matter what!
Greek Mezze Spread
Ingredients
For the Baba Ghanoush
2

medium eggplants

stems and ends trimmed, cut into quarters

Kosher salt

to taste

¼

cup

extra virgin olive oil

plus more for roasting

¼

cup

tahini

3

tablespoons

lemon juice

3

garlic cloves

grated on a microplane or finely minced

Freshly cracked black pepper

to taste

Toasted pita bread

cut into triangles, for serving

Assorted crudite

for serving
For the Chunky Greek Tzatziki
1

cup

Greek yogurt

¾

cup

chopped English cucumber

about ½ cucumber

1

garlic clove

minced

1 1/2

tablespoons

olive oil

1

tablespoon

red wine vinegar

¼

cup

dill

chopped

2

tablespoons

mint

chopped

1/2

lemon

zested and juiced

Kosher salt

to taste

Freshly cracked black pepper

to taste
For the Greek Fáva
½

cup

dried yellow split peas

3

garlic cloves

peeled and smashed

¼

medium red onion

cut into large chunks

¼

cup

olive oil

plus more for serving

¼

teaspoon

ground cumin

Kosher salt

to taste

2

tablespoons

lemon juice

Freshly cracked black pepper

to taste
For Serving
4

pita bread

toasted and cut into triangles

Assorted crudite

carrots, radishes, cauliflower, etc.

Tabbouleh

optional

Grape leaves

optional

Marinated olives

optional
Instructions
For the Baba Ghanoush
Preheat the oven to 450°F. Line a sheet tray with aluminum foil. Add eggplant, cut side down, to sheet tray and generously drizzle with olive oil. Season with salt and roast for 20 minutes. Then flip onto other cut side and continue cooking for 20 minutes, or until the surface of eggplant is lightly blackened and the flesh is soft and dark brown. Remove from the oven and cool to room temperature.

Once eggplant is cooled, scrape flesh onto a large cutting board and discard skins. Roughly chop eggplant, being careful not to cut it too small, then transfer to a medium mixing bowl.

To the mixing bowl, add olive oil, tahini, lemon juice and garlic. Stir to combine. Taste and adjust with salt and pepper, as needed. Transfer to a resealable container and refrigerate until fully chilled.
For the Tzatziki
In a medium mixing bowl, combine together all ingredients, except salt and pepper. Once combined, adjust with salt and pepper, to taste. Transfer to a resealable container and allow to chill in the fridge until ready to serve.
For the Greek Fáva
In a medium sauce pot, add 2 1/2 cups water, yellow split peas, garlic cloves, red onion, 2 tablespoons olive oil, cumin and salt. Bring to a boil and drop to a simmer, cooking until the peas are very tender, about 40 minutes. Allow the mixture to cool slightly, then transfer to a high powered blender. Be sure to remove the small fill cap to allow excess steam to escape. Add lemon juice, cracked black pepper and blend until mostly pureed. Turn the blender back on, and stream in the remaining olive oil. Taste and adjust salt and pepper as needed.

Transfer to a resealable container and allow to chill completely in the fridge. When ready to serve, transfer to a serving bowl, top with a drizzle of olive oil and paprika.
For Serving:
Serve dips with pita bread, crudite, tabbouleh, grape leaves, marinated olives and any other of your favorite Middle Eastern sides.