Food with Friends: Duck à l'Orange

Today the tables have turned yet again! My culinary producer, Rachel Dolfi (@rachelanndolfi), asks me to make a French classic—Duck à l'Orange (recipe adapted from Daniel Gritzer's Duck à l'Orange). Crispy, crunchy roast duck is paired with a sweet and lightly sour orange sauce, using bitter oranges. I can guarantee you've never had duck like this before!
Cook Time
3 hours, 30 minutes
Ingredients
For the Duck
1 whole duck, about 6 pounds
1 medium onion, large dice (¾ cup)
1 carrot, peeled and large dice (¾ cup)
1 celery rib, large dice ¾ cup
For the Sauce
8 cups chicken or beef stock
2 bitter oranges
Freshly cracked black pepper, to taste
2 tablespoons butter (I used plant based)
1 teaspoon cornstarch, if needed
For the Gastrique
¼ cup sugar
¼ cup red wine vinegar
Instructions
For the Duck
Bring a large pot of water to a boil. Set a roasting rack onto a rimmed baking sheet and set aside.
Prick the duck's fattiest areas with a sharp paring knife, taking care not to pierce the skin below. Remove the duck wings and neck, using poultry shears or a sharp boning knife, and reserve. Trim away any excess skin around the duck's neck and cavity openings and either render or discard. Discard giblets.
Insert tongs inside the cavity of the duck and carefully lower it into the boiling water. Boil for 2 minutes, being sure to allow the water from the cavity of the duck to drain before transferring it to the prepared baking sheet. Liberally season with kosher salt and place in the refrigerator for at least an hour and up to 12.
For the Sauce
While the duck is resting, preheat oven to 450°F and line a baking sheet with aluminum foil. Add mirepoix and reserved duck wings and neck. Drizzle with vegetable oil and cook for about 30 minutes, removing halfway through cooking to turn vegetables and duck pieces. Once deeply browned, remove from the oven.
In a large saucepot over medium high heat, add stock, reserved duck parts and mirepoix. Bring to a boil, then reduce to a hard simmer and cook until reduced by 75% (should yield about 2 cups). While the mixture is reducing, place a fine mesh strainer over a medium mixing bowl and set aside. Once the mixture has reduced, pour through the strainer and discard the solids. Add the strained stock back to the same pot over medium low heat and continue to reduce the stock to 1 cup. Once reduced, cover with a lid and set aside.
Once ready to cook the duck, preheat oven to 450°F again. Roast for 45 minutes, turning the sheet tray occasionally, to ensure even browning. Once the thigh reaches 165°F, remove from the oven.
While the sauce is simmering and the duck is cooking, remove the peel from the outside of the bitter oranges. Take care to trim off as much of the white pith as possible. Then, julienne the peel. Bring a small pot of water to a boil and add the peel. Blanch for 15 minutes, then drain. Set aside.
For the Gastrique
Next, make the gastrique. In a small saucepot over medium heat, add sugar and 2 tablespoons of water. Bring to a boil and swirl to dissolve the sugar. Continue cooking for 4-6 minutes, swirling frequently, until the mixture turns a deep caramel color. Remove from the heat and add a small amount of vinegar, taking care, as the mixture will bubble vigorously. Place back on the heat and cook for 1-2 minutes, or until the flavors have married and lightly reduced. Remove from heat and set aside.
Bring the reduced sauce back to a simmer, and add orange juice and cook until the sauce barely coats the back of the spoon. If sauce is too thin, add a few teaspoons of cornstarch to a bowl, along with a tablespoon of the sauce and whisk vigorously. Add back into the sauce and bring to a simmer to allow to thicken. The sauce should be the consistency of a thin gravy.
Next add 1 tablespoon of gastrique and whisk to combine. Taste and adjust sauce a teaspoon of gastrique at a time, as needed. The sauce should taste bright, bold and silky, but not overwhelmingly tart. Cover sauce with a lid and reserve.
For Serving
Carve the duck breasts, legs and thighs. Serve with sauce.
© 2022 Eitan Bernath Productions, LLC.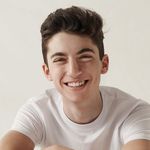 Eitan Bernath
Eitan Bernath is a chef, food & lifestyle content creator, entertainer, TV personality, and entrepreneur, best known for his viral videos on social media that showcase his cooking expertise and captivating personality.