This fried chicken recipe is heavily inspired by KFC: Korean Fried Chicken! It's super crisp and crunchy from the cornstarch dredge, and the sauces are absolutely packed with flavor. (Fun fact: the lack of gluten in the cornstarch makes for an incredibly crispy bite, but know that it doesn't turn golden brown like all purpose flour, so you don't want to use color as an indicator when you're frying these up!) The chicken is juicy and perfect by itself, but I had to do not one, but two finger licking sauces! One is a classic honey mustard with both Dijon and whole grain, honey, of course, and lots of fresh garlic for extra zing. The other is, again, heavily inspired by Korean flavors, with the addition of gochujang to the classic American hot sauce and butter combo. The only thing you need to make this the perfect snack or meal is something bright and acidic, and that's exactly what the homemade pickles are for! If you've never made pickles at home, you're missing out on an incredibly easy treat. These come together in just a few minutes, keep in the fridge for up to 2 months, and most importantly, are the perfect bite between mouthfuls of this juicy fried chicken!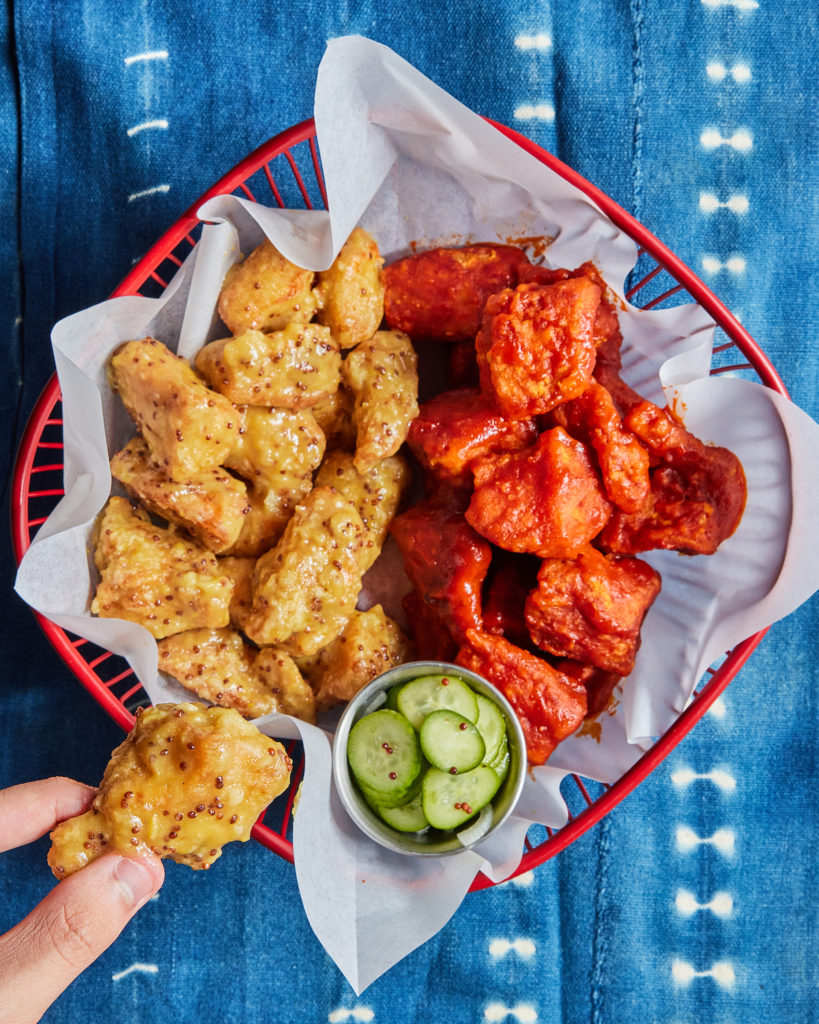 Popcorn Chicken Two Ways with Homemade Pickles
Ingredients
For the Pickles
3

Kirby cucumbers

washed and sliced ⅛ inch thick

½

cup

thinly sliced onion

1

cups

white vinegar

1

teaspoon

celery seed

2

teaspoons

mustard seeds

1/2

cup

sugar

1

teaspoon

kosher salt

¼

teaspoon

turmeric

1

cup

ice cubes
For the Honey Mustard Sauce
¼

cup

Dijon mustard

2

tablespoons

whole grain mustard

¼

cup

honey

4

garlic cloves

grated
For the Buffalo Sauce
½

cup

Frank's Red Hot sauce

2-4

tablespoons

gochujang

based on spice preference

2

tablespoons

butter

I use plant-based
For the Chicken
2

pounds

boneless chicken

breasts or thighs, or a mix of both

1

cup

corn starch or potato starch
Instructions
For the Pickles
Choose a container with a tight fitting lid that is small enough for the cucumbers and onions to barely fit. A quart container is ideal.

In a large mixing bowl add cucumbers and onions and gently toss together to combine. Transfer to the container and set aside.

In a medium saucepot over low heat, add mustard and celery seeds. Shake the pan frequently, ensuring the seeds do not burn. Toast for 30 seconds-1 minute, or until fragrant, then add vinegar, sugar and salt and stir to combine. Bring to a gentle simmer to allow sugar and salt to dissolve, then remove from the heat, add ice cubes, and stir until melted.

Carefully pour mixture over top of pickles. Seal with a lid and lightly shake container to distribute the liquid. Refrigerate and allow to pickle for at least 12 hours and up to 2 months.
For the Sauces
In large, shallow mixing bowls, add all ingredients of each sauce and whisk each to combine. Set aside.
For the Chicken
Line 2 sheet pan with paper towels and set aside.

In a large Dutch oven, or heavy bottomed pot, add 3 inches of vegetable oil and heat to 325°F. While heating, dredge the chicken.

Drizzle 2 tablespoons of water into starch and mix with fork until some pebble-sized pieces form. Dredge chicken and add hot oil in batches, careful not to overcrowd the pot. Cook for 3-4 minutes, or until barely golden brown at the edges. Remove chicken using a spider or slotted spoon and transfer to prepared sheet pan.

Increase heat on Dutch oven and bring oil to 400°F. Refry the chicken pieces for 2-3 minutes, until medium golden brown and crispy. Transfer to second prepared baking sheet and season with salt.
For Assembly and Serving
Split the hot chicken between the two bowls of sauce and toss to coat the chicken well. Serve warm with pickles.