Growing up in an Orthodox Jewish household, shrimp was never on the table, but that didn't curtail my curiosity about classic dishes that happen to feature shellfish, like shrimp and grits. I chose to see this as an opportunity to find the very best plant-based alternative for those ingredients, and to create a dish that was equally delicious as its seafood counterpart. There's a reason that mushrooms are so often a substitute for meat, and it's because they really can bring similar texture and flavor when they're cooked the right way. For this recipe, I chose pink oyster mushrooms, which have a slight seafood-y taste and smell, and so are the perfect substitute for shrimp, right down to the color! I sear them off in butter before adding a medley of fresh vegetables: bell pepper, tomato, scallions, and garlic. Once everything is sauted to perfection, I add smoked paprika and cayenne as a nod to the dish's cajun roots, letting them toast for a couple of minutes to really bloom their flavor. Finally, after a sprinkle of flour and stock to make everything extra saucey, this flavor-packed mixture is spooned over cheddar cheese grits.
If you aren't familiar with grits (porridge made from stone-ground corn), or you've had them and were underwhelmed, this preparation will absolutely positively change your mind. They are classic southern grits, cooked low and slow for a super creamy texture, and enriched with cream, butter, and lots of sharp cheddar cheese. Imagine risotto's southern cousin at half the price, and you've got these grits. I finish mine with a hefty amount of freshly ground black pepper, and they become the perfect, rich, cheesy foundation for the bright, vegetal mushroom saute. After a sprinkle of scallions and a squeeze of fresh lemon juice, there's nothing that can stop me from eating this for breakfast, lunch, dinner, midnight snack…you get the idea.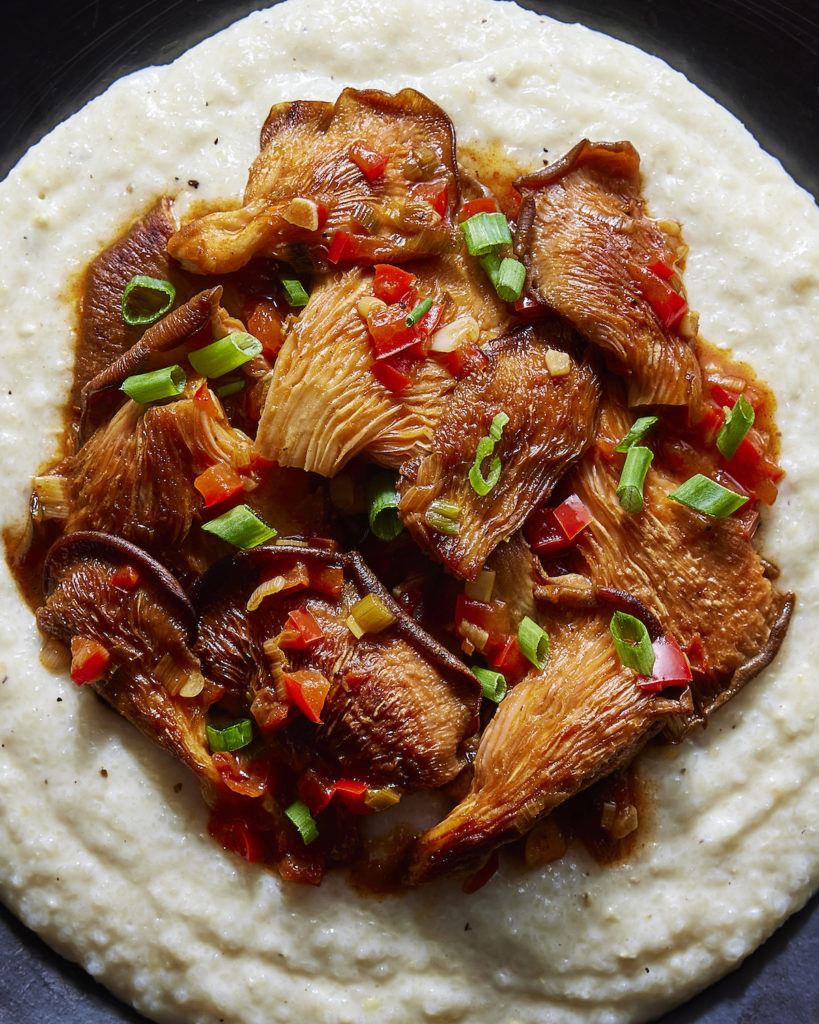 Shrooms and Grits
Ingredients
For the Grits:
1

cup

stone-ground grits

1

cup

half and half

2

tablespoons

butter

1

cup

100 grams freshly grated sharp white cheddar cheese

Salt and freshly ground black pepper

to taste
For the Mushrooms:
4

tablespoons

butter

divided

1

quart

pink oyster mushrooms

cleaned and trimmed into bite-size pieces

1

red bell pepper

180 grams finely diced

1

bunch

100 grams scallions, whites finely diced and greens slices on a bias and whites separated

1

roma tomato

75 grams finely diced

3

garlic cloves

15 grams minced

½

teaspoon

smoked paprika

⅛

teaspoon

cayenne

1

tablespoon

flour

1

cup

vegetable stock

Fresh lemon juice

for serving
Instructions
Bring two cups of well-salted water to a boil in a large, covered saucepot. Once boiling, slowly stream in grits, whisking constantly. Reduce heat to medium, and continue to whisk until water is absorbed and grits begin to thicken, about 1 minute. Slowly add half and half while continuing to whisk. Reduce heat to low, cover partially, and cook, stirring occasionally to prevent sticking, for 15-20 minutes, or until grits are thick and very creamy. Add cheese in 4 batches, whisking well between additions to fully melt cheese. Add butter and whisk until melted and everything is well-combined. Season generously with freshly ground black pepper. Taste, and adjust salt and pepper as needed. Cover and set aside.

Heat 1 tablespoon butter in a large skillet over medium-high heat. Add mushrooms in a single layer and sear on both sides, working in batches if needed, about 1 minute per side. (Add additional butter to pan if it gets dry.) Place cooked mushrooms on a plate and set aside.

In the same skillet over medium heat, add another tablespoon of butter, and add scallion whites and bell pepper. Season with a large pinch of salt and freshly ground pepper, and saute until soft and scallions are translucent and lightly browned, 8-10 minutes. Add garlic, tomato, and spices, and stir, cooking for another 2-3 minutes, or until garlic and spices are very fragrant, and tomatoes begin to release their juices. Sprinkle flour over vegetables and cook for 1-2 minutes, stirring constantly, then slowly add vegetable stock while continuing to stir. Bring mixture to a simmer for 2-3 minutes, or until the sauce is slightly thickened. Taste and adjust seasoning.

Return mushrooms and any accumulated juices to the pan and stir gently to heat them through, about 2 minutes.

While mushrooms are warming, check if grits are too thick. If needed, add additional half and half over low heat, and whisk well to thin to desired consistency.

To serve, add a quarter of the grits to a bowl, then spoon a quarter of the mushroom mixture over top. Garnish with scallion greens and a squeeze of fresh lemon juice.