Go ahead and add meatballs to the long list of things I hated when I was younger, but love now that I've learned how to cook them well! These harissa-spiced meatballs with roasted veggies are a triple winner, because they've won me over on lamb, meatballs, AND sweet potatoes. I didn't always love lamb, in contrast to my brother, Yoni, who would eat it every day if he could. But these lamb meatballs are packed with freshly ground spices that compliment lamb's gamey flavor, as well as the usual milk, breadcrumbs, and eggs to bind everything together and add richness to the mixture. The essential ingredient in them is harissa, which is a Northwest African hot chili pepper paste that's absolutely packed with flavor and heat. Finally, the meatballs get beautifully caramelized in a hot oven, which takes all of the messy splattering of cooking them on the stove top out of the equation.
Onto the veggies, I have to admit that sweet potatoes are my current absolute favorite vegetable. I find myself roasting one for dinner about every other day this fall, and their sweetness pairs beautifully with peppers and onions here. The best thing about this meal, besides eating it, is that it dirties only two pans in the cooking process (and are they even dirty if you use tinfoil??). I love this sheet pan meal as a weeknight dinner because it's got everything you need: protein, starch, veggies, heat, savory, sweet, soft, and crunchy. I serve mine with couscous and eat the leftovers for as long as they last, which usually isn't long in the Bernath home!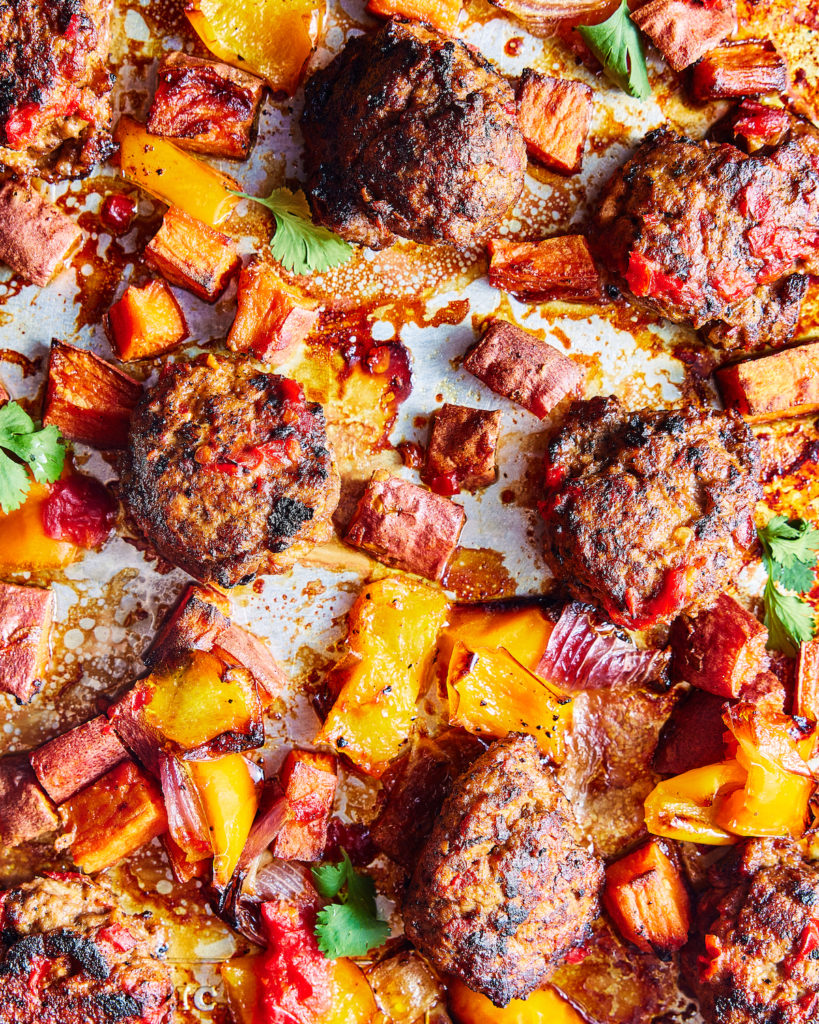 Sheet Pan Harissa-Spiced Lamb Meatballs
Ingredients
For the Vegetables
1

medium sweet potato

cut into 1 inch cubes

1

yellow bell pepper

cut into 1 inch pieces

1

red onion

cut into 1 inch pieces

¼

cup

olive oil

Kosher salt and freshly ground black pepper

to taste
For the Meatballs
1

tablespoon

cumin seeds

2

teaspoons

coriander seeds

1

small red onion

grated

3

medium garlic cloves

finely chopped

½

cup

spicy harissa sauce

plus more for serving (Like the Mina brand)

⅓

cup

panko breadcrumbs

2

eggs

¼

cup

milk

I used plant-based milk

1

tablespoon

kosher salt

½

teaspoon

pepper

2

pounds

ground lamb

2

tablespoons

olive oil
Instructions
Preheat oven to 425°F. Line two baking sheets with either parchment or tinfoil. Evenly disperse sweet potatoes, bell peppers and onions, drizzle with olive oil, then season with salt and pepper. Toss to combine and set aside.

In a small skillet over low heat, add cumin and coriander seeds and toast until fragrant, 2-3 minutes. Transfer to a mortar and pestle and grind until coarsely ground. Transfer to a large mixing bowl.

To the mixing bowl, add onion, garlic, harissa, panko, egg, milk, kosher salt, and pepper, and whisk to combine well. Add ground lamb and gently mix until meat and egg mixture are fully incorporated.

Form meatballs into 2 ounce balls (about 2 inches wide) and place on prepared baking sheets, moving the vegetables around as needed. Drizzle the meatballs with olive oil, then bake for about 20 minutes, or until bottom side of meatballs are golden brown. Flip meatballs and vegetables and return to oven, baking for an additional 10-15 minutes.

Remove baking sheets from oven and allow to cool slightly.

Serve with additional harissa sauce and couscous, if desired.