If you've followed me for any length of time, there's no way you don't know how much I LOVE tahini. I will include it in as many recipes as humanly possible! So, when I decided to put a spin on granola, I knew I wanted to add tahini, and it very quickly turned into an incredibly easy and equally delicious Middle Eastern spin on classic granola! You'll find pistachios and dried apricots instead of cashews or raisins, and lots of warm spices along with the tahini, but you could choose any nut or dried fruit you like best! The best part of making granola at home is that it's so easy – more of an assembly than a recipe – and you can customize it to your taste. I would say, if you want to keep the Middle Eastern spirit of this one though, don't substitute the tahini or the date syrup. The latter is definitely more of a specialty ingredient, but it adds an incredibly deep, rich sweetness reminiscent of molasses, and can't be replicated with any other ingredient. I like to serve my granola crumbled and layered with yogurt and fresh fruit for a quick parfait, but based on the amount of it I found myself munching on straight from the bag, this granola is great all on its own, too!
---
1. Date Syrup?
Date syrup is exactly what it sounds like: a thick, dark, sweet syrup that's extracted from dates! It's very commonly used in Middle Eastern cooking, and it, along with tahini, are the two ingredients I beg you not to substitute in this recipe. The rich, molasses flavor of date syrup can't be replicated with anything else!
---
2. Granola Bars
You can easily make this recipe into granola bars rather than a crumbled granola. After the last bake, press the granola firmly into an even layer and allow to cool in the pan. Carefully slide the sheet of granola out of the pan and onto a large cutting board, then cut into desired bar sizes. Leave uncovered for a couple of hours to allow bars to dry out slightly and solidify.
---
3. Customize!
The nuts, dried fruits, and spices are totally customizable in this recipe, so if you have ingredients that need to be used, or just prefer a different flavor, a 1:1 substitution will work beautifully!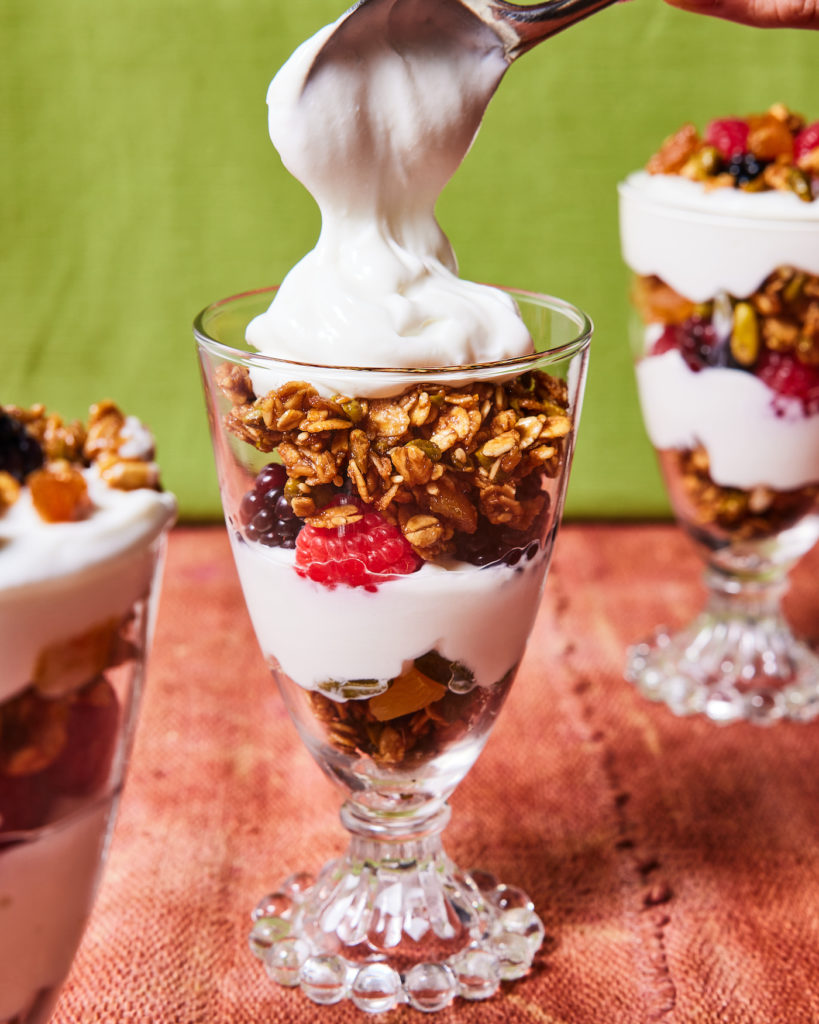 Middle Eastern Granola
WHAT YOU'LL NEED
4

cups

old-fashioned rolled oats

1

cup

chopped pistachios

½

cup

chopped dried apricots

¼

cup

sesame seeds

1

teaspoon

kosher salt

½

teaspoon

cinnamon

¼

teaspoon

cardamom powder

1

cup

date syrup

½

cup

tahini

¼

cup

olive oil

1

teaspoon

vanilla extract
Instructions
Preheat oven to 350°F. Line a baking sheet with parchment paper. Set aside.

In a large mixing bowl, add dry ingredients and mix until fully combined.

In a medium mixing bowl, whisk together wet ingredients until fully combined.

Pour wet ingredients into dry and stir until fully combined.

Transfer to prepared baking sheet and bake for 10 minutes. Remove from oven, stir granola and bake for additional 10 minutes. Remove from oven, stir again, then bake for a final 5 minutes.

Allow to cool completely before serving, then break into large clusters.

Store in airtight container for up to a month.
Nutrition
Calories:
711.44
kcal
Carbohydrates:
89.95
g
Protein:
16.33
g
Fat:
35.8
g
Saturated Fat:
4.9
g
Sodium:
346.69
mg
Fiber:
10.62
g
Sugar:
40.07
g
Vitamin A:
24.44
IU
Vitamin C:
1.28
mg
Calcium:
252.65
mg
Iron:
6.37
mg
Tried this recipe?
Tag %eitan% on Instagram!