French Onion Mac and Cheese

This recipe came to me in a dream. I was thinking about how much I love French onion soup and how much I love mac and cheese, and my sleeping self said to myself: they should be combined! They both have cheese, starch, and incredible, complimentary flavors; they are two perfect foods that should come together to create an even more perfect food!
The recipe begins the exact same way as French onion soup does, with a big pile of onions that reduces down into golden, caramelized goodness. Cooking the onions the right way takes time but it's worth the wait! After that, you make a pretty standard mac and cheese sauce, or mornay, using provolone and gruyere, and then I add Dijon mustard and fresh thyme for even more French Onion Soup Flair (F.O.S.F.). Then the entire thing gets topped with cheesy bread crumbs, which are basically a miniature version of the cheesy croutes you'd typically find on top of French onion soup. If you, like me, have ever found yourself craving French onion soup and mac and cheese at the same time on a cold winter day, you will LOVE French Onion Soup Mac & Cheese!
---
1. Caramelize Ahead of Time!
Caramelized onions take a long time, but they keep very well in the fridge. If you'd like to make them hours or days ahead of time, it's a great time saver!
---
2. Secret Ingredient: Mustard
I always add mustard in some form to my mac and cheese because it balances and elevates the creamy, fatty cheese sauce; it's that ingredient that'll make your guests say, "What's IN this?!" I go with mustard powder when I make stovetop mac, but for this fancy version, only Dijon will do!
See Also

---
3. Cheeses Are Flexible
I chose French cheeses to keep the French Onion Soup theme strong, but you can use any good melting cheeses you like or have in your fridge. Cheddar or American are classic go-tos, but any medium-soft to soft cheese will taste great!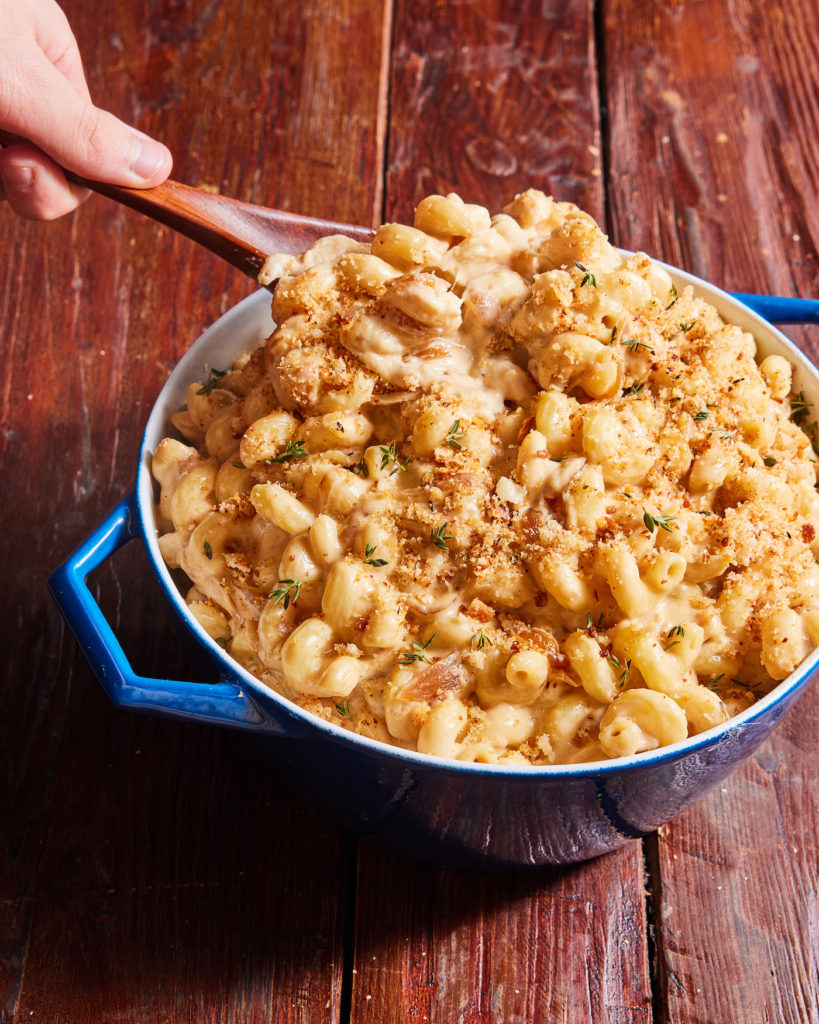 French Onion Mac and Cheese
Cook Time
1 hour, 30 minutes
Total Time
2 hours, 15 minutes
Ingredients
For the French Onion Mac and Cheese
½ stick (4 tablespoons) butter
2 tablespoons vegetable oil
3 large sweet onions, thinly sliced (about 8 cups)
2 teaspoons kosher salt
¾ cup beef, chicken or vegetable stock, if needed
1 pound fusilli, or similar pasta
¼ cup all-purpose flour
2 cups heavy cream
2 cups whole milk
4 sprigs thyme or ¾ teaspoon dried thyme
3 tablespoons Dijon mustard
1 ½ cups grated provolone cheese (about 4 ½ ounces)
1 ½ cup grated Gruyere cheese (about 4 ½ ounces)
Freshly cracked pepper, to taste
For the Breadcrumbs
10 slices French baguette, ¼ inch thick
1 tablespoon butter
2 tablespoons grated Gruyere
Sprinkle of dried or fresh thyme leaves
Instructions
In a large skillet, add butter and oil over medium low heat. Once butter is melted, add sliced onions and salt and cover with a lid. Cook for 5 minutes, or until onions begin to lightly sweat. Uncover and toss onions to incorporate melted butter. Cook uncovered for 1 hour, stirring frequently, being sure to scrape the bottom and sides of pan. Deglaze with a splash of stock about every 15 minutes, incorporating the browned bits back into the onions. Onions should be a deep brown color with a marmalade-like consistency.
Twenty minutes before onions are done cooking, bring a large pot of water to a boil and assertively salt. Add fusilli and cook until al dente, according to package instructions. Drain and reserve.
Once onions are deeply caramelized, reduce heat to low. Add flour and cook for an additional 2 minutes, stirring frequently, or until flour is fully incorporated and lightly cooked.
Add whole milk, heavy cream, mustard, thyme and black pepper and stir to combine. Bring to a simmer then cook for 6-8 minutes, or until thick enough to coat the back of a spoon and when a line is drawn through the sauce, it stays. Sprinkle small handfuls of provolone and Gruyere and stir until melted. Repeat until all cheese has been incorporated.
Add cooked pasta and gently stir to combine. Reduce heat to low and keep warm while making breadcrumbs.
Preheat oven to broil.
While oven is preheating, spread a thin layer of butter on each baguette slice. Equally divide cheese between each slice of bread, then top with a sprinkling of thyme leaves.
Broil for 2-3 minutes, or until bread is golden brown and crunchy all the way through. Remove from oven and allow to cool for a few minutes.
Cut bread slices in half and add to the bowl of a food processor. Process for about 30 seconds, or until breadcrumbs are a mixture of medium and fine sized.
Spoon the mac and cheese into serving bowls and top with breadcrumbs.
© 2022 Eitan Bernath Productions, LLC.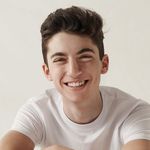 Eitan Bernath
Eitan Bernath is a chef, food & lifestyle content creator, entertainer, TV personality, and entrepreneur, best known for his viral videos on social media that showcase his cooking expertise and captivating personality.