This recipe is here to formally challenge regular old oatmeal raisin (gross) cookies to a battle! Caramelized White Chocolate Oatmeal Cookies are here to steal their thunder and I'm pretty sure there's barely any competition between the two. First, you might ask, "Eitan. What on earth is caramelized white chocolate?!" It's a way to make a delicious ingredient taste even better! White chocolate is really cocoa butter, sugar, and sometimes additional flavoring agents, like vanilla. This means that its sugars can be caramelized easily, since they're already suspended in fat, i.e., cocoa butter. The chocolate is baked at a low temperature, and stirred often to ensure even caramelization. What you're left with is a golden brown chocolate with delicious caramel and toffee flavors. I chop mine up and fold it into a classic oatmeal cookie dough, and can you imagine a better replacement for RAISINS? You get the texture and chew of an oatmeal cookie, the flavor of caramel and toffee, and the richness of chocolate. The cookie gets topped with a little flaky salt as soon as it's out of the oven, and it's safe to say it's become my current favorite cookie!
---
1. Caramelized White Chocolate
White chocolate is an ideal candidate for caramelization since it's mostly sugar and fat, in the form of cocoa butter. I learned this technique from my culinary producer, Olivia Anderson, and so I'm here to tell you, the process is dead simple. If you have a sheet pan, a rubber spatula, and can stir, you can caramelize white chocolate! Most importantly, make sure you're using real white chocolate, and the higher the cocoa butter percentage, the better it will turn out.
---
2
.

Types of Oats

You often see two kinds of oats in baking recipes: quick-cooking or rolled. The difference is in the grain processing, and the results are that quick-cooking oats are cooked more, and broken down smaller, than rolled oats. Quick-cooking oats are perfect in this recipe since the bake time for the cookie is so short!
---
3.

Flash Freezing Cookie Dough

Sometimes you need a big batch of cookies, but sometimes you just need a dessert for one or two! For any extra cookie dough you have and don't want to bake, simply scoop into balls on a sheet tray, freeze uncovered for 1 hour, and then pop the dough into a freezer bag. The cookies can be baked straight from the freezer whenever you need them, with a minute or two of extra baking time to account for the frozen dough.
---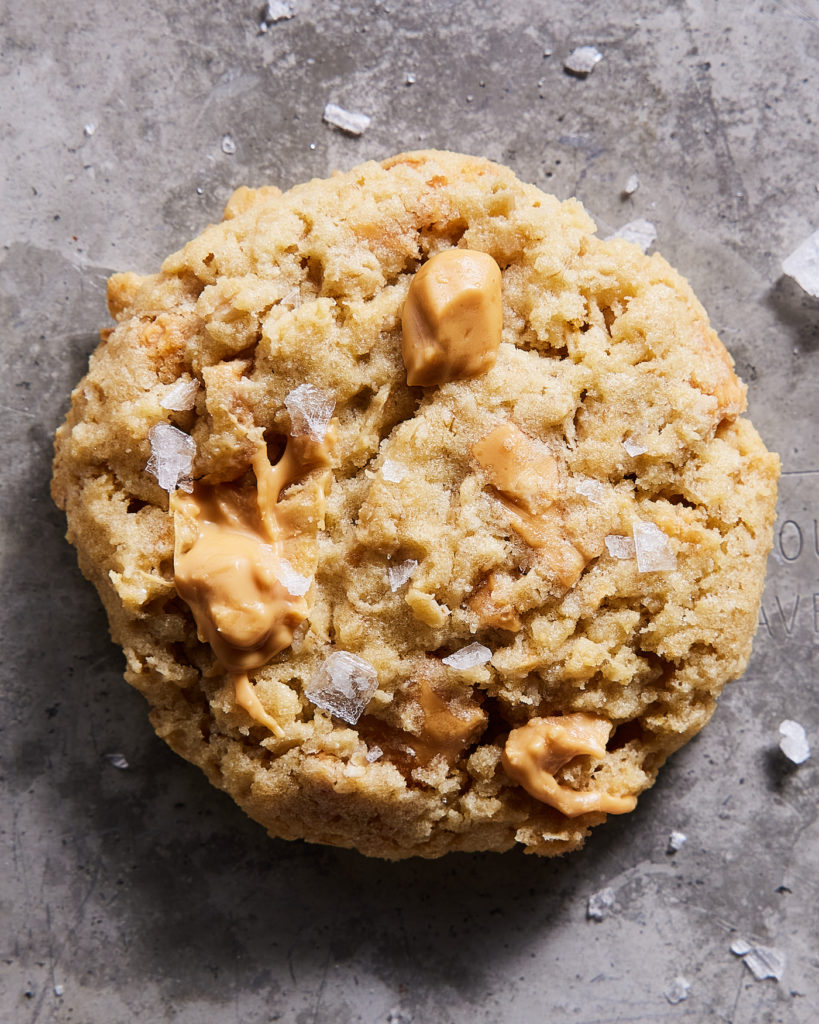 Caramelized White Chocolate Oatmeal Cookies
Ingredients
6

ounces

high quality white chocolate

at least 30% cocoa butter, roughly chopped

½

cup

butter

at room temperature

½

cup

sugar

½

cup

packed light brown sugar

1

egg

1

cup

all-purpose flour

½

teaspoon

baking soda

1

teaspoon

kosher salt

1 ½

cups

quick cooking oats

Flaky salt

for garnish
Instructions
Preheat oven to 250°F.

On a 6×10 quarter sheet pan, or similarly sized shallow pan, evenly distribute white chocolate and bake for 10 minutes. Remove from oven and stir well with a rubber spatula, and spread back into an even layer. Repeat this process, baking chocolate for 10 minutes at a time and stirring well in between, until chocolate is smooth, light brown, and caramelized. Depending on percentage of cocoa butter in chocolate, this may take as little as 30 minutes or up to 1 ½ hours. Chocolate may look dry and lumpy during caramelizing process, but continue to bake and stir until it is smooth and browned.

Once chocolate is caramelized, place pan in freezer to cool and harden.

Preheat oven to 350°F and line 2 sheet trays with parchment paper.

In a medium bowl, combine flour, baking soda, and salt, and whisk together to evenly distribute baking soda and salt. Set aside.

In a stand mixer fitted with a paddle attachment, or a large mixing bowl with a handheld electric mixer, beat butter on medium high speed until light and fluffy, 4 to 6 minutes. Add sugars and beat on medium high speed until well combined, 2 to 3 minutes. Add egg, and mix on medium speed until well combined, about 1 minute. Scrape sides and bottom of mixing bowl with a rubber spatula to ensure all ingredients are incorporated. Add dry ingredients, and mix on low speed until just a few streaks of flour remain.

Remove chocolate from freezer. It should be fully hardened. Remove from pan (it does not need to stay in one piece since it will be chopped) and place on a cutting board. Roughly chop into ¼ inch to ½ inch pieces and set aside.

Add oats and chopped chocolate to mixing bowl, and mix on low speed until everything is well combined, about 30 seconds.

Using a cookie scoop or measuring spoon, scoop 2 tablespoons of dough per cookie, and place 2 inches apart on prepared pans. Place in oven and bake for 10 to 12 minutes, rotating trays halfway through baking time. Cookies are done when they are barely golden around the edges.

Remove from oven, sprinkle with flaky salt, and leave on pan to cool for 5 minutes. Use a spatula to place cookies on a cooling rack to cool completely.

Cookies are best served immediately. Leftovers keep for one week in an airtight container. Uncooked dough can be frozen in balls or a log, placed in a freezer bag, and cooked from frozen, adding a minute or two of baking time. Frozen dough keeps for 3 months.
Nutrition
Calories:
252.73
kcal
|
Carbohydrates:
25.48
g
|
Protein:
3.27
g
|
Fat:
15.76
g
|
Saturated Fat:
9.12
g
|
Trans Fat:
0.21
g
|
Cholesterol:
22.44
mg
|
Sodium:
116
mg
|
Fiber:
1.57
g
|
Sugar:
11.5
g
|
Vitamin A:
46.95
IU
|
Calcium:
16.09
mg
|
Iron:
1.03
mg