Yes, you read the title of this recipe right! I am taking the iconic, beloved vodka sauce and putting it into a lasagna. I absolutely love vodka sauce – it's my favorite of all of the many Italian sauce options. Whenever I'm in the mood for pasta, you can bet that 90% of the time, I'm ordering pasta alla vodka. I wanted to find a way to eat this delicious sauce even more, and I thought it would be the perfect substitute for red sauce, layered into a lasagna. Let me tell you, the result is beyond delicious.
You get a super flavorful dish with intense, spicy vodka sauce, and then a pecorino mornay layered in, too. Both sauces bring totally different flavor profiles to the dish; one is deep tomato flavor, with garlic and spice, and the other is salty, fatty, and tangy. The two sauces swirl together for a beautiful color once you slice into this masterpiece. The only downside to this dish is that you HAVE to wait at least 30 minutes, but ideally an hour, to let it cool. Not only will you seriously burn your mouth if you try to eat it any sooner, but your slices will fall apart into mush. Trust me when I tell you, Vodka Lasagna is well worth the wait!
---
1. No Boil Noodles!
This recipe was tested multiple times with several different brands of no boil lasagna noodles, and it came out perfectly every time. I definitely recommend using them to save yourself time!
---
2. What's a "Mornay"?
A mornay sauce is literally just a bechamel with cheese added into it (think the sauce that goes on mac and cheese!). A bechamel is a sauce made from milk that's thickened with a cooked flour and fat mixture, usually flour and butter.
---
3. Alcohol Free
If for any reason whatsoever you would prefer not to have alcohol in this, you can just omit the vodka and follow the recipe as written. It will still be over-the-top delicious!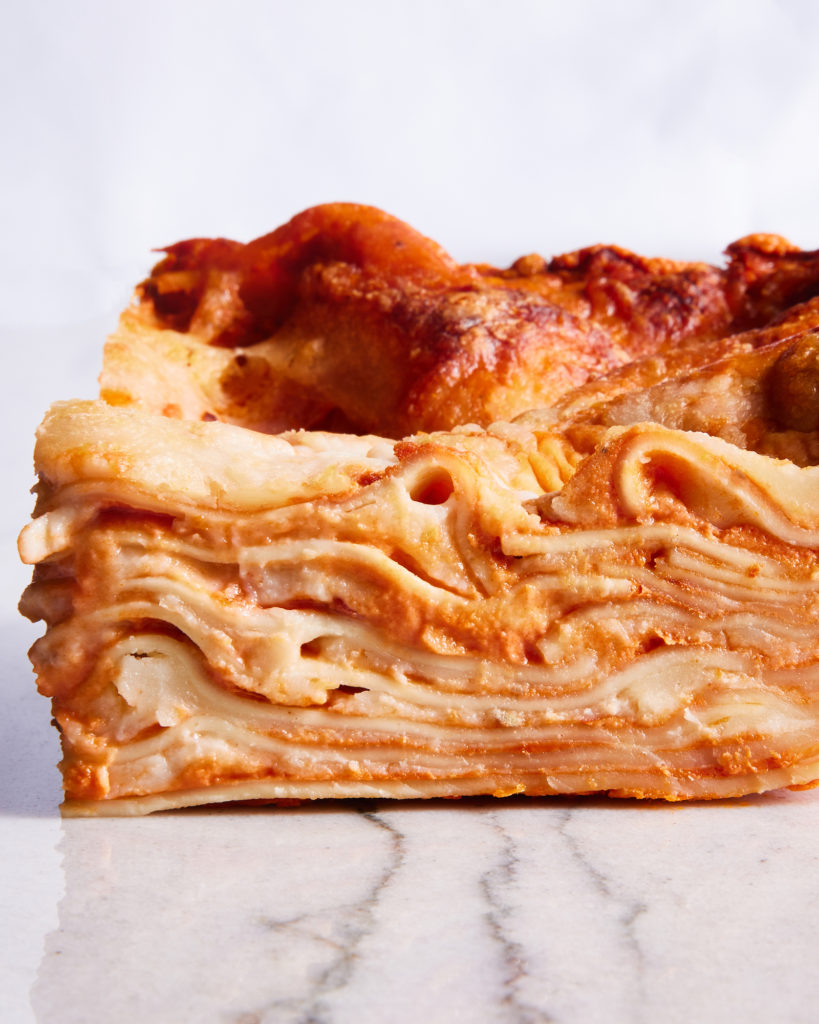 Vodka Lasagna
Ingredients
For the Vodka Sauce
¼

cup

olive oil

1

medium shallot

finely chopped (about ½ cup)

Kosher salt

to taste

1

teaspoon

red chili flakes

5

garlic cloves

chopped

¼

cup

tomato paste

¼

cup

vodka

1

24 ounce bottle passata or tomato puree

1

cup

heavy cream

Freshly ground black pepper

to taste
For the Pecorino Mornay
6

tablespoons

butter

⅓

cup

flour

3

cups

whole milk

1

garlic clove

grated or minced

Freshly cracked black pepper

to taste

1 ½

cups

finely grated Pecorino cheese

¾

teaspoon

kosher salt
For the Assembly
2

9 ounce packages no boil noodles

16

ounces

whole milk firm mozzarella cheese

shredded
Instructions
For the Vodka Sauce
In a large saucepan over medium heat, add olive oil, shallot and a generous pinch of salt. Cook until soft and translucent, stirring occasionally, or about 4 minutes. Add chili flakes and garlic, stirring occasionally, until soft and lightly browned, about 2 minutes. Add tomato paste and stir and mash into shallot mixture until well combined, then cook for about 5 minutes, or until tomato paste turns dark red. Carefully add vodka to pan and let it reduce slightly, about 30 seconds.

Add tomatoes and cook, stirring, until slightly reduced, about 15 minutes. Add cream, season with salt and pepper, and stir to combine. Remove from heat and cover with lid to keep warm until ready for assembly.
For the Pecorino Mornay
In a medium sauce pot over medium heat, add butter and melt fully. Once melted, sprinkle flour over top and whisk to combine. Whisk constantly for 2-3 minutes or until the mixture turns a deep blond color and smells nutty. Then, pour in milk while continuing to whisk and increase heat to medium high and bring to a boil.

Once boiling, reduce heat to a simmer and add in garlic and freshly ground pepper and stir to combine. Next, add pecorino a handful at a time, whisking to fully incorporate before adding the next handful. Once cheese has been added, taste and adjust seasoning with salt and pepper. Remove from heat and cover with lid to keep warm for assembly.
For Assembly
Preheat oven to 375°F.

Add just enough vodka sauce to cover the bottom of a 9×13 pan, then add a single layer of lasagna noodles. You may have to break some sheets into smaller pieces to fit into the pan.

Top noodles with about ½ cup vodka sauce and spread with the back of a spoon or offset spatula to completely cover the noodles. Top with about ½ cup mornay and gently spread over vodka sauce. Top mornay with ½ cup shredded mozzarella cheese. Repeat until you have reached the top of the baking dish. Top with one additional layer of noodles, the remainder of the vodka sauce, mornay and mozzarella cheese.

Place on a sheet tray and bake for 45-50 minutes, or until top is deeply golden brown.

Remove from oven and let cool for at least an hour. Slice and serve immediately, or allow slices to cool completely and freeze.
Nutrition
Calories:
655.16
kcal
|
Carbohydrates:
55.88
g
|
Protein:
25.79
g
|
Fat:
36.17
g
|
Saturated Fat:
19.41
g
|
Trans Fat:
0.27
g
|
Cholesterol:
146.94
mg
|
Sodium:
701.73
mg
|
Fiber:
3.96
g
|
Sugar:
8.88
g
|
Vitamin A:
272.07
IU
|
Vitamin C:
7.59
mg
|
Calcium:
530.7
mg
|
Iron:
3.74
mg