First things first with this recipe: I am actually NOT a big coffee drinker! That said, one thing I have been into more recently is the Mocha Cookie Frappuccino from Starbucks. (#NotAnAdButHitMeUpStarbucks!!) The coffee flavor is very subtle, but still gives you that boost of caffeine and energy, and of course, it makes the chocolate taste even more chocolatey. I realized these flavors would be delicious in another form, and thought a cupcake would be the perfect way to combine them! Since I'm not a cake lover, I prefer cupcakes since it's cake in a smaller dose. The chocolate cake batter has both brewed coffee to bloom the cocoa powder and instant coffee mixed in, so you get an incredibly deep, slightly bitter coffee flavor alongside the rich, intense chocolate flavor. The frosting had to have cookies incorporated somehow, so I took a classic vanilla buttercream and folded in tons of crushed oreos before piling it on each cupcake. The result is a treat that looks absolutely beautiful, will definitely wow your guests, and is a major step up from regular old chocolate cake!
---
1. What's Mocha?
Mocha is literally just a combination of coffee and chocolate!
---
2. No to Cupcake Liners!
Cupcake liners are an absolute no go here. Not only do they hide the beautiful, dark, rich mocha cupcake, but they also just aren't necessary if you grease and flour your cupcake tin well.
---
3. Cocoa Quality Matters
The quality of your cocoa powder really matters in this recipe, so if you're able to splurge on something more expensive, it will be well worth it! I use hot coffee in this recipe to "bloom," or intensify, the flavor of the cocoa, so the cupcakes are that much better with high quality cocoa powder!
---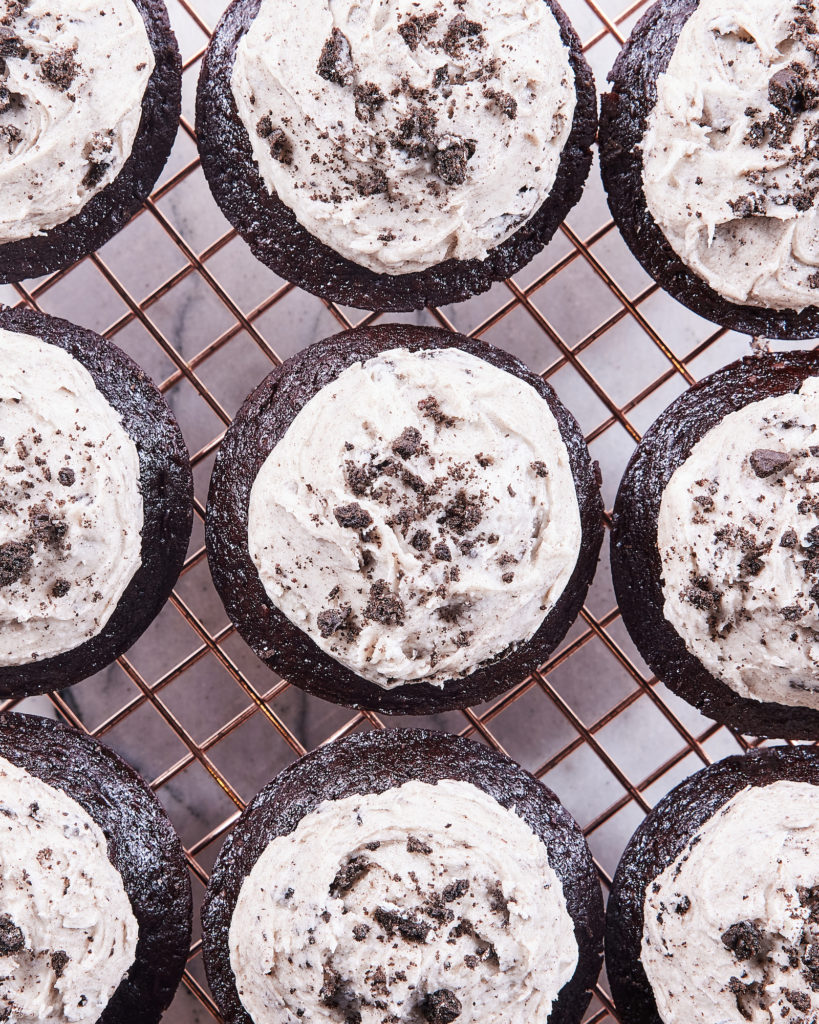 Mocha Cupcakes with Cookies 'n Cream Frosting
Ingredients
For the Mocha Cupcake
1 ½

cups

cake flour

plus more for dusting

¾

teaspoon

baking soda

¼

cup

instant coffee granules

1

teaspoon

fine sea salt

such as Morton's

2

large eggs

at room temperature

1 ½

cups

sugar

¾

cup

canola oil

½

cup

sour cream

at room temperature

1

tablespoon

vanilla extract

1

cup

unsweetened cocoa powder

1

cup

hot brewed coffee
For the Cookies 'n Cream Frosting
1

cup

unsalted butter

very soft

4

cups

powdered sugar

plus more if desired

1

tablespoon

vanilla extract

4

tablespoons

heavy cream or whole milk

plus more as needed

12

Oreos

roughly chopped
Instructions
For the Cupcakes
Preheat oven to 350°F. Grease and flour two 12 cup cupcake tins.

In a large mixing bowl, whisk together cake flour, baking soda, instant coffee and salt. Set aside.

In a medium bowl, whisk eggs until well combined, 30 seconds to 1 minute. Whisk in sugar, canola oil, sour cream and vanilla until well combined, about 1 minute. Set aside.

In a medium bowl, add cocoa powder, then pour hot coffee over. Whisk to combine very well.

Slowly pour hot coffee and cocoa mixture into wet ingredients, whisking constantly, to ensure the heat from the coffee doesn't cook the eggs.

Next, pour all wet ingredients into dry ingredients and fold with a large rubber spatula until just combined, and no streaks of flour remain.

Fill each cup in the prepared tin ⅔ full of batter. Place in oven and bake for 18 to 20 minutes, or until a toothpick or cake tester comes out with a few moist crumbs, but no wet batter.

Place cupcakes on a cooling rack for 10 minutes, then remove from tin to cool completely.

While cupcakes cool, make the frosting.
For the Frosting
In a stand mixer fitted with a paddle attachment, or a large bowl with a handheld electric mixer, beat butter at medium high speed until light and fluffy, 4 to 6 minutes. Add powdered sugar 1 cup at the time, mixing on low to start after each addition, and increasing speed to medium high once powdered sugar is mostly incorporated in the butter. Beat well between additions, 1 to 2 minutes.

After the fourth cup of powdered sugar has been added, taste and adjust with up to an additional cup of powdered sugar based on sweetness preference. Add vanilla extract and ¼ cup heavy cream, and beat on medium high for 2 to 3 minutes, until very well combined and fluffy.

If frosting is still overly thick or grainy, add heavy cream one tablespoon at a time, beating well between additions, until frosting is fluffy and smooth. Add chopped Oreos and mix on low until just combined.
For Assembly and Storing
To assemble cupcakes, use a cookie scoop or large spoon to dollop 2 to 3 tablespoons of frosting on each cake and serve immediately.

To store cupcakes, place in a resealable, airtight container for up to 2 days. Or freeze cupcakes and store well packaged for up to 2 months.
Nutrition
Calories:
350.03
kcal
|
Carbohydrates:
46.23
g
|
Protein:
2.54
g
|
Fat:
18.47
g
|
Saturated Fat:
7.26
g
|
Trans Fat:
0.35
g
|
Cholesterol:
41.75
mg
|
Sodium:
171.59
mg
|
Fiber:
1.65
g
|
Sugar:
34.93
g
|
Vitamin A:
90.13
IU
|
Vitamin C:
0.06
mg
|
Calcium:
19.95
mg
|
Iron:
1.98
mg