Summer rolls were a family favorite dinner that my Mom made often when we were growing up! It was a memorable meal not only because it was so good, but also because it was something my entire family could eat, since my mom is gluten free, and the rice paper is naturally gluten free, too! My Mom would put all of the fillings in bowls on the kitchen table, and my brother, Yoni, and I had a blast mixing and matching different filling combinations, and rolling our own rolls to try. It was an interactive, customizable, and delicious way to eat dinner as a family. I like to serve mine with mango in the summer, since it's in season and adds some welcome sweetness to the flavor profile, and a peanut butter dipping sauce, which is traditional in central Vietnam, and called nước lèo. If you've never tried them, summer rolls are a fun AND delicious way to eat lunch or dinner!
---
1.

Summer Rolls vs. Spring Rolls vs. Egg Rolls

If you're a little confused about the different types of rolls you often see throughout Asian cuisine, here's a quick explainer: spring rolls and egg rolls are both deep fried, but spring rolls are usually smaller and the wrapper is much thinner than an egg roll. Summer rolls aren't cooked at all; the rice paper is softened quickly in water, and they are naturally gluten free.
---
2.

Why mango?

I love mango in general, but I also love that it adds sweetness and tang to the rolls, because the other usual fillings don't add those flavors.
---
3.

Rolling is easy!

If you're nervous about the rolling part, keep just two things in mind: 1. Don't over soak your rice paper! Just make sure the entire surface is submerged in water for a second or two, and then it will soften while you pile the toppings inside. 2. Think of it as a tiny burrito; just roll the end closest to you up and over the fillings, fold the left and right sides in toward the center, then keep rolling up. The rice paper will be soft and tacky, and sticks together easily.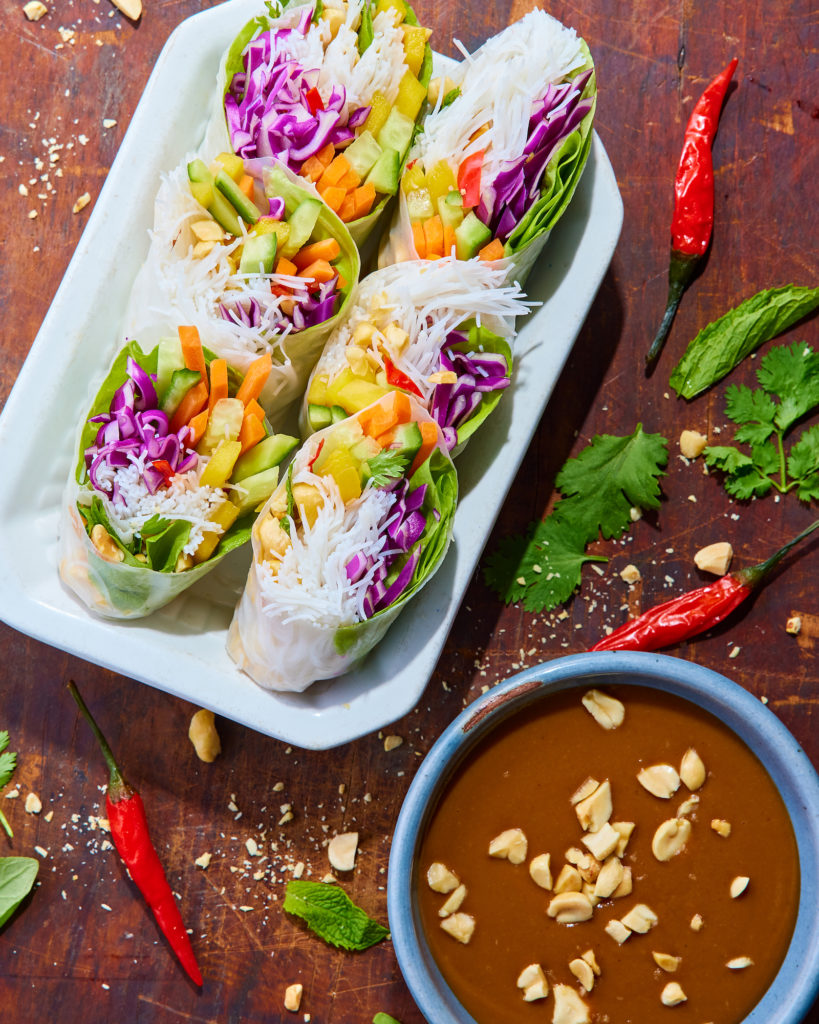 Mango Summer Rolls with Peanut Dipping Sauce
Ingredients
For the Rolls
4 ounces vermicelli noodles
12 sheets Vietnamese rice paper
4 red Thai chilis, seeded and julienned (if more heat is desired, leave seeds in)
2 large carrots, peeled and julienned (about 3/4 cup)
2 Persian cucumbers, julienned
1 mango, julienned
1 cup roasted unsalted peanuts, chopped
1 small head butter lettuce, leaves separated, washed and dried
½ head purple cabbage, thinly sliced
¼ cup tightly packed basil leaves, torn
¼ cup tightly packed mint leaves, torn
¼ cup tightly packed cilantro leaves
For the Dipping Sauce
2 tablespoons hoisin
2 tablespoons peanut butter
2 tablespoons rice wine vinegar
1 tablespoon soy sauce
Instructions
Bring a medium pot of water to a boil, remove pot from the heat, and add noodles. Let noodles soak until they are tender, about 5 minutes. Drain and rinse with cold water, then set aside in colander until ready to use.
Next, make the dipping sauce. In a small bowl, combine hoisin, peanut butter, vinegar and soy sauce and whisk well. Set aside.
Fill a shallow, medium bowl with water. Dip rice paper into water for 1 or 2 seconds, ensuring the entire sheet is submerged. Lay rice paper down on a clean surface, and place fillings on bottom third, leaving 1 to 2 inches of space on either side.
Suggested filling amount is: 1 piece of butter lettuce, 3 to 4 pieces of cabbage, carrot, cucumber, and mango each, 2 pieces of chili, 2 teaspoons of chopped peanuts, ¼ cup vermicelli noodles, and 1 to 2 leaves of each herb.
Once fillings are in place, lift bottom of the rice paper up and over the fillings. Next, fold both sides into the center, then continue rolling to make a tight summer roll. Continue filling and rolling until all ingredients are used.
Serve summer rolls immediately with sauce for dipping.
© 2023 Eitan Bernath Productions, LLC.