Today I am in the kitchen with my foodie friend Danielle Renov! You may know her as @PeasLoveNCarrots on Instagram where she posts pictures of her Moroccan inspired recipes and about her beautiful life living in Israel with her family, on her stories. We actually filmed this video a few weeks ago when Danielle was in America but I just so happen to be in Israel right now when I am posting this and my family ate lunch this past Saturday and her home in Jerusalem. I can say first had that the food we made in the video and then what I ate this weekend was absolutely delicious! If you aren't already, definitely go follow Danielle! She is an incredibly talented recipe developer with a contagious excitement for all things food. This Moroccan Chickpeas with Frena Bread and Yogurt Dip is a whole yummy meal in itself. The rich flavor of the chickpeas stew with the olive oil soaked bread and refreshing yogurt dip is out of this world!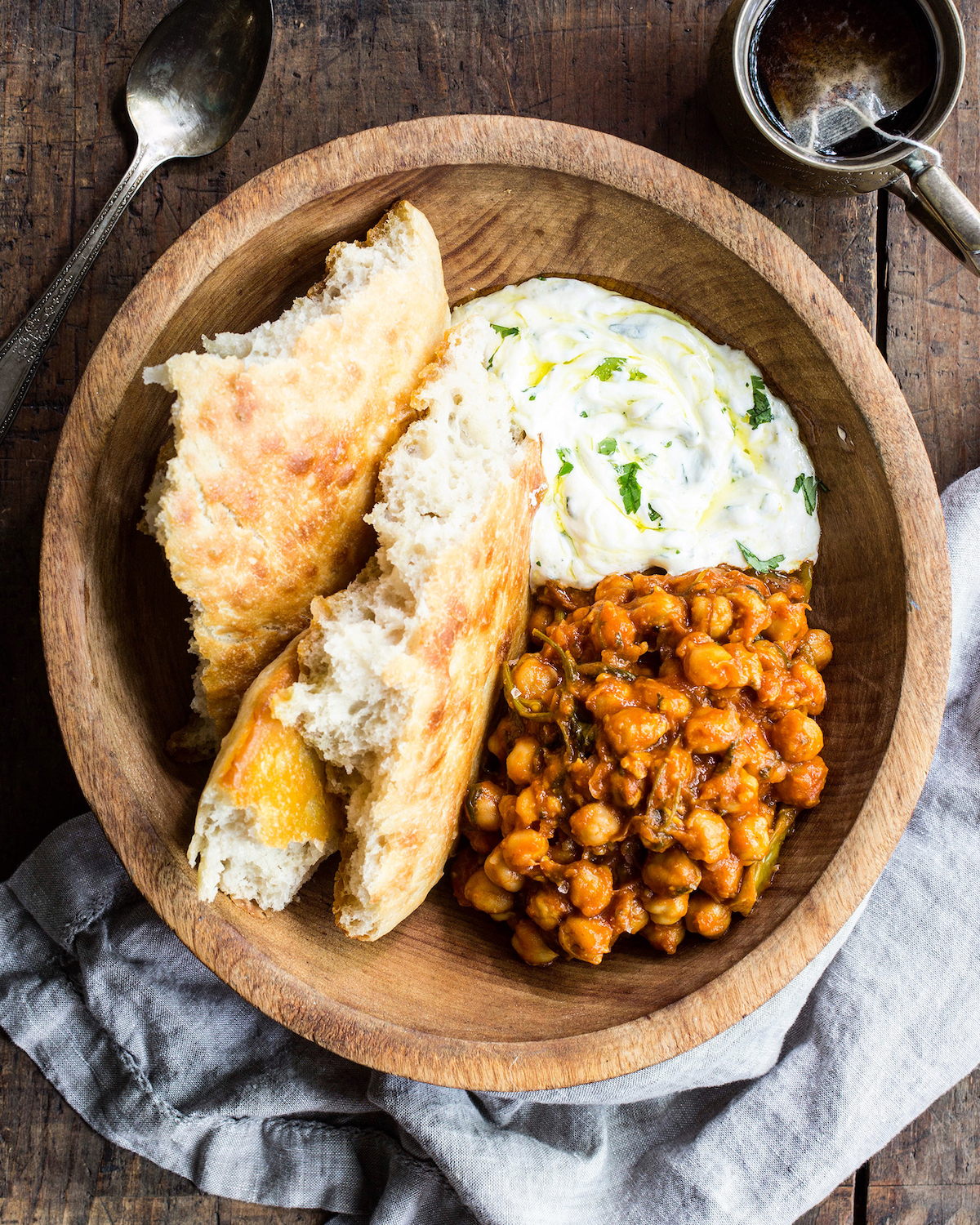 Moroccan Chickpeas with Frena Bread
Ingredients
For the Moroccan Chickpeas:
1-2

teaspoons

saffron

3

cups

boiling water

1

tablespoon

olive oil

10

cilantro stems

leaves removed

1

cup

cilantro leaves

6

cloves

garlic

sliced in half

1-2

jalapeños

halved

1

tablespoon

paprika

1

800g bag frozen chickpeas (or 3 cans, drained & rinsed)

1

cup

tomato sauce

2

teaspoons

kosher salt

1

teaspoon

pepper
For the Frena Bread:
8

cups

1 kilo all purpose flour

1

tablespoon

yeast

1

tablespoon

salt

3-4

cups

water

½

cup

for drizzling
For the Yogurt Dip:
1

cup

Greek yogurt

1

tablespoon

mint

chopped

1

tablespoon

cilantro

chopped

1

tablespoon

chives

chopped

2

tablespoons

olive oil

½

teaspoon

kosher salt

½

teaspoon

pepper
Instructions
For the Moroccan Chickpeas:
In a bowl combine saffron and boiling water. Use the back of a spoon to crush saffron on the wall of the bowl. Cover with Saran Wrap and set aside. Heat a pot over medium heat. Add oil, cilantro stems, garlic and jalapeño. Cook for 10 min stirring often until jalapeños blister and mixture is very fragrant. Add paprika, salt and pepper. Stir to combine. Add chickpeas to the pot and stir so that everything is coated in spices. Mix saffron water mixture and pour into the pot along with the tomato sauce and cilantro leaves. Stir. Bring mixture to a boil. Reduce heat and cover, but leave a tiny opening on the edge of the pot. Simmer for one hour. Serve hot and enjoy!
For the Frena:
In a large bowl, add in the flour and make a small indent in the center of the flour. Add in the yeast to the indent and the salt on the outside rim of the bowl. Slowing add in the water, mixing with a wooden spoon, until a sticky dough forms. Top with a drizzle of olive oil and cover with plastic wrap. Set aside to rise for about 1 hour, until doubled in size.

In a large sheet pan, pour the rest of the oil, to coat the bottom of the pan. Add in the dough, in two big pieces, and spread out into two big circles. Rise again for 30 minutes.

Preheat the oven to 350 degrees Fahrenheit. Bake for about 20 minutes, until golden brown. Remove from the oven, allow to cool slightly, then carefully rip into large pieces.
For the Yogurt Dip:
Combine all the ingredients in a small bowl. Serve chilled with the Moroccan Chickpeas and Frena.