In my house, making Hamantaschen is an activity that includes the whole family. It is one my brother's favorite time to be in the kitchen! Every Purim we make Regular Hamantaschen and Gluten Free Hamantaschen for my mom. (By the way, my mom isn't gluten free by choice. I know it's trendy now to be gluten free. But I can assure you my mom definitely doesn't think so!)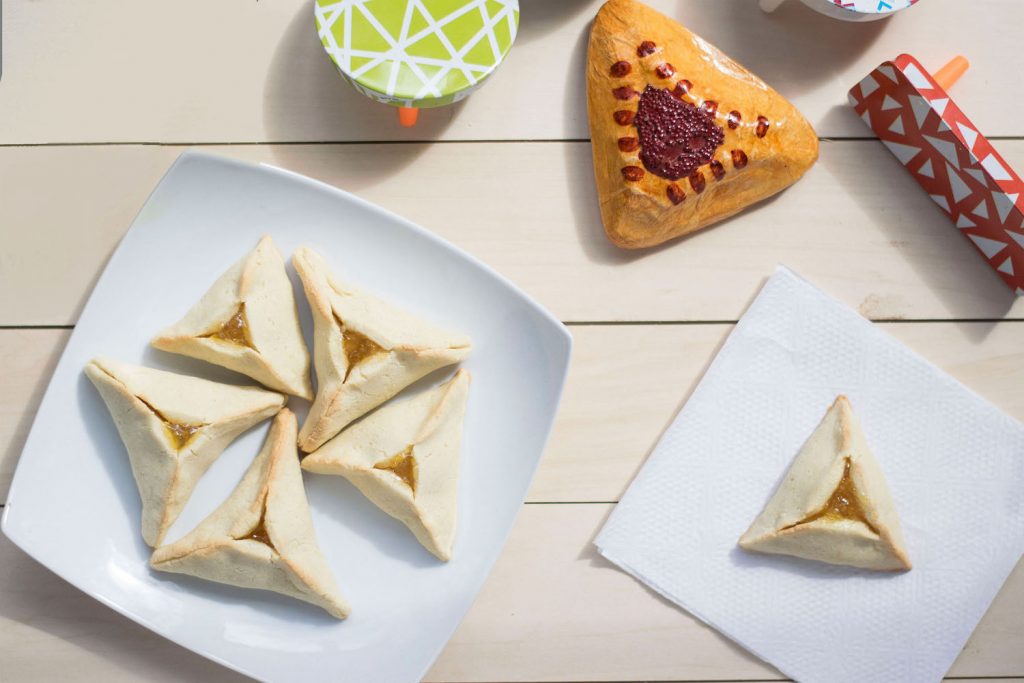 You can fill these with whatever you like. That's the beauty of a Hamantaschen. It's a fully customizable dessert. My favorite filling is traditional apricot filling!
This is Hamantaschen recipe has been passed down in my family for generations. My dad changed it to be gluten free for my mom. I love snacking on these gluten free ones as much as I do the regular ones!
Gluten Free Hamantashen
Ingredients
3

cups

gluten free flour

1

teaspoon

baking powder

½

cup

sugar

Pinch

of salt

2

eggs

1

teaspoon

orange extract

½

cup

canola oil

½

cup

orange juice

Preferably Tropicana

Any filling
Instructions
Preheat oven to 350 Degrees Fahrenheit.

To a large bowl, add the flour, sugar, baking powder, and a pinch of salt.

Next add the eggs and orange extract and mix until combined.

Once combined continue mixing while slowly adding the oil.

Once all the oil had been mixed in, slowly add in the orange juice.

When it starts to come together, knead the dough with your hands until fully combined, into a ball.

Then, on a lightly floured surface, roll out the dough to about a ¼ an inch thick.

Using a 3 ½ inch round cutter, cut the dough into rounds.

In the center of each round of dough, add a tablespoon of your desired filling.

Fold corners in to create a triangle shape and pinch to close.

Bake for 15 minutes on a parchment paper lined baking sheet.

Cool on a wire cooling rack.
Nutrition
Calories:
710.78
kcal
|
Carbohydrates:
100.67
g
|
Protein:
12.72
g
|
Fat:
32.62
g
|
Saturated Fat:
2.69
g
|
Trans Fat:
0.12
g
|
Cholesterol:
79.98
mg
|
Sodium:
158.7
mg
|
Fiber:
9.88
g
|
Sugar:
30.99
g
|
Vitamin A:
37.6
IU
|
Vitamin C:
16
mg
|
Calcium:
166.17
mg
|
Iron:
4.5
mg