Thanksgiving Chocolate Chip Cookies

Thanksgiving Chocolate Chip Cookies
Ingredients
2 sticks margarine (softened)
2/3 cup granulated sugar
1/2 firmly packed dark brown sugar
1 large egg
1 tsp vanilla extract
2 cups all-purpose flour
3/4 tsp baking soda
3/4 tsp salt
1/3 cup pareve chocolate chips
1/3 cup chopped walnuts
1/3 cup chopped dried cranberries
Instructions
Preheat oven to 375 degrees Fahrenheit.
Cream together the margarine, sugar, brown sugar, in a mixer until light and fluffy.
Beat in vanilla and egg until full combined.
Next add in the flour, baking soda, and salt into the mixer and mix until combined.
Finally add in the chocolate chips, walnuts, and cranberries and mix until combined.
Drop the dough by heaping tablespoons about two inches apart on a cookie sheet lined with parchment paper.
Bake for 9-12 minutes.
Cool the cookies for one minute on the cookie sheets then then transfer them onto a cooling rack.
Once the cooking are completely cool, store in an airtight container.
© 2021 Eitan Bernath Productions, LLC.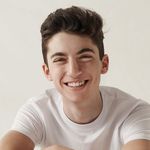 Eitan Bernath
Eitan Bernath is a chef, food & lifestyle content creator, entertainer, TV personality, and entrepreneur, best known for his viral videos on social media that showcase his cooking expertise and captivating personality.