Every summer, growing up, my Dad grilled the most incredible burgers in the backyard of our New Jersey home. He was (and still is) the master of the grill in the Bernath household. However, now that I've ventured out and live on my own in the Big Apple, it's time for me to grab a spatula, ground beef, and some creativity to carry on the tradition of Bernath burger mastery. I don't take that responsibility lightly!
These Barbecue Burgers with Crispy Onion Straws are my go-to burgers whenever I fire up the charcoal grill on my rooftop! The juicy patties are infused with smoky flavors from the grill, lathered with a sweet barbecue sauce to balance out the spices in the meat, and then crowned with a mountain of golden, crunchy onion straws. The classics: lettuce, tomato, pickles, and mayonnaise showed up between the buns as well, although, let's be honest, no one's paying attention to them in the quiet corner of this burger party. In all seriousness, the combination of flavors and textures in every bite is simply out of this world. Fire up your grill and get ready to create a mouthwatering burger experience that will leave you craving more. Happy grilling!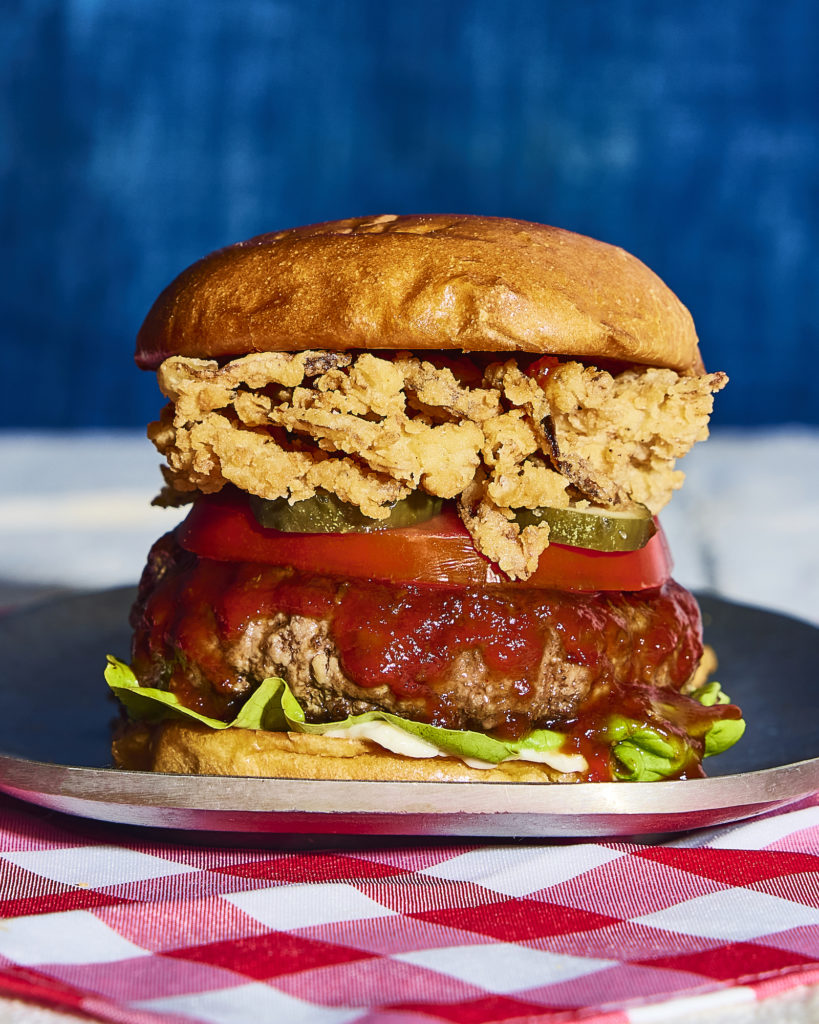 Barbecue Burgers with Crispy Onion Straws
Ingredients
For the BBQ Sauce
1/2

cup

ketchup

⅓

cup

pineapple juice

1

garlic clove

grated

1

tablespoon

molasses

2

tablespoons

apple cider vinegar

2

teaspoons

Worcestershire sauce

1/4

teaspoon

salt
For the Onion Straws
Vegetable oil

for frying

1

large white onion

1

cup

non-dairy yogurt

I use cashew milk

1

cup

non-dairy milk

I use oat milk

2

cups

all purpose flour

1

teaspoon

kosher salt

½

teaspoon

freshly ground black pepper

½

teaspoon

cayenne
For the Burgers
1 1/2

pounds

ground beef

I use 80/20

1

teaspoon

kosher salt

1

teaspoon

smoked paprika

1/2

teaspoon

black pepper

1/2

teaspoon

dry mustard powder

1/2

teaspoon

onion powder

1/2

teaspoon

cayenne
For Assembly
4

brioche buns

toasted

Mayonnaise

Tomato slices

Dill pickle chips

Green leaf lettuce
Instructions
In a small saucepot over medium heat, combine all BBQ sauce ingredients and bring to a simmer. Cook for 15 to 20 minutes, stirring occasionally, until thickened. Remove from heat and set aside to cool.

While BBQ sauce simmers, prepare to fry the onions. In a large, heavy bottomed pot, heat 2 inches of vegetable oil over medium-high heat to 375F. Place a racked sheet pan (or a paper towel-lined one) nearby.

Peel onion and slice into very thin rings, using a mandolin or a knife.

Whisk together yogurt and milk in a medium bowl, then add onion slices, breaking the rings apart as you go. Press down to ensure all onions are submerged and set near the pot of oil.

In a shallow dish (I use a pie pan), whisk together flour, salt, pepper, and cayenne, then set near onions and oil.

Once oil is preheated, remove a handful of onions from the yogurt and place into the flour. Toss to coat well, then slowly place into hot oil in an even layer. Fry for 3 to 4 minutes, or until deeply golden brown, using a slotted spoon or spider to gently toss the onions for even browning. Remove the onion strings, place on prepared pan, and season with salt. Repeat until all onions are fried, then set aside.

Heat a large cast iron skillet or grill pan over medium-high heat.

While pan preheats, add beef and all seasons to a large bowl, and mix until well combined. Divide into 4, 6-ounce balls and shape into patties, about ½-inch thick (or slightly larger than the diameter of your buns).

Add 1 tablespoon of vegetable oil to skillet, and once shimmering, add the burger patties. Cook, undisturbed, until well seared on the first side, 3 to 4 minutes. Flip and repeat on the second side, cooking to desired degree of doneness.

While burgers finish cooking, spread bottom buns with mayo, then add a lettuce leaf to each. Top with burgers, tomato, pickle, a large handful of onion straws, and more BBQ sauce, if desired, before adding top bun.

Serve immediately, with extra onion straws on the side for snacking.