My Hummus with Spiced Lamb and Herby Tahini is a whole, hearty winter dinner in one bowl! I love making homemade hummus; it's ALWAYS better than store-bought, and so many people don't realize how easy it is to make at home. This one is a classic hummus, which is the perfect foundation for this spin on Middle Eastern hummus basar (hummus topped with spiced beef). I went with ground lamb in this recipe, but any ground protein you like will work just as well! There are also tons of veggies to amp up the nourishment, along with plenty of spices, tomato paste, and honey for a borderline addicting flavor combination. For freshness, I like to top my bowls with a simple shirazi salad and green tahini. You can simplify the recipe by drizzling plain tahini over top, but my green tahini is packed with fresh herbs and garlic, and adds such incredible flavor and color to the dish. (You'll have extra, and it's delicious drizzled over salads, in sandwiches, or really anything savory!) Once each component is piled into a bowl, all you need is a warm piece of pita bread for scooping up big bites of everything. I love this on a cold night, but it's perfect for meal prep as lunches, too!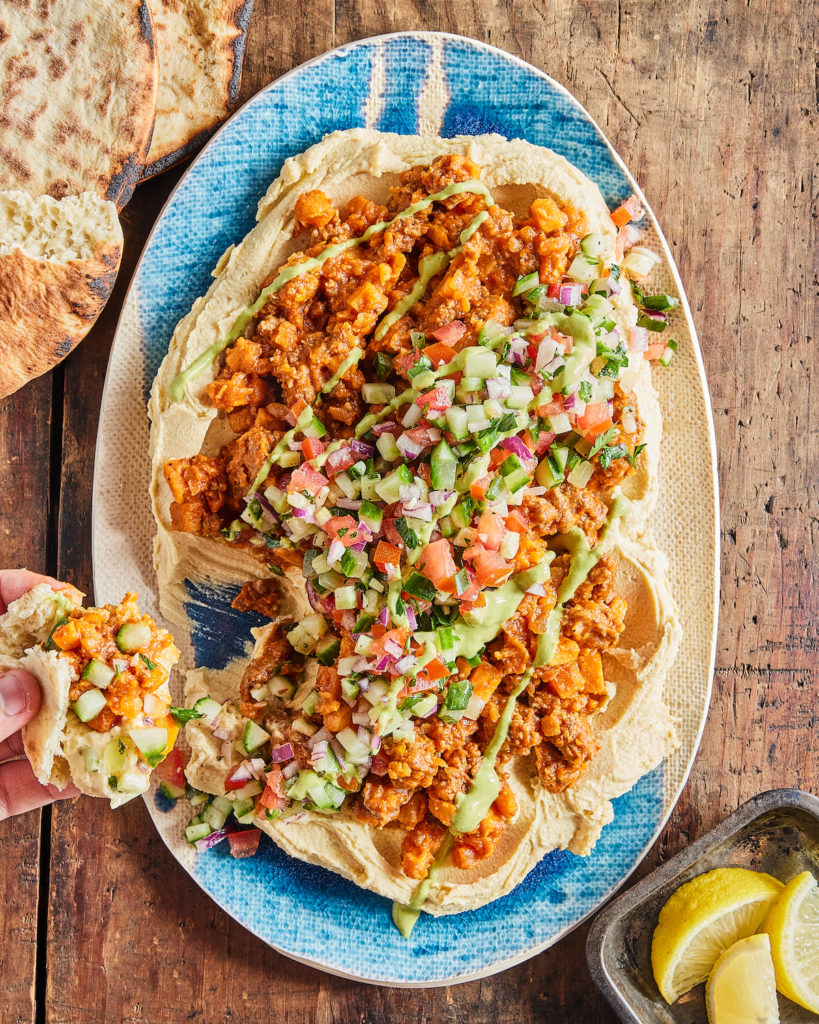 Hummus with Spiced Lamb and Herby Tahini
Prep Time
1 hour, 15 minutes
Total Time
31 hours, 15 minutes
Ingredients
For the Hummus
2 15.5-ounce cans chickpeas, drained and rinsed, ½ cup canning liquid reserved
1⁄2 cup olive oil
1⁄4 cup well-stirred premium tahini
2 large garlic cloves
Juice of 1 lemon
Kosher salt and freshly ground black pepper
For the Lamb
2 tablespoons olive oil
Kosher salt and freshly ground black pepper, to taste
1 pound ground lamb
1 medium onion, diced into ½-inch pieces
1 yellow pepper, diced into ½-inch pieces
1 medium sweet potato, peeled and diced into ½-inch pieces
8 garlic cloves, minced
1 tablespoon ground cumin
2 teaspoons smoked paprika
1⁄2 teaspoon cayenne pepper
1 tablespoon tomato paste
2 tablespoons honey
1 cup water
For the Salad
1 persian cucumber, seeded and finely diced
2 roma tomatoes, seeded and finely diced
½ red onion, finely diced
1 garlic clove, minced
1 tablespoon chopped mint
1 tablespoon chopped flat-leaf parsley
1 tablespoon olive oil
2 tablespoons lemon juice
Kosher salt and freshly ground black pepper, to taste
For the Green Tahini Sauce
½ cup (120 grams) tahini paste
Juice of 1 lemon
1 garlic clove, crushed
1 bunch flat-leaf parsley (less the tablespoon taken for the salad), tough stems removed
½ cup mint, lightly packed
Kosher salt and freshly ground black pepper, to taste
⅓ cup water, plus more as needed
Pita bread, warmed for serving
Instructions
First, make the hummus. Place the chickpeas, reserved chickpea liquid, olive oil, tahini, garlic, lemon juice, salt, and pepper in the bowl of a food processor or high-speed blender and blend until smooth, about 5 minutes. Keep refrigerated until ready to serve.
Next, make the tahini sauce. Add all ingredients, except water, to a blender and mix on high; mixture will be very thick. Slowly stream in about half the water with the blender running. Stop, and scrape down sides and bottom of blender with a rubber spatula to loosen any stuck tahini. Blend again, adding water a tablespoon at a time, until a smooth, green sauce forms. Taste and adjust seasonings, then refrigerate until ready to serve.
Add all salad ingredients except for lemon juice, salt, and pepper to a medium bowl and mix well. Set aside.
Heat a large skillet over medium high heat and add olive oil. Once shimmering, add lamb and season well with salt and pepper. Leave undisturbed until well seared on first side, then use a wooden spoon to break into crumbles and brown. Use a slotted spoon to transfer lamb to a bowl and set aside.
Add onion, pepper, and sweet potato to skillet and reduce heat to medium low. Sweat vegetables until they are very soft and potato is cooked through, 15-20 minutes, stirring occasionally to prevent sticking. Add garlic and spices, and stir to combine, cooking until fragrant, about 1 minute more. Add tomato paste and honey, and stir to combine, cooking for 2-3 more minutes. Increase heat to medium high, and add water, stirring and scraping the bottom of the pan to incorporate any browned bits. Simmer, stirring occasionally, for about 5 minutes, or until mixture is thick but still saucy. Remove from heat and set aside.
Add lemon juice, salt, and pepper to shirazi salad and mix well. Taste and adjust as needed.
To serve, spoon about ½ cup of both hummus and lamb mixture into bowls. Top with shirazi salad and a drizzle of tahini sauce. Serve with warm pita bread for scooping.
Leftovers keep well stored separately in airtight containers for up to 5 days.
© 2023 Eitan Bernath Productions, LLC.