It's safe to say that this salad is my latest obsession, and I am not exaggerating when I say that I make this MINIMUM two times a week! When you see the ingredient list, it might seem like a lot (and it kind of is) but this salad is a whole entire meal in a bowl. No side salad here! That said, know that the method has been optimized to save you time, to work on chopping and blending while other things are roasting or pickling.
This fall I finally became a Squash Man, and let me tell you, I am making up for lost time with sheer volume of squash consumption this season! My favorites are delicata, honeynut, and acorn, and any of them are delicious in this salad. It's hard to choose another favorite element here, but if I had to, the sun dried tomato vinaigrette would probably be it. It's bright, creamy, zingy, garlicky, sweet, and savory all at once, and it somehow elevates this already-great salad even higher. Also, don't skip on roasting the shredded brussels – it gives them a delicious caramelized flavor, plus it makes them easier to digest! The rest of the ingredients all come together in perfect harmony: warm farro, toasted walnuts, sweet, golden raisins, and tangy feta. A warm salad may sound strange, but it's bursting with flavor, and so comforting and nourishing on a cold, winter day!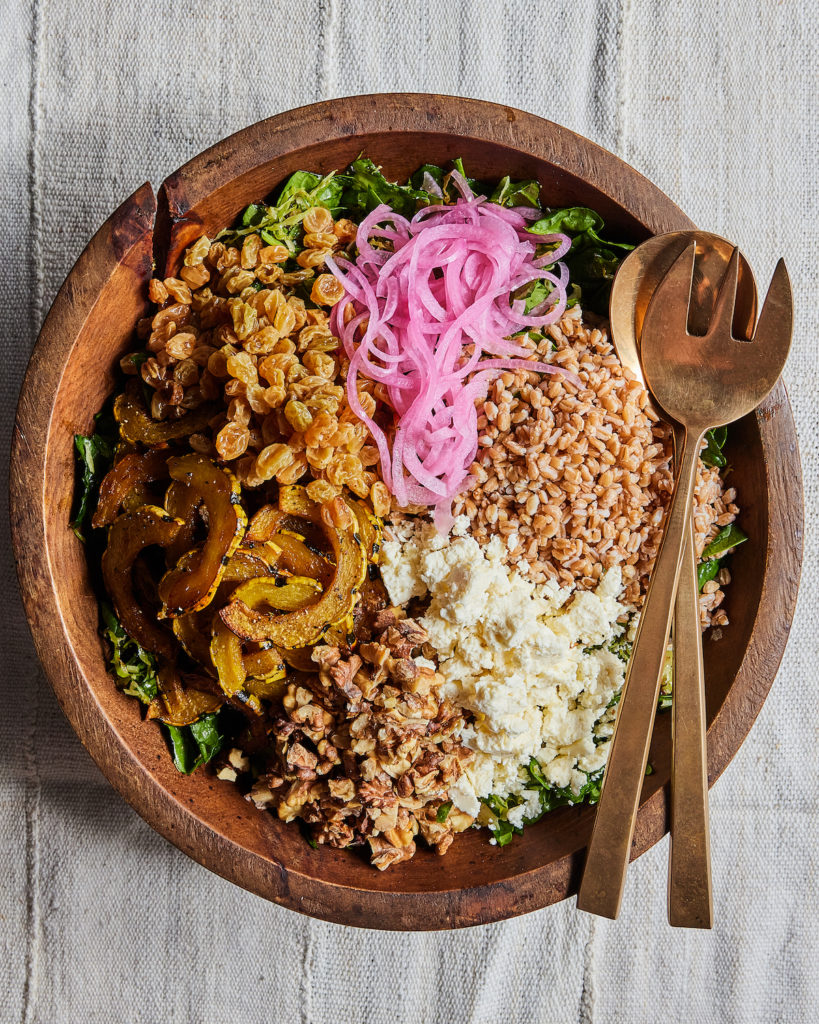 Warm Winter Salad with Sun Dried Tomato Vinaigrette
Ingredients
For the Salad
½

red onion

thinly sliced

½

cup

white vinegar

1

teaspoon

sugar

1

teaspoon

kosher salt

1

cup

farro

2

pounds

Brussels sprouts

shredded (about 6 cups)

1

delicata squash

seeded, and cut into ¼-inch thick slices

¼

cup

olive oil

divided

Kosher salt and freshly ground black pepper

to taste

½

cup

walnuts

½

cup

golden raisins

5

ounces

chopped baby spinach

about 5 cups

4

ounces

feta

crumbled (half an 8-ounce block)
For the Sun Dried Tomato Vinaigrette
6

sun dried tomatoes

2

large garlic cloves

smashed

2

tablespoons

Dijon mustard

¼

cup

apple cider vinegar

¼

cup

sun dried tomato oil

¼

cup

olive oil

Kosher salt and freshly ground black pepper
Instructions
Preheat oven to 425°F.

Add onions to a heat-proof 2-cup container.

In a saucepot, add vinegar, ½ cup water, sugar, and salt. Cover and bring to a boil over high heat. Pour over onions and set aside to pickle while you prepare everything else.

Prepare farro according to package instructions. Drain and set aside.

While farro cooks, add squash to a sheet pan and brussels sprouts to another. Drizzle each pan with 2 tablespoons olive oil and season assertively with salt and pepper. Mix with clean hands to evenly coat, then spread each into an even layer

Place squash in oven and roast for 20 minutes, then add brussels sprouts to oven and roast both for 10 minutes more, or until deeply golden and crisp at the edges. Remove and set aside to cool slightly.

Spread walnuts onto a small pan and place in oven until toasted and fragrant, about 5 minutes. Transfer to a cutting board until cool enough to handle, then roughly chop and set aside.

While the vegetables and nuts roast, prepare the vinaigrette. Place all ingredients in a blender or food processor and blend on high until smooth. (You can also use a hand blender for this step.)

Once farro and vegetables are cooked, place spinach in a large bowl. Top with warm Brussels sprouts and toss to mix. Add about half of the vinaigrette to the greens and toss again to mix well.

Divide dressed greens amongst four large bowls. Top each bowl with about a quarter of each topping, and serve with remaining vinaigrette for drizzling.