It's February 11th which means Valentine's Weekend is here and love is in the air! Or maybe you're like me, and it is not in the air, but we'll be optimistic and say it is somewhere in the future air! No matter where your airborne love is this Valentine's Day, I have the perfect, decadent recipe for you: 5 Layer Death By Chocolate Tart! As someone who has never celebrated this holiday, never had a Valentine, and has always been very single, I've always seen Valentine's Day as a good reason to eat an obscene amount of chocolate. This recipe is basically the most efficient AND delicious way to do just that! The 5 layers are perfect in combination: 1. Slightly salty, dark chocolate crust 2. Rich, fudgy, semi-sweet ganache 3. Light, airy milk chocolate mousse 4. Super sweet white chocolate glaze and 5. Boujee shavings of ruby chocolate over top. The final layers are white and pink in honor of the holiday, and when you taste all 5 layers in one heavenly bite, you won't care about your relationship status, no matter what it is!
---
1. Elements are super make-ahead friendly
The only part of this tart that bakes is the crust, so every other layer is a mix-and-chill method! That means that while you do need a lot of fridge time to set the layers, it is very make ahead friendly. I like to make the first three layers a day or two before, then glaze and garnish the tart the day-of!
---
2. No Springform Pan? No Prob!
This tart is THICC so the full recipe requires the height of a springform pan. If you still want to make it, but don't have one, you can simply halve all of the layers and make it in a deep dish pie pan.
See Also

---
3
.

Chocolate Quality Matters

Since this recipe is really just chocolate in 5 different forms, the quality of the chocolate makes a huge difference here. If you can spring for something higher quality, this is the time to do it!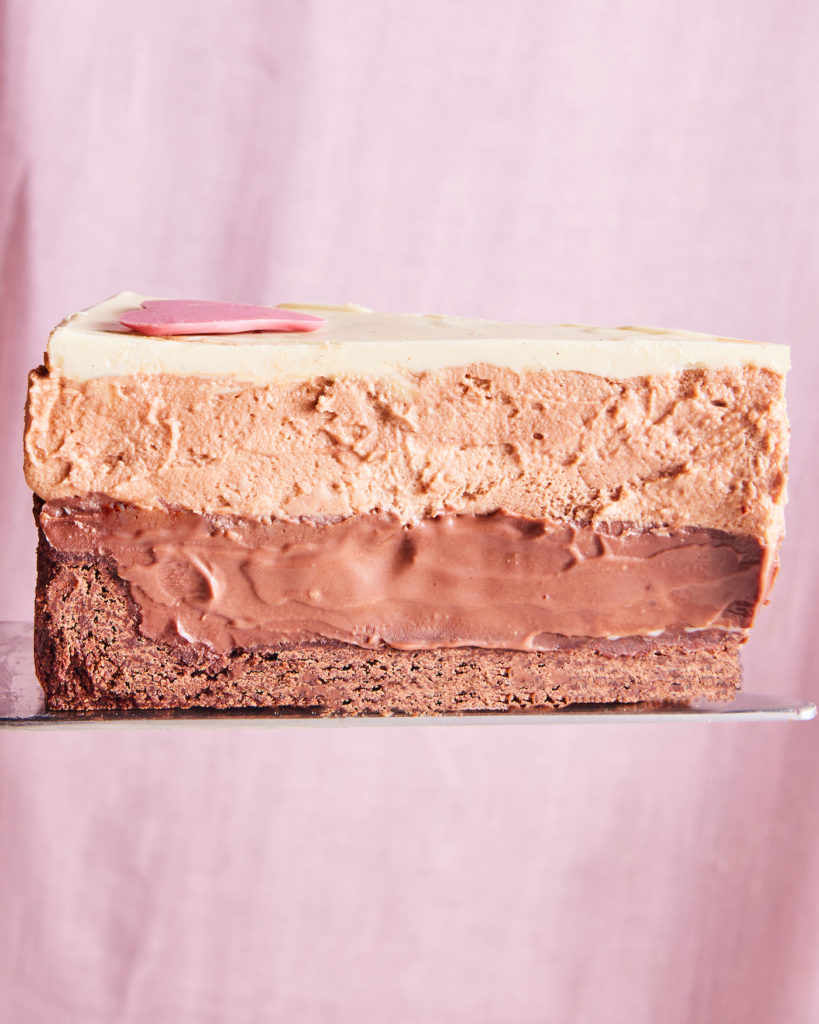 Death by Chocolate Tart
Total Time
1 hour, 15 minutes
Ingredients
For the Dark Chocolate Crust
1 ½ (180 grams) cups all-purpose flour
½ cup (60 grams) powdered sugar
½ cup (48 grams) high quality cocoa powder
1 teaspoon kosher salt
1 ½ sticks (¾ cup) unsalted butter, melted and cooled
½ teaspoon vanilla extract
For the Semi Sweet Chocolate Ganache
2 cups heavy cream
1 (12 ounce) bag semi sweet chocolate chips
4 tablespoons unsalted butter, cubed
For the Milk Chocolate Mousse
8 ounces milk chocolate chips
1 ½ cups heavy cream, very cold, divided
¼ teaspoon kosher salt
1 teaspoon vanilla extract
For the White Chocolate Glaze
8 ounces white chocolate, chopped, preferably with vanilla (I used Green & Black's brand)
For the Ruby Chocolate Shavings
8 ounces ruby chocolate
Instructions
Preheat oven to 350°F.
In a large bowl, whisk together flour, sugar, cocoa powder and salt. Drizzle melted butter and vanilla extract over top, and use a rubber spatula to combine until a smooth dough forms.
Place dough into a spring form pan or a deep 9-inch tart pan (preferably the former for ease of removal). Use a smooth, straight-sided cup to tamp the dough into a ¼ inch thick layer, with 1-inch tall sides.
Bake until slightly puffed and dry to the touch, 15-20 minutes. Remove from oven and place on a wire rack to cool until lukewarm.
While the crust cools, make the ganache. Place chocolate chips in a large, heatproof bowl. Heat heavy cream in a saucepot over medium heat until scalded, 4-6 minutes. Pour cream over chocolate, then cover bowl with a large plate and allow chocolate to melt for about 5 minutes. Remove plate and whisk chocolate and cream together until smooth. Add butter, 1 tablespoon at a time, whisking until well combined each time. After the final tablespoon of butter is added, ganache should be glossy and smooth. Set aside to cool to room temperature. Cooling can be accelerated by pouring ganache onto a rimmed baking sheet or baking dish, placed in the refrigerator, and stirred every 10-15 minutes. Be careful not to let ganache harden; it should be lukewarm and pourable.
Once ganache and crust are cooled, pour ganache into crust. Lightly tap pan on work surface to remove any bubbles in the ganache. Place uncovered in refrigerator to harden.
While ganache hardens, make the mousse. In a large, heatproof bowl, add milk chocolate chips.
In the same saucepot from the ganache, heat ½ cup of heavy cream over medium heat until scalded, 2-3 minutes. Pour over milk chocolate chips and cover with a large plate, allowing the chocolate to begin melting for 3 minutes. Remove plate, whisk well to completely melt chocolate and combine, 30 seconds to 1 minute. Set aside to cool while you make the whipped cream.
In the clean bowl of a stand mixer fitted with the whisk attachment, or a large clean bowl and a hand mixer fitted with the whisk attachments, add cold heavy cream and whisk until stiff peaks form, 3-4 minutes.
Use a large rubber spatula to add about half the whipped cream to the chocolate mixture, and gently fold until a few streaks of whipped cream remain. Add remaining whipped cream and fold gently until just combined and no streaks remain.
Remove crust and ganache from refrigerator. Ganache should be cool to the touch, but does not have to be fully solid yet. Gently dollop milk chocolate mousse on top, then spread into an even layer, being careful to retain as much air and volume as possible.
Place back in refrigerator to solidify completely, 2 hours or up to overnight.
Once tart is completely cool and solidified, melt while chocolate. Place chopped chocolate in a small, heatproof bowl and melt over a double boiler, or in 30 second intervals in a microwave. When just a few visible solid pieces of chocolate remain, remove from heat source and stir until fully melted.
Remove tart from refrigerator and pour melted chocolate over top, tilting to create a thin, even layer. Place back in refrigerator for 10-15 minutes to firm up slightly.
While white chocolate layer chills, use a vegetable peeler to peel the long side of the ruby chocolate bar to create chocolate curls.
Remove tart from refrigerator and distribute ruby chocolate curls over top.
Remove tart from pan, and slice and serve immediately.
Keep leftovers covered in the refrigerator for up to 1 week.
© 2022 Eitan Bernath Productions, LLC.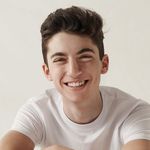 Eitan Bernath
Eitan Bernath is a chef, food & lifestyle content creator, entertainer, TV personality, and entrepreneur, best known for his viral videos on social media that showcase his cooking expertise and captivating personality.