If you've followed me for any length of time, then you know that I'm a HUGE fan of Lilly Singh! Every year, she goes to Trinidad and Tobago for Carnival, and she always shows herself eating a food called Doubles. In the simplest terms, it's made of two fried flat breads with a curried chickpea filling stuffed in between, and it's a perfect fusion of Indian and Caribbean flavors. Because of the island's location, just off of the coast of Venezuela, and its historical and current population, a lot of the cuisine in Trinidad and Tobago is a fusion from many different countries. You'll find West African, Creole, Indian, Chinese, Arab, European, and Latin American/Spanish/Portuguese cuisines, and that's not even an exhaustive list of the incredible food you can eat there! After watching Lilly's vlogs, I knew I may not be traveling to Trinidad and Tobago anytime soon, but I also knew I couldn't wait to try Doubles, which brings me to the recipe I'm sharing here today.
Doubles are arguably the most iconic Trinidadian street food, and the combination of Indian and Caribbean flavors is out of this world! The two flat breads, called baras, are packed with spices before they're deep fried, and the chickpea filling is beyond flavorful, thanks especially to West Indian (sometimes called Jamaican) curry powder, which has sweet and citrusy notes, in addition to warm spice and heat. Doubles are a popular breakfast food, but are also eaten at any time of the day, and even as a late night snack! There are many ways to garnish them, and my personal favorite is fresh cilantro, white onion, and Trinidadian hot sauce for even more heat. After one bite, I knew exactly why Lilly eats these on every trip. If you, like me, have never had the pleasure of visiting Trinidad and Tobago to try this quintessential dish, this recipe is a must for you!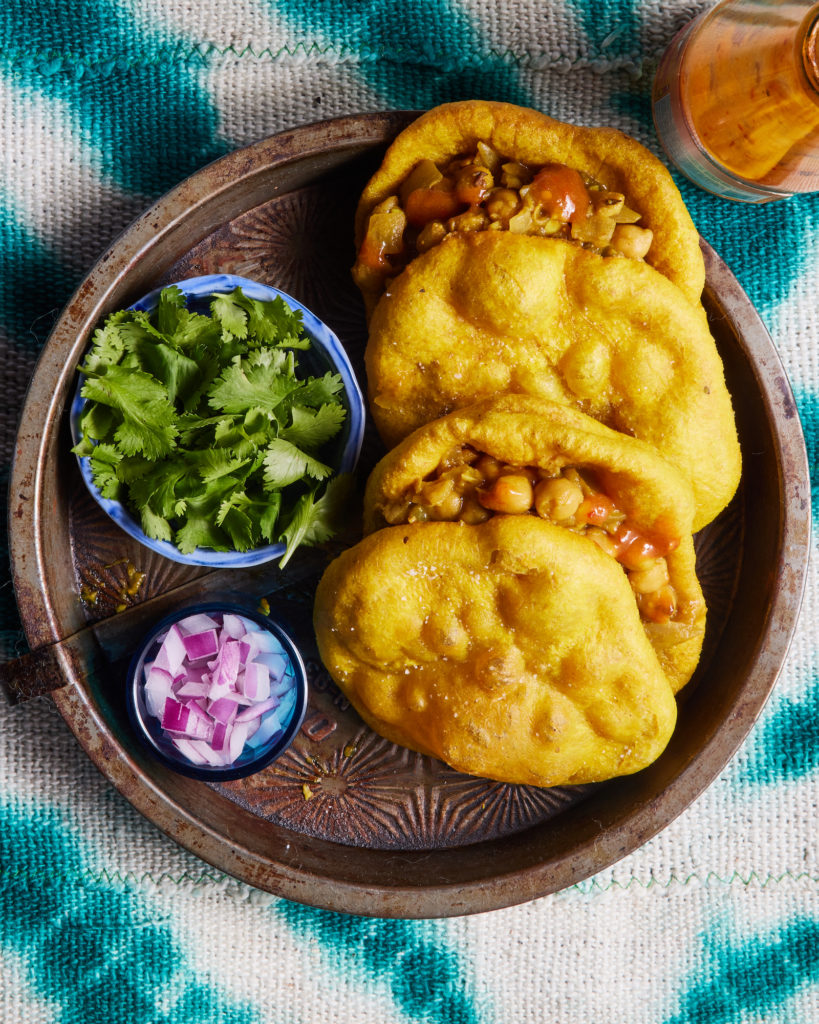 Trinidadian Doubles
WHAT YOU'LL NEED
For the Bara
2

cups

all-purpose flour

1

teaspoon

yeast

1

teaspoon

ground turmeric

1

teaspoon

sugar

½

teaspoon

salt

½

teaspoon

ground cumin

¼

teaspoon

chili powder

½

teaspoon

ground black pepper

1

tablespoon

vegetable oil

plus more for frying
For the Chickpea Filling
3

tablespoons

vegetable oil

1

teaspoon

whole cumin seeds

1

large onion

chopped (about 2 cups)

4

cloves

garlic

chopped

1

tablespoon

chopped habanero or scotch bonnet pepper

2

tablespoons

West Indian curry powder

1

teaspoon

salt

½

teaspoon

pepper

2

15 ounce cans chickpeas, drained
For Assembly
⅓

cup

chopped cilantro

1

small white onion

chopped

Trinidadian hot sauce

such as Matouk's
Instructions
For the Bara
In a large bowl, combine the flour, yeast, turmeric, sugar, salt, cumin, chili powder and black pepper. Add ¾ cup warm water and mix with your hands until it forms a soft ball of dough. Knead 1 tablespoon vegetable oil until it is fully combined. Cover with plastic wrap and set aside in a warm place for 2 hours. While the dough is rising, make chickpea filling.
For the Chickpea Filling
In a medium-sized pot over medium high heat, add oil. Once shimmering, add cumin seeds and cook until they begin to pop and release a strong aroma, about 45 seconds. Add onion, green chili and sauté for 3-4 minutes, or until the edges begin to caramelize. Add garlic and curry powder and stir to combine. Cook for 1-2 minutes, or until fragrant. Add chickpeas and stir to coat with spice mixture and cook for another 2 minutes. Add 2 cups water, salt, pepper, stir until fully combined. Lower the heat and simmer for 30 minutes, covered, until the chickpeas are very soft. If the sauce becomes too dry, add in water, as needed, to form a thick sauce, similar to a gravy. Keep covered and set aside until ready to assemble.
For the Bara
After the dough has doubled, punch it down, then allow it to rest for another 10 minutes.

In a large, deep pot, add 2 inches of oil and heat to 350°F.

While oil is heating, lightly grease hands with oil and pull off tablespoon-sized pieces of dough, about 1 ounce each, to make 16 balls in total. Roll out each ball to about 5 inches in diameter.

Carefully add 1-2 baras to the oil and cook until puffed and golden brown, about 30 seconds per side. Transfer to a cooling rack to drain off the excess oil and season with salt.
For Assembly
Place one bara on a plate, spoon 2-3 tablespoons of chickpea filling into the center, top with cilantro and onion and hot sauce, if desired, and top with another bara. Serve immediately.
Nutrition
Calories:
360.03
kcal
Carbohydrates:
55.68
g
Protein:
12.02
g
Fat:
10.7
g
Saturated Fat:
0.81
g
Trans Fat:
0.05
g
Sodium:
488.53
mg
Fiber:
9.85
g
Sugar:
7.28
g
Vitamin A:
5.3
IU
Vitamin C:
5.15
mg
Calcium:
82.72
mg
Iron:
3.57
mg
Tried this recipe?
Tag %eitan% on Instagram!