While it may seem intimidating to make your own marshmallows from scratch, it's actually pretty easy to do! The hardest part is just finding the gelatin, which you can just order online! Once you master homemade marshmallows, you will be hooked!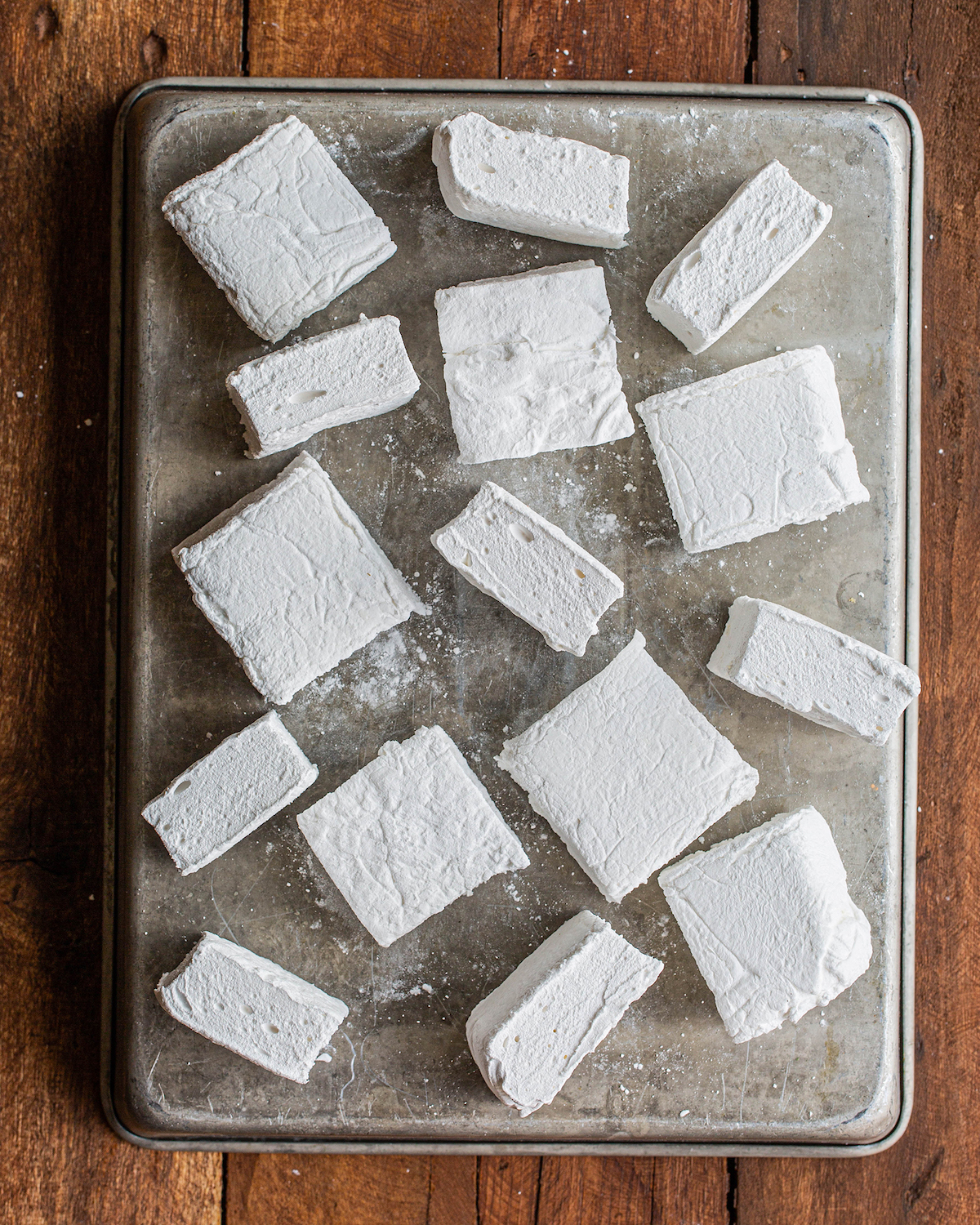 While they are very similar to store-bought marshmallows, they have a unique freshness and texture. The best part if you can totally customize them with any flavorings or fillings that you'd like!
Homemade Marshmallows
Ingredients
3

tablespoons

unflavored gelatin powder

3/4

cup

cold water

2

cup

sugar

1/4

cup

water

1/2

teaspoon

salt

1/2

teaspoon

vanilla extract

1

cup

powdered sugar
Instructions
In the bowl of a stand mixer, mix the gelatin and 1/2 cup cold water. Allow it to sit while preparing the sugar syrup.

In a small pot, combine the sugar, 1/4 cup water, and salt. Place a candy thermometer in the pot. Bring to a boil and cook until it reaches 240 degrees Fahrenheit (soft ball stage.) Remove from the heat immediately.

Turn the stand mixer on a low speed and pour in the sugar syrup. Once all the syrup has been added, turn the stand mixer to high and beat until thick and fluffy, about 10-12 minutes. Add in the vanilla extract within the last minute of whisking.

Grease a 9×9 inch baking pan, then coat with some of the powdered sugar, to fully coat. Pour the marshmallow mixture into the prepared pan, spreading evenly with a lightly oiled spatula. Dust the top with layer of the powdered sugar. Cover the baking pan with plastic wrap and allow it to sit at room temperature for at least 4 hours to firm up.

To cut the marshmallows, turn the pan onto a cutting board dusted with powdered sugar. With a sharp knife, dusted with more powdered sugar, cut the sheet of marshmallow into your desired size. Once cut, dust with more powdered sugar. Store in an air-tight container for up to a week.
Nutrition
Calories:
522.55
kcal
|
Carbohydrates:
129.98
g
|
Protein:
4.43
g
|
Fat:
0.01
g
|
Sodium:
304.85
mg
|
Sugar:
129.21
g
|
Calcium:
6.16
mg
|
Iron:
0.13
mg