Let me break it down for you…Galette is a French term that refers to a variety of flat, round cakes, typically made with a flaky pastry/pie dough. As opposed to a tradtional pie, where the dough is places in a pie dish then the filling is places inside and finaly topped with more dough, a gallet is assembled differently. Instead, the filling is placed directly on top of a sheet of rolled out dough and then the edges of that dough are folded up and around the filling, leaving the middle section of the filling exposed. Galettes can be made sweet or savory, filled with everything from vegetables to apples to cheese.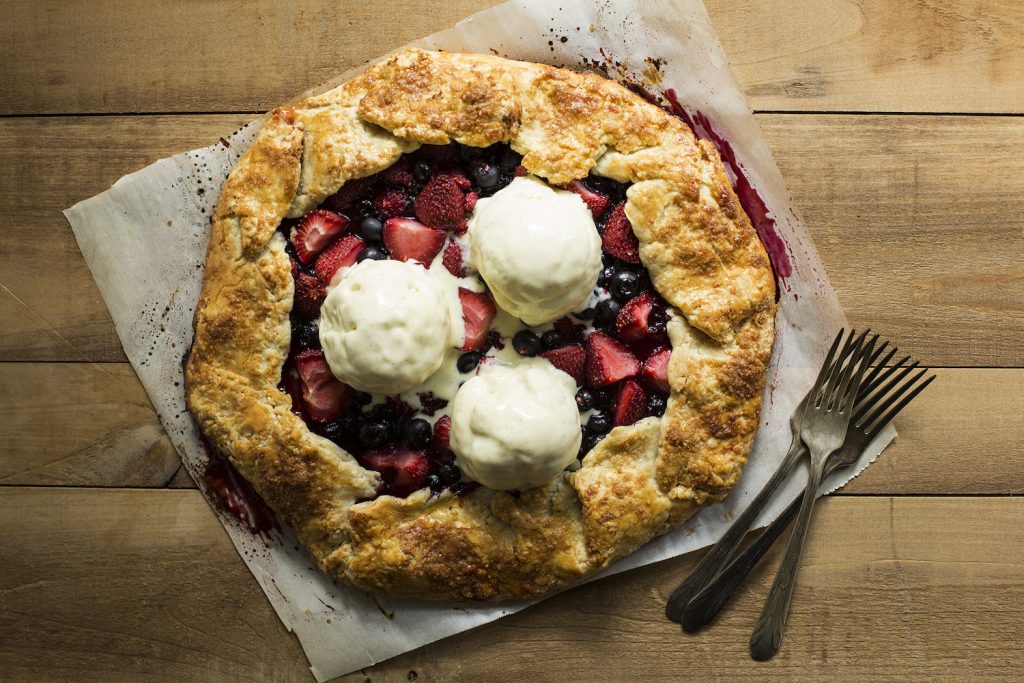 This Rustic Berry Galette recipe is one of my favorite galettes to make. It just screams summer with the fresh berries and I had to top it with some scoops of homemade ice cream because I mean why not?! For this recipe, you can use whatever berries you have on hand or find at your local farmer's market. Speaking of Farmer's markets, yesterday I went to the LA Farmer's Market to meet up with Katherine McCord of Weelicious.com, where there were tons of berries!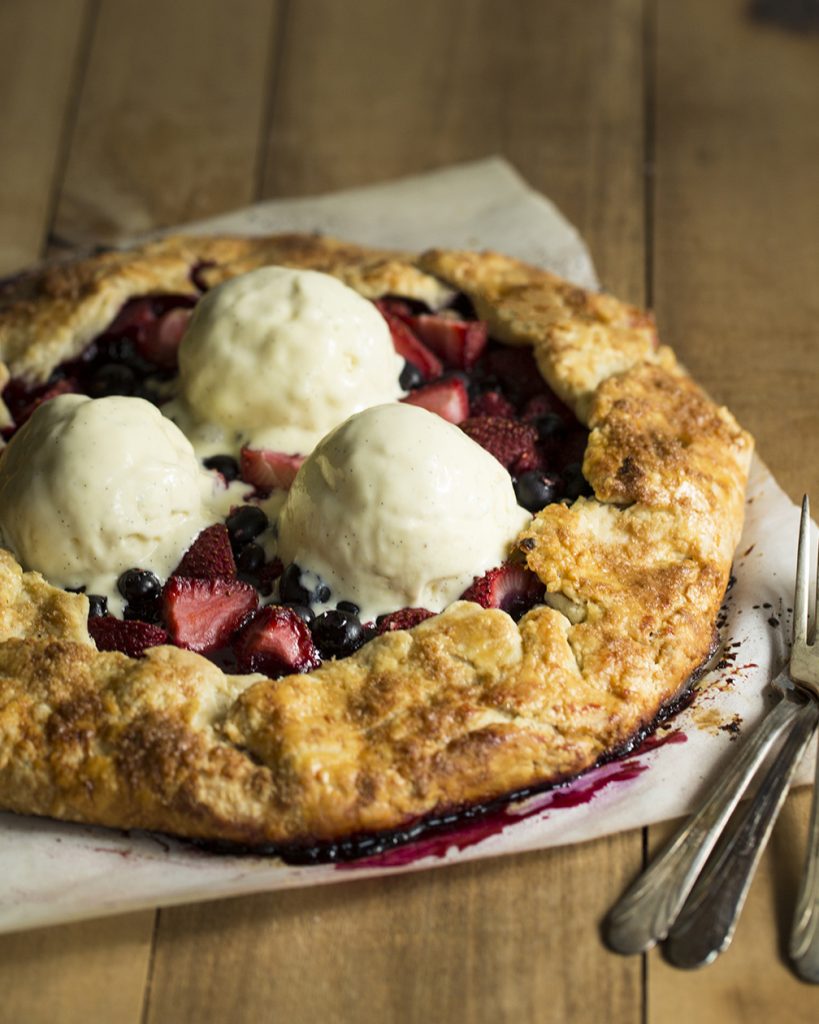 I encourage you to play around with the filling of this recipe. You can add whatever you'd like into the galette. You can switch out different fruits or even a whole different filling entirely. Since the dough has only a tablespoon of sugar in it, you can totally make a savory galette with whatever veggies and cheeses you have on hand. That is really why I love galettes so much! They are just incredibly versatile. If you make this recipe or any of my others post a picture of your creation on social media and tag me @chefeitanbernath. I love seeing how my follower's food comes out! Knowing that my recipes are making your meals even better is the best motivator I know of. It pushes me to want to continue creating and sharing with you!
I hope you enjoy this delicious Rustic Berry Galette recipe as much as I did! Also, I am in Los Angeles this week. While I am here I will be doing tons of Instagram Stories of what I am up to. It's some really cool stuff.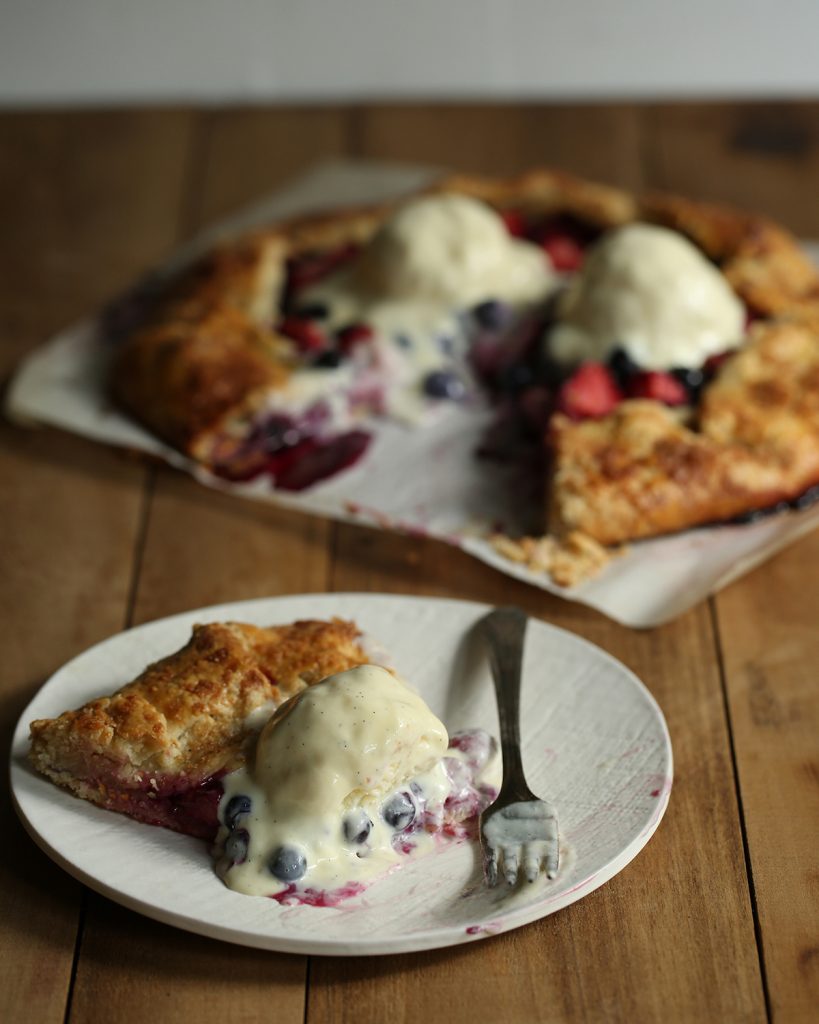 Rustic Berry Galette
Ingredients
For the Dough:
3

cups

all-purpose flour

1

teaspoon

salt

1

tablespoon

sugar

2

sticks of cold butter

cut into ½ inch cubes

1

egg

⅓

cup

ice cold water
For the Filling and Assembly:
3

cups

mixed fresh berries

ie: strawberries, blueberries, & raspberries

¾

cup

sugar

1

tablespoon

cornstarch

1

lemon

zest and juice

½

teaspoon

kosher salt

1

egg

lightly beaten

2

tablespoons

brown sugar

3

scoops vanilla ice cream

optional
Instructions
In a large bowl combine the flour, sugar, and salt. Cut the butter into the flour with your hands or a pastry cutter. The butter should be the size of peas. In a small bowl combine the water and egg. Pour the wet ingredients into the flour and mix until it just comes together, then wrap in plastic wrap. Place it in the fridge for at least an hour before rolling.

Preheat the oven to 400 degrees Fahrenheit. In a large bowl combine the fresh berries, sugar, cornstarch, zest of a lemon, juice of a lemon, and salt and set aside. Roll out the disk of dough into a circle until it's about 15 inches in diameter. If your dough gets too warm while rolling place it in the freezer for 5-10 minutes to cool down.

Place on a greased or parchment paper lined baking sheet. Transfer the berry filling in the center of the dough, leaving about 2 inches on the edges. Fold the edges of the dough over the filling, but leave a center of exposed filling. Brush the dough with the egg then sprinkle with some brown sugar. Using a piece of tin foil, cover the open middle part of filling so that only the dough is exposed.

Bake covered for 30 minutes. Then lower the temperature to 350 degrees Fahrenheit, remove the tin foil and continue baking for another 15-20 minutes, until the crust is golden brown. Remove the galette from the oven and allow to cool slightly before serving. Top with three scoops of ice cream right before serving. Enjoy!
Nutrition
Calories:
1052.62
kcal
|
Carbohydrates:
139.01
g
|
Protein:
14.3
g
|
Fat:
50.58
g
|
Saturated Fat:
30.73
g
|
Trans Fat:
1.86
g
|
Cholesterol:
206.98
mg
|
Sodium:
869.25
mg
|
Fiber:
5.71
g
|
Sugar:
59.39
g
|
Vitamin A:
439.15
IU
|
Vitamin C:
18.53
mg
|
Calcium:
71.47
mg
|
Iron:
5.22
mg