Today is my 15th birthday! Wow…time has really flown. I am so grateful for everything that has happened this year. This was definitely the best year yet. Some of the highlights of this year were, meeting Lilly Singh, making cooking videos with Jamie Geller, working for Susie Fishbein, being hired as a professional food photographer, having a recipe of mine in a published cookbook, winning a trip to Orlando for my family from a box of cereal and much much more.
I am sure you are wondering why a cookie cake? So, I may be one of the only humans on Earth that doesn't like cake. I know, I am crazy! But seriously, it is just not my thing. I am more of a cookie guy…and by that I mean I am a full fledged cookieholic. So I have combined the traditional birthday cake with my personal favorite dessert, cookies, and with peanut butter, another favorite of mine, to make these awesome Peanut Butter Chocolate Chip Cookie Cakes. They are the bomb.com and the perfect way for me to celebrate my birthday. What's a better way to top these cookie cakes off then with some awesome sparkling candles!
I look forward to another great year of success and food! I have tons planned for this year and have some really exciting things coming up which I can't wait to share with you all. My wish no..really my promise to myself is that I will keep working hard to achieve my dreams. I will hustle even harder and continue to be a proud and productive workaholic. To me the sky in the limit. Alright, I have got to go and eat some of these cookie cakes. Byeeeee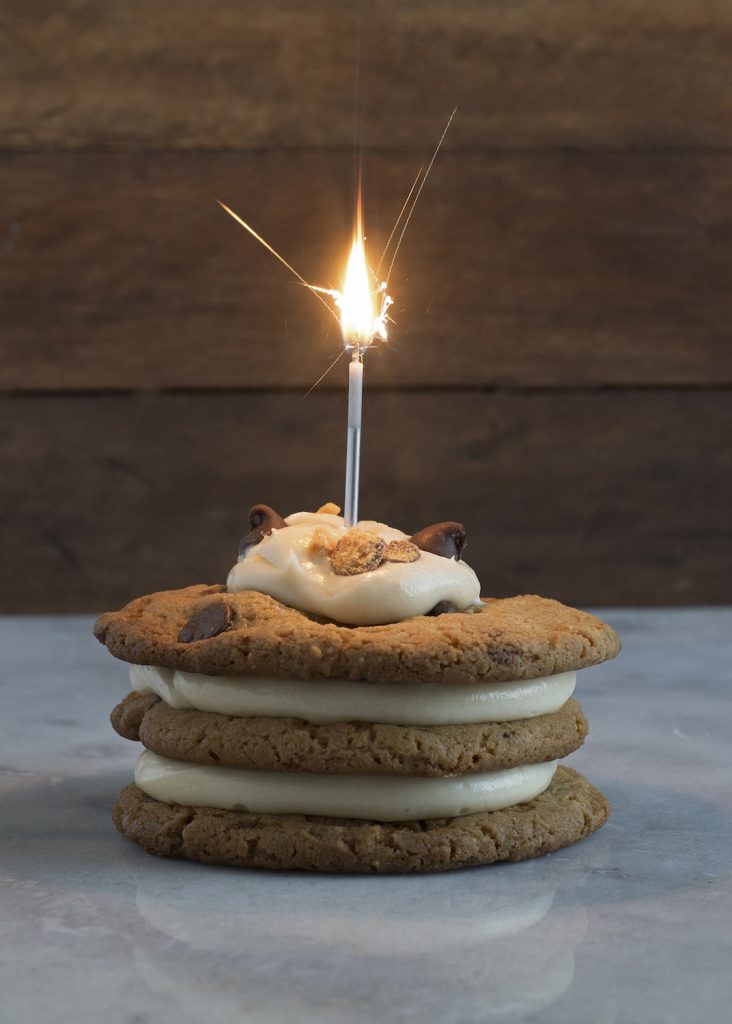 Peanut Butter Chocolate Chip Cookie Cakes
Ingredients
For the Cookies:
1

cup

butter

2 sticks, room temperature

¾

cup

sugar

1

cups

brown sugar

¼

cup

peanut butter

2

large eggs

1

teaspoon

vanilla extract

1

teaspoon

baking soda

1

teaspoon

baking powder

1

teaspoon

salt

2 ¾

cup

flour

½

cup

chocolate chips

½

cup

peanut butter candy

crushed (I used Butterfingers)
For the Frosting:
2

cups

cream cheese

room temperature

3

cups

powdered sugar

2

tablespoons

peanut butter
Instructions
For the Cookies:
Preheat the oven to Preheat oven to 350°F.

In the bowl of a stand mixer cream together the butter, white sugar, and brown sugar. Add in the eggs, peanut butter, and vanilla extract and beat on until light and fluffy.

In a separate bowl, whisk together the flour, baking soda, baking powder, and salt.

Slowly add in the flour mixture, while mixing. Next add in the crushed peanut butter candy and chocolate chips and mix, by hand, until fully combined.

Take 2 tablespoon balls of the dough and roll them into balls. Then place the balls on a cookie sheet approximately 2 inches apart. Bake for 10-12 minutes, until the edges are slightly crispy.

Remove from the oven and allow the cookies to sit on the cookie sheet for two minutes. Then move the cookies to a wire rack to cool completely.
For the Frosting:
In the bowl of a stand mixer beat the cream cheese, powdered sugar, and peanut butter for 3 minutes.
Assembly:
Place a cookie on a small plate and add a dollop of frosting on top. Repeat three times and finish with a dollop of icing, on the very top. Sprinkle on some more chocolate chips and peanut butter candy on top. Enjoy!
Nutrition
Calories:
2175.6
kcal
|
Carbohydrates:
272.12
g
|
Protein:
27.03
g
|
Fat:
114.18
g
|
Saturated Fat:
62.7
g
|
Trans Fat:
1.93
g
|
Cholesterol:
346.27
mg
|
Sodium:
1219.22
mg
|
Fiber:
5.56
g
|
Sugar:
196.67
g
|
Vitamin A:
851.02
IU
|
Vitamin C:
0.17
mg
|
Calcium:
321.71
mg
|
Iron:
3.8
mg