This is an entire meal in one dish! You get veggies, gravy, and carbs in every delicious bite. The filling is jam packed with flavor, from classic carrot, celery, onion, and peas, to the less traditional wild mushrooms and potatoes. I add rehydrated dried mushrooms to the stock to make it even more savory and flavorful, and the wild mushrooms are seared in butter before they're mixed into the filling, so they make a perfect replacement for the usual meatiness you'd get from chicken! I flavor this very simply with fresh thyme so that the vegetables can really shine through, and the entire thing is topped with a flaky, homemade pie dough that has Parmesan CHEESE folded in! The crust gets puffed and flaky in the oven, and the cheese turns toasty golden brown, adding lots of salty, nutty flavor to the pie. This is an all around scrumptious dinner, the leftovers reheat very well, and it's perfect for a cold January night. Speaking from personal experience, I recommend wrapping up in a cozy blanket and eating a plate-full of this on your couch!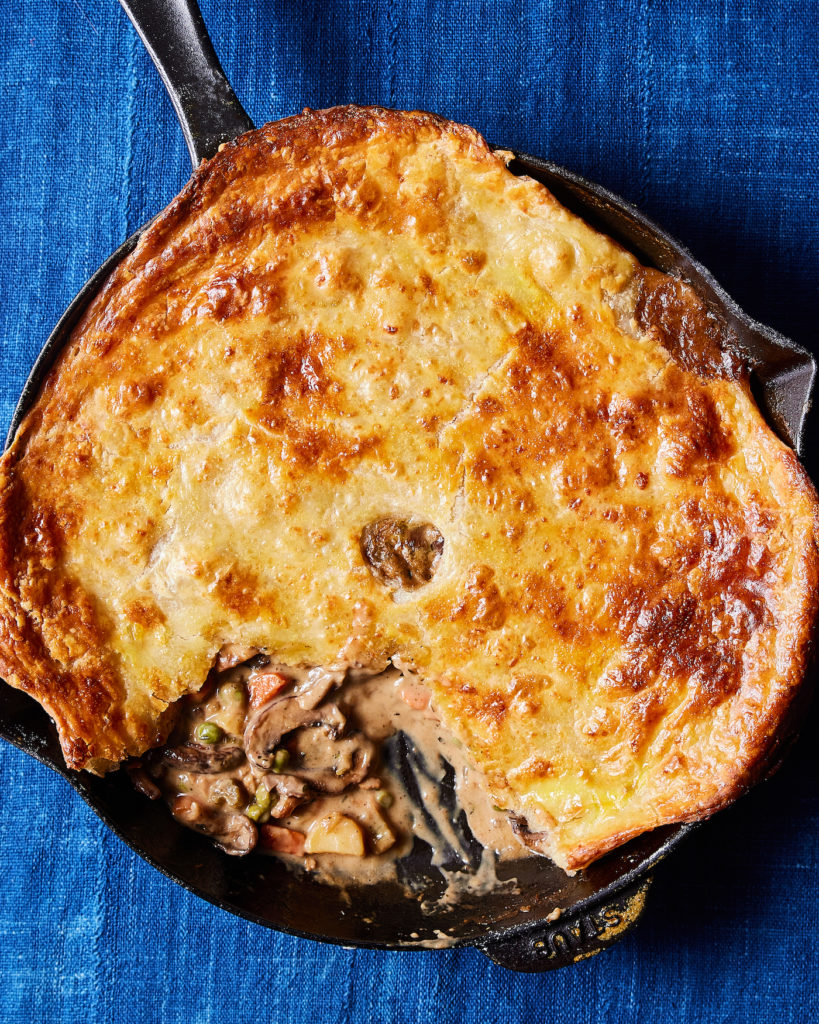 Vegetable Pot Pie
Wait Time
1 hour, 30 minutes
Total Time
1 hour, 45 minutes
Ingredients
For the Crust
1 ¼ cups all purpose flour
¼ cup packed finely grated Parmesan (about 1 ounce)
6 tablespoons unsalted butter, grated and frozen
⅓ cup ice cold water
For the Filling
½ cup dried porcini mushrooms
4 tablespoons of butter, divided
1 pound wild mushrooms, ends trimmed and cut into thick slices
1 ½ cups diced white onion (about 1 large onion)
1 cup diced carrot (about 3 large carrots)
1 cup diced celery (about 3 ribs)
¼ cup all purpose flour
2 cups vegetable stock
1 cup peeled, diced Russet potato (about 1 medium potato)
½ cup heavy cream
1 cup frozen green peas
1 tablespoon fresh thyme
Instructions
For the Pie Dough
In a large, shallow bowl, combine flour, Parmesan cheese, and grated butter, and use a rubber spatula to mix until cheese and butter are well distributed and coated in flour. Add ice water, and stir gently until a shaggy dough forms.
Turn out onto a lightly floured surface and use clean hands to gather dough into one mass. Pat into a 1 inch thick rectangle, then fold in half and pat into a 1 inch thick rectangle again. Repeat this process twice more, then shape dough into a 2 inch disc. Wrap tightly in plastic wrap, then refrigerate for at least 1 hour, and up to 2 days.
For the Filling
In a small saucepot, bring 1 cup of water to a boil. Turn off heat, add dried porcini mushrooms and cover. Leave to rehydrate while you make the rest of the filling.
Heat a 12 inch cast iron skillet (or 12 inch ovenproof skillet) over medium heat for 1 minute. While it heats, place a paper towel-lined or racked sheet tray nearby. Add 1 tablespoon of butter, and once it's melted and foaming, add half the mushrooms to the pan in a single layer. Season with salt, and leave undisturbed, 3-5 minutes. Once browned, flip to sear opposite side for an additional 3-5 minutes. Transfer to prepared tray, add another tablespoon of butter, and repeat process with the remaining mushrooms. Set aside.
Reduce heat to medium low, add final 2 tablespoons of butter to the skillet, and once it's melted and foaming, add carrots, onions, and celery. Season with salt and pepper, then saute, stirring occasionally, until vegetables are soft and onions are translucent, 10-15 minutes. Sprinkle flour over vegetables and cook, stirring, until flour is absorbed and pasty, 1-2 minutes. Add vegetable stock and rehydrated porcinis and their liquid, and stir to combine. Increase heat to medium high and bring to a simmer, 3-5 minutes. Add potatoes and simmer, stirring often, until liquid thickens and coats the back of a spoon, 2-3 minutes more. Add heavy cream, peas, and thyme, and stir until well combined, about 1 minute. Remove from heat and set aside.
For Assembly
Remove chilled dough from refrigerator and lightly flour your work surface. Using a rolling pin, roll the dough out into a 13 inch circle, turning 90° every 2 rolls, and dusting additional flour if dough sticks.
Transfer dough to skillet, with about 1 inch of overhang around the edges. Use a sharp knife to cut a 1 inch circle in the center of the dough to vent, then brush with egg wash. Place skillet on a sheet pan, then place in the middle rack of the oven. Bake until dough is deep golden brown, and filling is bubbling, 25-30 minutes.
Remove from oven and allow to cool for 30 minutes before serving.
© 2022 Eitan Bernath Productions, LLC.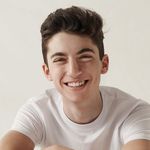 Eitan Bernath
Eitan Bernath is a chef, food & lifestyle content creator, entertainer, TV personality, and entrepreneur, best known for his viral videos on social media that showcase his cooking expertise and captivating personality.