Food with Friends: Penne Alla Vodka Pizza

I am PUMPED to announce my new show "Food with Friends" just launched on my YouTube channel! I have so much fun cooking with my friends at home and I'm so excited to bring you into the kitchen with us for a whole new cooking experience!
In the first episode, I challenged my friend Lital to make me her best Penne alla Vodka and it turned out…interesting. After, I made Lital MY best Penne alla Vodka, which is on a pizza! I can not wait for you to see it! I really think you are going to love this new format and think I really opened up on camera in a whole new way!
New episodes drop every Tuesday at 10 AM ET!
Penne Alla Vodka Pizza
Wait Time
1 hour, 30 minutes
Total Time
1 hour, 30 minutes
Ingredients
For the Pizza
1 teaspoon active dry yeast
2 cups (280 grams) all purpose flour
1 ½ teaspoons kosher salt
Olive oil, for oiling bowl and brushing crust
Cornmeal or semolina, for dusting
For the Penne Alla Vodka
½ pound penne pasta
¼ cup olive oil
1 teaspoon crushed red pepper flakes
10 garlic cloves, chopped
3 tablespoons tomato paste
¼ cup vodka
1 (14.5) ounce can diced tomatoes
½ cup heavy cream
⅔ cup grated Parmesan, divided, plus more for garnish
1 ¼ cups whole-milk mozzarella, divided
Instructions
For the Pizza Dough
In the bowl of a stand mixer, add ¾ cup lukewarm water and sprinkle yeast over top. Lightly whisk to combine, then cover with a tea towel. Leave for 5 minutes to bloom, then remove towel. The liquid should smell yeasty and look a bit foamy.
Fit the mixer with the dough hook attachment, then add flour and salt and mix on medium speed, until a shaggy dough forms. Then increase speed and knead for 5 minutes, or until a smooth, elastic ball of dough forms. Add olive oil to sides of the bowl and turn ball of dough in oil to coat completely. Cover with plastic wrap and place in a warm place to rise until doubled, 1 to 1 ½ hours. Alternatively, dough can rise slowly in the refrigerator for 8 to 10 hours.
For the Penne Alla Vodka
Bring a large pot of salted water to a boil. Add penne and cook until 2 minutes shy of al dente, according to package instructions.
Meanwhile, heat olive oil in a large saucepan set over medium heat. Add red pepper flakes and garlic and cook, stirring occasionally, until soft and lightly browned, about 1 minute. Add tomato paste and stir until well combined, then cook for 3-4 minutes, until it reaches a deep red color. Add vodka to the pan and let it reduce slightly for about 1 minute. (Or, if you feel up to it, you can flambé the vodka by very carefully lighting the sauce with a long-reach lighter; the flame will go out in 30 to 45 seconds, once the alcohol is cooked off.). Add tomatoes and cook, stirring occasionally, until slightly reduced, about 15 minutes. Stir in cream and ½ cup Parmesan, season with salt and black pepper, then stir again until combined.
Carefully transfer the sauce to a blender or food processor. Blend until smooth, then reserve ½ cup sauce, and set both aside.
Once pasta is almost finished cooking, reserve 1 cup of pasta water, then drain pasta. Return pasta to pot and add sauce (reserving the divided ½ cup of sauce for later). Stir to fully coat the pasta, adding in ¼ cup reserved pasta water until sauce is glossy and easily coats the pasta.
If needed, add additional reserved water, by the tablespoon, to achieve a saucy consistency.
Remove from the heat and cover while preparing the dough.
For Assembly, Baking and Serving
Place a large pizza stone or upside down baking sheet in oven. Preheat oven to 475°F (or highest your oven will go).
Turn dough out onto a lightly floured surface and stretch into a 12 inch circle, leaving 1 inch of thicker dough around the edge for the crust. Generously sprinkle pizza peel (or upside down sheet tray) with cornmeal. Transfer dough to prepared pizza peel or tray and slide dough onto preheated pizza stone. Cook for 10 minutes, or until the dough starts to brown on the edges.
Remove dough from the oven using pizza peel or remove the baking sheet. Spread reserved ½ cup sauce over top of the par-cooked dough, leaving a 1 inch border around the edge. Sprinkle 3/4 cup of mozzarella cheese over the sauce. Spoon penne alla vodka evenly over the cheese, then top with the remaining mozzarella. Brush olive oil on the crust, then top crust with remaining grated Parmesan cheese.
Carefully slide the pizza back into oven. Bake for an additional 8-10 minutes, or until dough is golden brown on top and cheese is melted and beginning to brown on some parts.
Remove from oven and allow to rest on hot stone or tray for 5-10 minutes, then slice into 8 even pieces and serve immediately.
© 2023 Eitan Bernath Productions, LLC.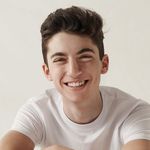 Eitan Bernath
Eitan Bernath is an award-winning chef, author, TV personality, entertainer, and social justice activist. He is the chief executive officer of Eitan Productions, the Principal Culinary Contributor for the Daytime Emmy® award-winning Drew Barrymore Show on CBS, and is a contributor to The Washington Post, Food & Wine, Saveur, and Delish.