I must admit that I haven't always been the biggest fan of eggplant. As I've gotten older, I've realized there are a LOT of foods that I was absolutely certain I didn't like, but it's really that I just haven't had them cooked the right way, or prepared with the right flavors and spices. In a surprise to no one, I love Indian flavors, so I knew they'd be an easy way to win my taste buds over when it comes to eggplant. Another critical part of this recipe that may help any of the other eggplant haters our there is to make sure you're using Chinese eggplant. They're smaller, less bitter, have fewer seeds, produce less moisture when cooked, and so they are perfect for a high heat method like grilling! I like to oil both my grill pan AND the eggplant itself to ensure there's no sticking or tearing, since it can be a fairly delicate vegetable. The best thing about this method to me is that you can swap in any of YOUR favorite spice blends to make this extra delicious to you; a Mediterranean or Italian spice blend would be so good! Finally, let this recipe be your reminder that you can and should be grilling things besides meat. It's a delicious and fun way to cook outside during these warm summer days!
---
1.

Eggplant Types

There are a lot of different kinds of eggplant, and they tend to be regional, so the type you see often in a US grocery store – the American eggplant – will be totally different from the type you see in other countries. I use Chinese eggplant here because they're less bitter, have fewer seeds, produce less moisture when cooked, and are pretty small, so are perfect for a high heat method like grilling!
---
2.

Salting Method

Eggplants are PACKED with moisture, so it's always a good idea to salt them to draw out some of their moisture before you begin cooking them. This helps season them too, so two birds, one stone!
---
3.

Mix Up the Spices

I chose masala as my primary flavor here because it's one of my all time favorites, but I encourage you to choose whatever flavor is YOUR favorite. Eggplant is a great blank slate, so anything from a Mexican spice blend to Italian herbs would be absolutely delicious in this recipe!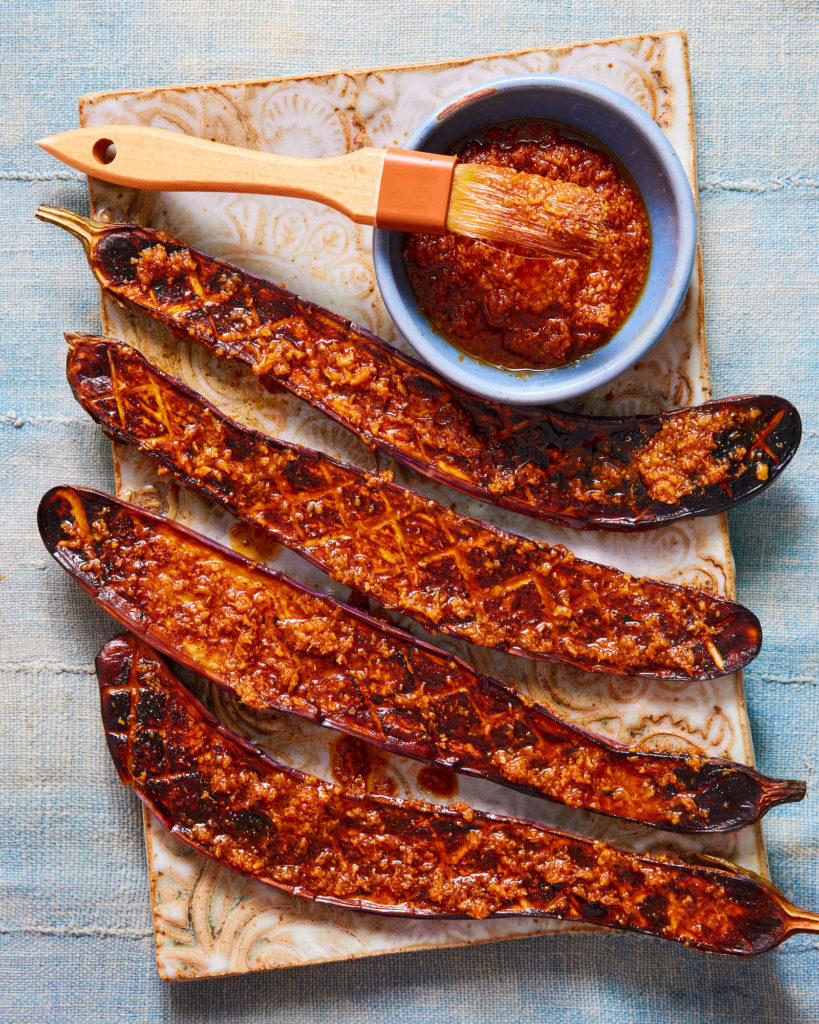 Grilled Eggplant Masala
Ingredients
For the Eggplant
4

Chinese eggplants

sliced in half lengthwise

Kosher salt

6

tablespoons

neutral oil

such as grapeseed or canola, divided
For the Masala
1

3 inch piece of ginger, peeled and cut into chunks

4

garlic cloves

peeled

⅓

cup

neutral oil

such as grapeseed or canola

2

teaspoons

Kashmiri chili powder

1 ½

teaspoons

cumin

1

teaspoon

coriander

½

teaspoon

cardamom

½

teaspoon

garam masala
For Garnish
Flaky salt

Cilantro leaves

chopped

Plain yogurt
Instructions
Place eggplant halves cut side up on a racked baking sheet and score the top with 1-inch cross marks, barely cutting through the flesh of the eggplant. Then, season scored sides with salt and let sit for 20 minutes, allowing some of the bitterness to be leached out of the eggplant.

While the eggplant is sitting, make the masala. In a small food processor, add ginger and garlic and process until very finely chopped. Set aside.

In a small skillet over medium low heat, add neutral oil and heat for 2-3 minutes, or until lightly shimmering. Add ginger garlic paste and stir, fully incorporating it into the oil. Cook for 2-3 minutes, or until the paste softens and becomes slightly translucent. Reduce the heat to low if the paste begins to turn golden brown. Next, add spices and gently stir to combine. Cook for 30-45 seconds, or until the spices become fragrant. Remove from heat and set aside.

Next, sear the eggplant. Heat a 12-inch skillet over medium high heat and add 2 tablespoons of neutral oil. While the pan is heating, use a paper towel to firmly dab the cut side of the eggplant to remove any excess moisture. Add 3 pieces of eggplant, cut side down, and top with smaller, heavy skillet to ensure even pressure while cooking. Sear for 4-5 minutes, or until eggplant is deeply golden brown. Flip and cook skin side for 2-3 minutes, or until eggplant is soft and pliable.

Transfer back to racked baking sheet and repeat with remaining eggplant. While remaining batches of eggplant are cooking, top each piece of cooked eggplant with about 1 tablespoon of masala mixture, using the back of a spoon to push it into the scored areas. Sprinkle with salt and top with chopped cilantro and a yogurt drizzle, if desired. Serve immediately.
Nutrition
Calories:
510.61
kcal
|
Carbohydrates:
37.71
g
|
Protein:
6.38
g
|
Fat:
40.8
g
|
Saturated Fat:
3.16
g
|
Trans Fat:
0.15
g
|
Sodium:
1428.6
mg
|
Fiber:
17.84
g
|
Sugar:
19.8
g
|
Vitamin A:
46.57
IU
|
Vitamin C:
15.69
mg
|
Calcium:
79.58
mg
|
Iron:
2.4
mg