Anyone who knows me knows I LOVE a good pie, and trust me when I tell you, this one is very good! The flavors in this recipe are inspired by a dessert I had at a restaurant when I first moved to the city that made me fall in love with raspberries. Their dish was a layered combination of white chocolate whipped cream, fresh raspberries, and cookie crumbles. I wanted to recreate that flavor profile myself, and thought there was no better way to do it than in the form of a beautiful, no-bake summer pie!
For the crust, I ditched the classic no-bake option of graham crackers and grabbed sweet, buttery shortbread cookies instead. Then, in place of the whipped cream, I went for a decadent creme patisserie (which is just a fancy word for custard!) and added melted white chocolate for even more flavor. Finally, I topped it off with swirls of fresh raspberry coulis to highlight those raspberry flavors I fell in love with from the inspiration dessert, and let me tell you, it is a PERFECT summer pie! You don't have to turn your oven on once, and the custard comes together in 5 minutes on the stove top. Each element of this pie can be made hours or even the day before, and assembled and quickly chilled before serving. And, most importantly, this pie tastes even better than it looks; the cookie crust is buttery and sweet, the white chocolate custard is beyond rich and creamy, and the raspberry coulis is bright and just slightly tangy. You're going to have a hard time convincing your guests that you didn't buy this from a fancy bakery!
---
1. No boxed pudding mix!
Making your own custard or pudding is a simple technique that any home cook can master. Creme patisserie sounds intimidating, but the actual process is easy and VERY fast!
---
2. Raspberries
I recently fell in love with raspberries, and their bright, sweet-yet-tangy flavor is the perfect compliment to the rich custard, not to mention the gorgeous, ruby red color!
---
3. No-Bake & Make Ahead!
I can't imagine a better pie for entertaining in the summer than one that can be made hours or days in advance, but ALSO doesn't require you to turn on your oven during the hottest months of the year!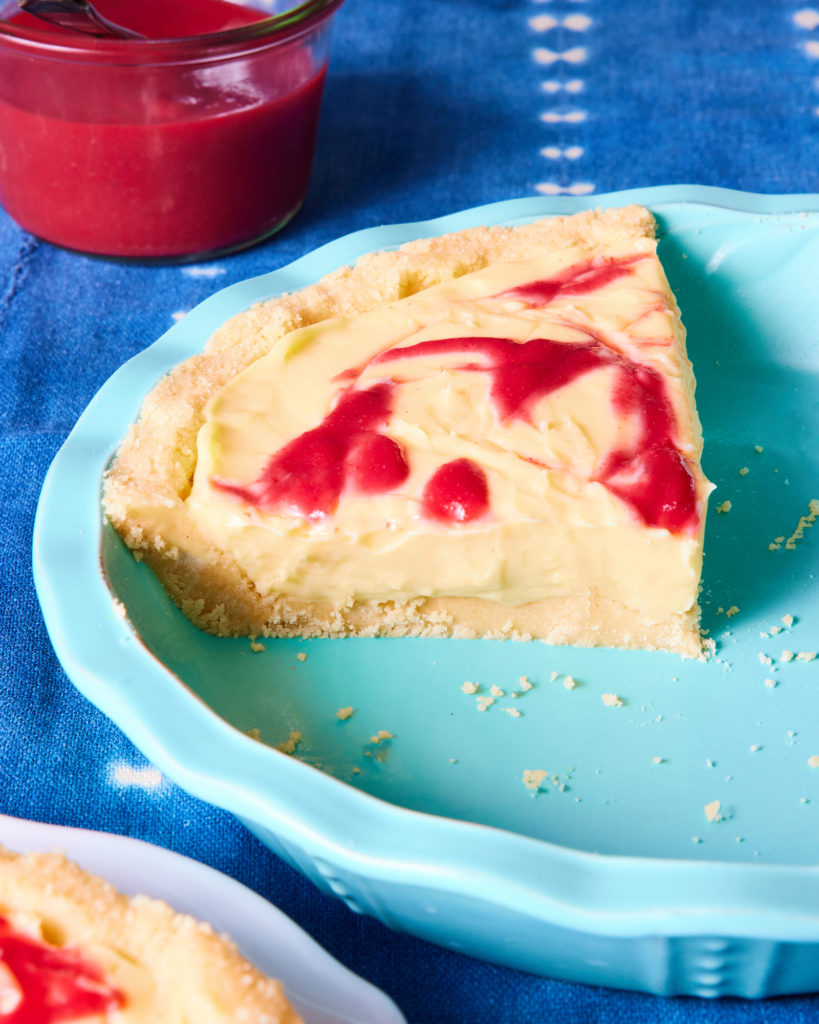 Raspberry and White Chocolate Custard Pie
WHAT YOU'LL NEED
For the White Chocolate Custard
2

cups

whole milk

¼

teaspoons

salt

5

large egg yolks room temperature

3

tablespoons

cornstarch

⅓

cup

sugar

2

tablespoons

unsalted butter

at room temperature

2

teaspoons

vanilla extract

¾

cup

white chocolate chips

melted
For the Raspberry Coulis
12

ounces

fresh raspberries

about 3 cups

¼

cup

sugar

2

teaspoons

lemon juice
For the Cookie Crust
24

shortbread cookies

such as Pepperidge Farm Chessmen

5

tablespoons

salted butter

very soft, or more as needed

2

tablespoons

sugar
Instructions
For the White Chocolate Custard
Place milk and salt in a medium sauce pot over medium heat.

While the milk warms, in a separate, heatproof bowl, whisk egg yolks, cornstarch and sugar until well combined and eggs are pale. Place bowl on a non-slip surface, or wrap base of bowl in a damp kitchen towel.

When milk starts to steam and small bubbles form around the surface's edge, very slowly drizzle about half of hot milk into egg mixture, whisking constantly, to temper the eggs.

Next, pour egg and milk mixture back into the milk in the saucepan and whisk to combine. Continue whisking vigorously and constantly over medium high heat, being sure to whisk across the bottom of the pot to ensure nothing sticks or burns. The mixture will thicken to a pudding consistency within 2 to 3 minutes. Once thick, stop whisking and see if a large bubble or 2 breaks the surface in the center of the custard. If they don't, continue whisking and checking for the custard to boil. If they do, remove custard from the heat and whisk in the butter, a tablespoon at the time, combining well between additions. Next, add melted white chocolate and vanilla extract, and whisk very well, until thoroughly incorporated and custard is thick and glossy.

Pour into a 8×8 or 9×9 sized metal pan and immediately cover with plastic wrap, pressing wrap onto entire surface of custard and up over the edges. Let cool to room temperature, then place in refrigerator to fully set and chill for an hour or up to overnight.
For the Raspberry Coulis
In a small sauce pot over medium heat, add raspberries, sugar and lemon juice. Use a whisk to mash raspberries down and help release their natural juices. Once juices are simmering, reduce heat to low, and gently simmer, whisking and mashing often, until all juices have released and mixture is slightly thickened, 25 to 30 minutes.

Remove from heat, pour into a high speed blender, and allow mixture to cool for 15 to 20 minutes before blending. Once cooled slightly, blend on high until mixture is very smooth, 2 to 3 minutes.

Place a fine mesh strainer over a heat proof bowl, and pour mixture into it. Use a spoon or rubber spatula to stir the mixture through the strainer until only solids and seeds remain. Discard solids. Allow coulis to cool to room temperature before covering and placing in refrigerator to chill for at least an hour or up to overnight.
For the Cookie Crust
In a food processor, process cookies on high speed to fine crumbs. Then add butter and sugar, and process until mixture clumps in places and resembles wet sand. It should hold when pinched together. If it does not, add a tablespoon of additional softened butter at a time and process until this texture is reached.

Pour mixture into a standard 9 inch pie pan, and use clean hands, or the bottom of a flat measuring cup, to tamp the mixture evenly across the bottom of the pan and up the sides. Pack the crust as tightly as possible; if hands or measuring cup begin to stick to the crust, spray with nonstick spray and continue tamping.

Place in freezer for one hour to chill completely.
For the Assembly
Remove custard from refrigerator and use a rubber spatula to scrape it into a large mixing bowl. Stir vigorously for a few seconds so that the custard is easier to scoop into its crust.

Remove crust from freezer and coulis from refrigerator. Dollop custard evenly across the crust, and use a spoon or spatula to gently spread it out evenly. Then, dollop the coulis on top of the custard, and use a clean knife or toothpick to swirl the coulis and custard together.

Place back in the refrigerator to firm up again for at least an hour. Once firm, slice and serve immediately. Place any leftovers back in the refrigerator.
Nutrition
Serving:
8
g
Calories:
1067.49
kcal
Carbohydrates:
122.15
g
Protein:
14.14
g
Fat:
59.12
g
Saturated Fat:
29.01
g
Trans Fat:
1.32
g
Cholesterol:
302.88
mg
Sodium:
603.49
mg
Fiber:
6.57
g
Sugar:
79.86
g
Vitamin A:
311.63
IU
Vitamin C:
23.43
mg
Calcium:
266.08
mg
Iron:
3.45
mg
Tried this recipe?
Tag %eitan% on Instagram!