Every summer for as long as I can remember, my family visits our cousins in Long Beach Island, New Jersey. I look forward to the trip every year for so many reasons, but I'd have to say my absolute favorite part of it is when we all go to the carnival. We spend hours going on roller coasters, driving bumper cars, and competing in skee-ball, but the best part of all is at the very end of the day, when we all get funnel cakes! Some are topped with whipped cream, some with ice cream, and of course some with the classic powdered sugar. For me, a summer without funnel cake just isn't summer!
Of course, I wanted to make my own version of my favorite summer treat, and the best way to do that is obviously to combine it with my favorite year-round treat: cinnamon rolls! I added a TON of cinnamon to the funnel cake batter, turned the usual cream cheese frosting into a thick, tangy drizzle of glaze, and cinnamon-spiced up the shower of powdered sugar at the end. Some recipe mash ups just don't work, but funnel cake and cinnamon rolls are a match made in heaven!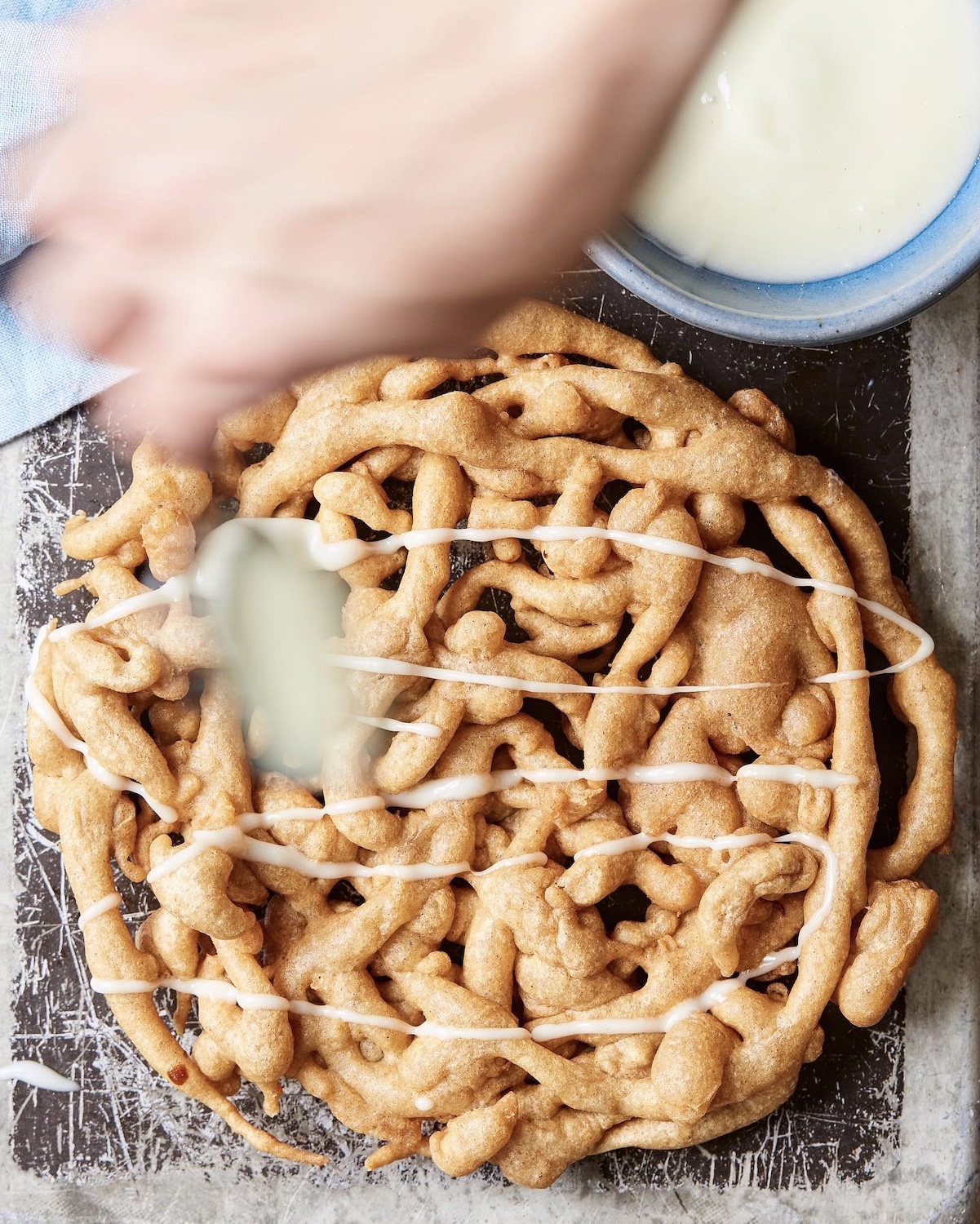 Cinnamon Roll Funnel Cake With Cream Cheese Frosting
Servings:
4
large funnel cakes, or 6 small funnel cakes
Ingredients
For the Cream Cheese Glaze:
4

ounces

cream cheese

softened

1

cup

powdered sugar

sifted

2

tablespoons

whole milk

½

teaspoon

vanilla extract
For the Cinnamon Powdered Sugar:
½

cup

powdered sugar

1

teaspoon

cinnamon
For the Cinnamon Funnel Cake:
1 1/4

cup

whole milk

1

large egg

1

teaspoon

vanilla extract

Vegetable oil

for deep frying

1 1/2

cups

all-purpose flour

1/4

cup

brown sugar

1

tablespoon

cinnamon

1 1/2

teaspoons

baking powder

1

teaspoon

kosher salt

1/4

teaspoon

freshly ground nutmeg
Instructions
First, make cream cheese glaze. In a medium bowl, whisk together cream cheese, powdered sugar, whole milk and vanilla extract until smooth. Set aside until ready to use.

Then make cinnamon sugar. Stir powdered sugar and cinnamon together until fully combined. Set aside.

Next, make funnel cakes. In a large sauce pot or deep fryer, preheat 2 inches of vegetable oil to 375° F.

In a large bowl, whisk together milk, egg, and vanilla until fully combined.

In a medium mixing bowl whisk together flour, sugar, cinnamon, baking powder, salt and nutmeg until fully combined. Add dry ingredients into wet ingredients, while whisking, until fully combined.

Line a sheet tray with paper towels and set aside. Then, cover the bottom of a ½ inch funnel spout with your finger, then ladle 1/2 cup batter into funnel. (If you don't have a funnel, pour the batter in a thin stream from the measuring cup.) Hold funnel several inches above the oil, then release your finger and move the funnel in a spiral motion until all batter is released. Fry for 2 minutes on each side, until golden brown. Transfer to pre-lined sheet tray to allow any excess oil to be absorbed.

For serving, drizzle the glaze over the hot funnel cake then lightly dust with cinnamon powdered sugar. Serve immediately.
Nutrition
Calories:
841.19
kcal
|
Carbohydrates:
92.61
g
|
Protein:
10.86
g
|
Fat:
48.33
g
|
Saturated Fat:
9.76
g
|
Trans Fat:
0.27
g
|
Cholesterol:
86.06
mg
|
Sodium:
606.35
mg
|
Fiber:
2.68
g
|
Sugar:
53.49
g
|
Vitamin A:
162.68
IU
|
Vitamin C:
0.1
mg
|
Calcium:
298.07
mg
|
Iron:
3.03
mg