Today, I'm going back to my roots and making a Jewish classic beloved by jews and non-jews alike: BAGELS! There's a very popular myth that says the water in New York City is what makes their bagels the best, but I'm going to do some myth busting today! What makes the city's bagels iconic isn't the water that's mixed into the dough, it's the water they're boiled in before they get baked! Boiling the bagel ensures that the dough is steamed all the way through before it's baked, which results in that soft-yet-chewy interior and the golden, crisped exterior.
Often, bagel shops outside of the NYC metropolitan area will try to mimic that boiling process with a steam-injected oven to save time, but that only steams the outside of the bagel, and so the interior texture is never quite right. There are various popular additions, like malt powder or baking soda, to the boiling water for added color and shine, but my personal favorite is brown sugar since I always have it on hand.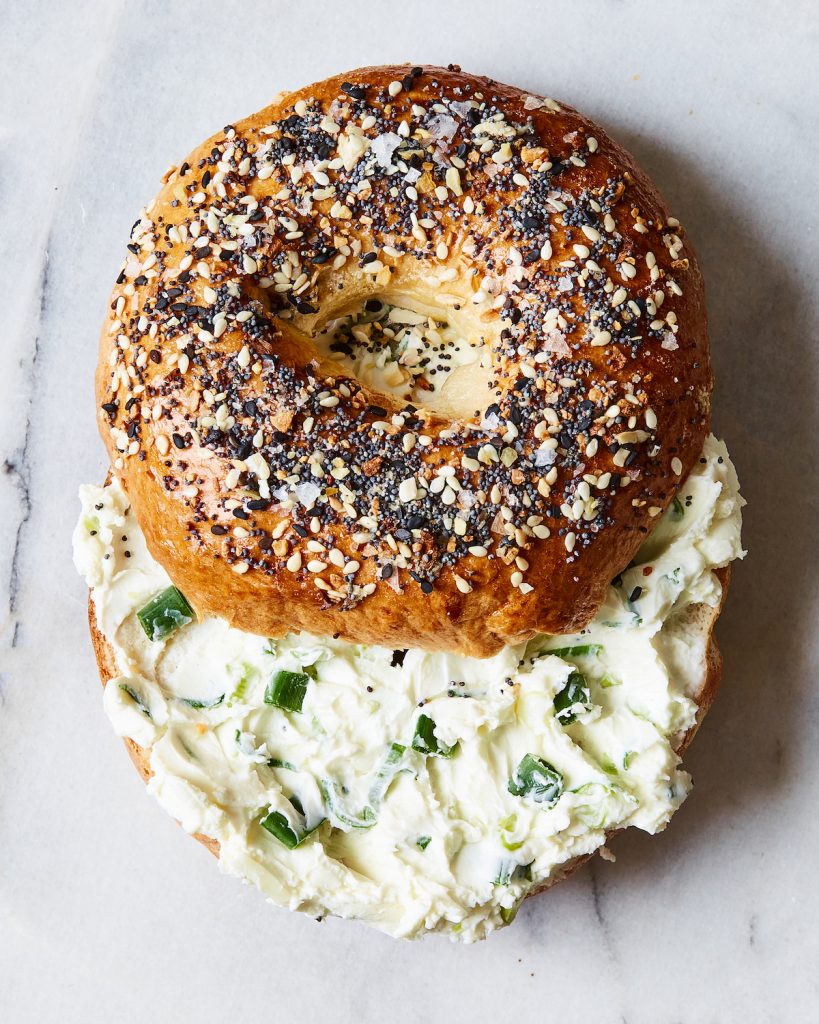 I feel obligated to include a warning for just how tough the dough will be during the kneading process. Since we're using bread flour, the dough has a very high gluten content. This is ideal to get the classic bagel chewiness, but not ideal unless in you're in the mood for an arm workout. This kneading process may leave you schvitzing, but I promise the warm bagel at the end will be worth it. My favorite type of bagel is an everything bagel because of the textures and flavors in the seasoning: dried garlic and onion, toasted, crunchy black and white sesame seeds, flaky salt and poppy seeds, too. If that's not your favorite, don't worry, because this is a great, basic bagel dough, and you can swap the toppings for anything you prefer, like cinnamon sugar, sesame, poppy seed, or even just plain!
Finally, I like to top my everything bagel with scallion cream cheese, but plain cream cheese is delicious by itself, too. Cream cheese is very easy to flavor, so play around with adding different spices, veggies, or even fruit to make it your own! If you ask me, bagels are a perfect food any time of day. Toast one up with cream cheese in the morning, or make a variety of flavors for a brunch spread, slice them in half and turn them into pizza bagels for lunch, cube and bake one to add delicious everything croutons to your salad for dinner. If you get lucky and have leftovers, they freeze well until your next bagel craving hits!
New York-Style Everything Bagels with Scallion Cream Cheese
Ingredients
For Everything Bagels
2 1/2

cups

warm water

2

¼ ounce packets active dry yeast

8

cups

bread flour

2

tablespoons

granulated sugar

2

tablespoons

kosher salt

2

tablespoons

dark brown sugar

1

egg

beaten

1

egg white

beaten until frothy

¾

cup

everything bagel seasoning
For Scallion Cream Cheese
2

8 ounce packages cream cheese, at room temperature

⅓

cup

sliced scallion

about 4-5 scallions
Instructions
In bowl of a stand mixer fitted with dough hook attachment, stir warm water and sugar until combined. Sprinkle yeast over water and allow to bloom for 10 minutes, or until it becomes foamy. Add bread flour and salt into yeast mixture, then turn mixer on low speed and mix until it comes together into a ball.

Transfer dough onto a lightly floured surface and knead for 12-15 minutes, or until dough is smooth. Please note, bagel dough is very tough because of the high gluten flour. If it is difficult to knead that means you have developed the gluten needed for the correct texture. Shape dough into a ball, then place in a large greased bowl. Cover with kitchen towel or plastic wrap and allow to rise until just doubled in size, or 45-60 minutes. It is better to slightly under proof than over proof.

While bagels are rising, make scallion cream cheese. In a large bowl, mix cream cheese and scallions until fully combined. Transfer to a resealable container and keep refrigerated until 20 minutes before ready to use.

Preheat oven to 400°F. Place a 9×13 inch baking dish on the bottom of oven, then fill with boiling water. Line 3 baking sheets with parchment paper, set aside. Bring a large pot of water to a boil and add brown sugar.

Once dough is risen, divide dough into 12 evenly sized balls. Poke your finger through the middle of each ball and stretch out from the center to form a 2-3 inch hole. Place 2-3 bagels in boiling water, working in batches, and cook for 1 minute. Carefully flip with a slotted spoon and cook for 1 minute on other side. Place boiled bagels onto prepared baking sheets, 4 to a tray. Brush tops of the bagels with beaten egg.

Bake for 20 minutes or until lightly golden brown, remove, brush tops with frothed egg white, then dip in everything bagel seasoning. Bake for 5-7 minutes, or until toppings are slightly browned. Remove from oven and allow to cool completely.

Once cooled, slice and serve with scallion cream cheese.
Nutrition
Calories:
497.29
kcal
|
Carbohydrates:
74.97
g
|
Protein:
14.83
g
|
Fat:
15.23
g
|
Saturated Fat:
7.78
g
|
Cholesterol:
54.91
mg
|
Sodium:
456.36
mg
|
Fiber:
3.08
g
|
Sugar:
5.21
g
|
Vitamin A:
151.28
IU
|
Vitamin C:
1.05
mg
|
Calcium:
102.03
mg
|
Iron:
5.87
mg