Caramel Apple Pie Sticky Buns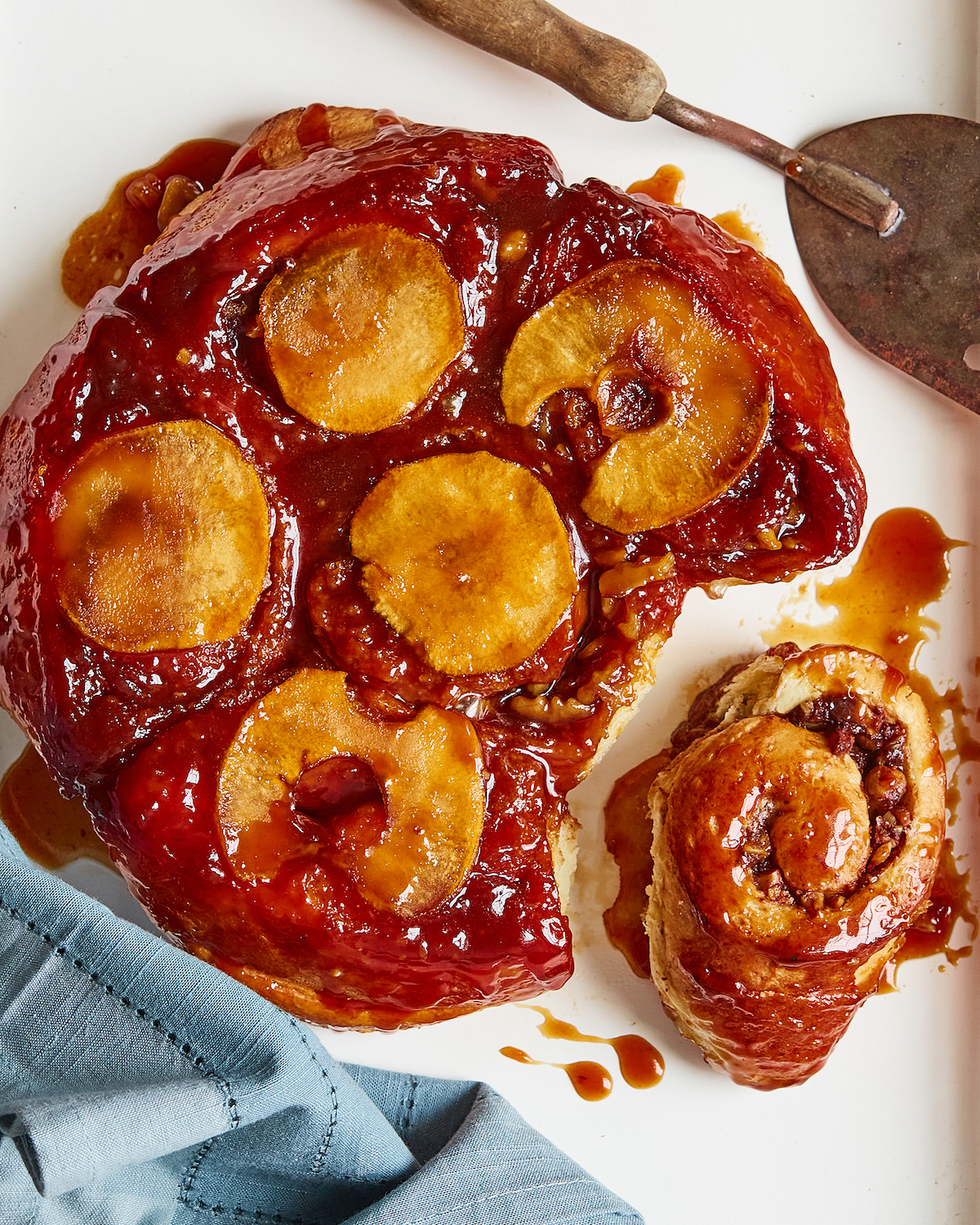 Today I am showing you what would happen if Apple Pie and Cinnamon Buns had a beautifully delicious child! These Caramel Apple Pie Sticky Buns are packed with all the iconic flavors of apple pie all wrapped up in a soft rich sticky bun dough and topped with thick caramel and tender sliced apples. I love that when I bake with Platinum Yeast from @RedStarYeast I know it will come out perfect every time thanks to its natural dough improvers!
Caramel Apple Pie Sticky Buns
Ingredients
For the Dough:
½ cup milk
¼ cup granulated sugar
1 (¼ ounce) packet Platinum Yeast From Red Star
4 tablespoons butter, cubed and softened
1 egg, room temperature
¼ teaspoon kosher salt
2 cups all purpose flour
For the Filling
½ cup apple butter
2 tablespoons dark brown sugar
¼ teaspoon cinnamon
⅛ teaspoon ground cloves
⅛ teaspoon ground allspice
Pinch of freshly grated nutmeg
Pinch of salt
½ cup finely chopped walnuts
For the Caramel Apple
¾ cup granulated sugar
4 tablespoons salted butter, cold, cut into cubes
1 Pink Lady apple, peeled, cored and cut into ¼" slices
Additional:
1 beaten egg, for egg wash
Instructions
In a microwave safe bowl, heat the milk in 30 second intervals in the microwave to between 90- 105°F. Once heated, pour into the bowl of a stand mixer, followed by the sugar and yeast. Whisk to combine and let sit for 5-10 minutes, or until the yeast has become foamy and bubbly.
Fit the stand mixer with the dough hook attachment and turn on low. Slowly add the softened butter and mix until the butter begins to lightly break up. Then, add the egg and mix until lightly combined. Add the salt and continue mixing on low speed. Then slowly add the flour, again mixing on low, until the dough begins to come together. Increase the speed to medium to create a fully formed dough ball, then turn the mixer to medium high and mix until the dough is smooth and elastic, about 5 minutes.
Turn the dough out onto a clean work surface and knead slightly, forming the dough into a smooth ball. Then, add the dough to a greased bowl and cover with plastic wrap or a towel and keep in a warm place for 1 hour, or until the dough has doubled in size.
While the dough is rising, make the filling. In a small mixing bowl, combine apple butter, cinnamon, cloves, allspice, nutmeg and salt. Set aside.
Once the dough has doubled in size, remove it from the greased bowl onto a lightly floured work surface. Roll the dough out into a 10×12 rectangle and add the reserved filling. Using an offset spatula, or the back of a spoon, spread the filling out to the edges of the rectangle, leaving a ½ inch of dough filling free. Then sprinkle the chopped walnuts over the filling and roll the long end of the dough into a tight spiral. Cut the dough into 6 equal pieces and cover with a towel. Grease a 9-inch pie pan and set aside.
Next, make the caramel filling. In a 10 inch nonstick skillet on medium high heat, add the sugar. Cook, undisturbed, for 4 minutes, or until the sugar begins to melt. Then reduce the heat to medium and whisk the unmelted sugar to incorporate it and continue cooking until a dark amber color is achieved, 1-2 minutes. Remove the caramel from the heat and quickly whisk in the cubed butter. Once the butter is combined, pour it directly into the greased pie pan. Add the apples in a single layer, either fanning them out in a circle, or in rows. Then gently top the apples and caramel filling with the 6 buns. Cover tightly with aluminum foil and allow to rise for an additional 30 minutes.
Preheat the oven to 375°F. Brush the tops of the buns with an egg wash and bake for 25 minutes, or until golden brown. If the buns begin to brown too quickly, cover with aluminum foil and continue to bake. Remove from the oven and allow to cool for 15-30 minutes. Then carefully invert the pie pan onto a large serving platter. Serve immediately and enjoy!
© 2022 Eitan Bernath Productions, LLC.
This is a sponsored post written by me on behalf of Red Star®. The opinions and text are all my own. Thank you for supporting my sponsors that allow me to create new and special content like this for EitanBernath.com!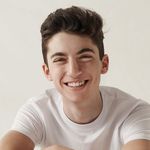 Eitan Bernath
Eitan Bernath is a chef, food & lifestyle content creator, entertainer, TV personality, and entrepreneur, best known for his viral videos on social media that showcase his cooking expertise and captivating personality.