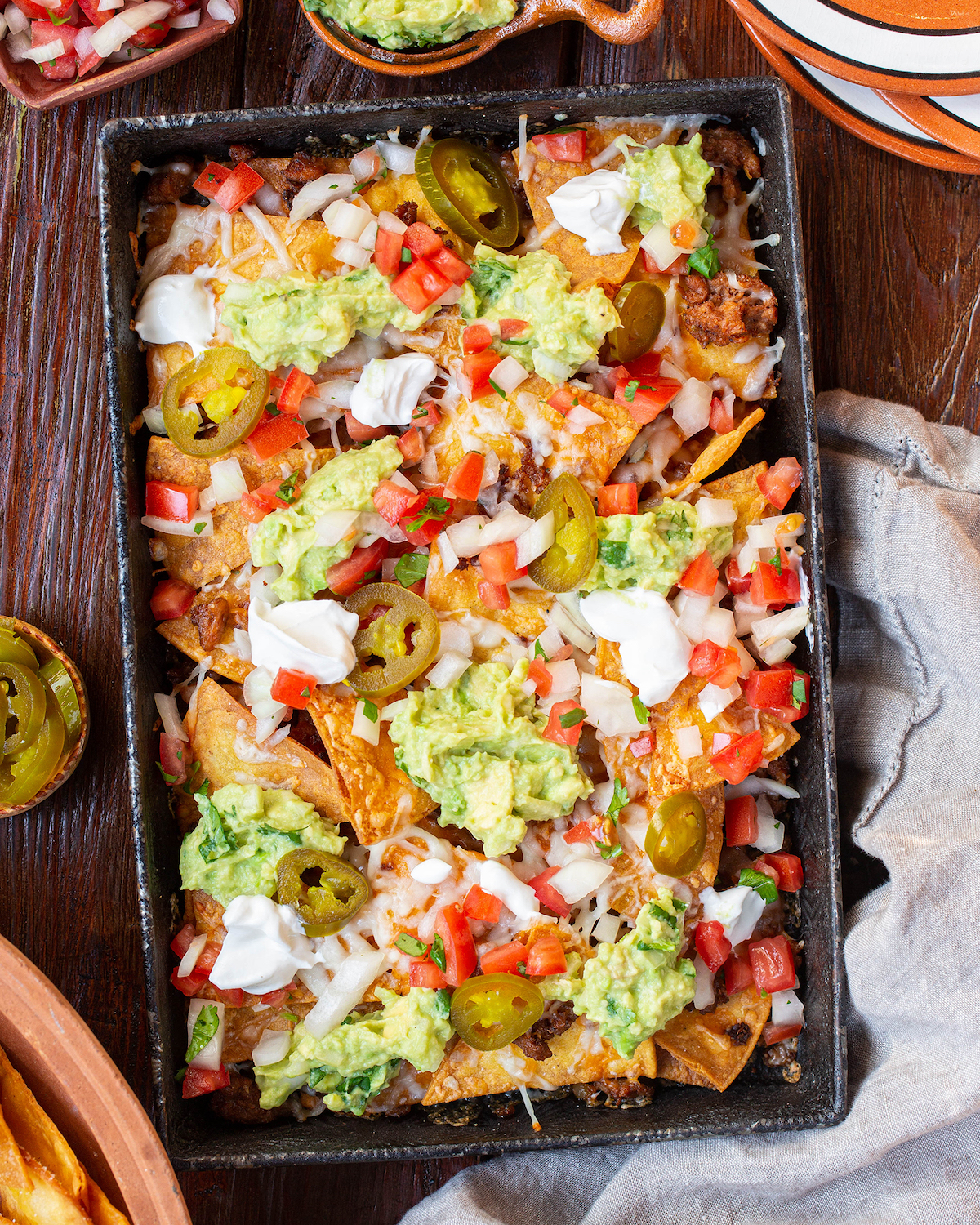 #ImpossiblePartner In this week's episode of Extreme Kitchens, I am partnering with Impossible Foods and cooking some Impossible Chorizo Nachos in the middle of my high school! These nachos are topped with tons of cheese, guacamole, salsa, sour cream, and a spicy chorizo crumble made out of the #ImpossibleBurger. You all know how much I love #ImpossibleFoods, so I am incredibly excited to bring you this recipe! Click the link to find Impossible Foods close to you: http://bit.ly/3azy4fY
Ingredients
For the Impossible Chorizo:

1 tablespoon vegetable oil
1/2 onion, chopped
2 garlic cloves
1 - 12 oz Impossible Burger Package
1 chipotle in adobo, seeds removed and chopped
1 tablespoon adobo sauce
½ cup water
1/2 tablespoon chili powder
1 teaspoon cumin
1 teaspoon paprika
½ teaspoon oregano
½ teaspoon kosher salt
¼ teaspoon freshly ground pepper
For the Guacamole:

4 ripe avocados
1 lime, juice
½ lemon, juice
1 small onion, minced
1 clove garlic, minced
1 teaspoon jalapeno, chopped
1 tablespoon cilantro, chopped
½ teaspoon kosher salt
¼ teaspoon freshly ground pepper
For the Remaining ingredients:

1 bag tortilla chips
1 cups shredded cheddar cheese
1 cups shredded Monterey Jack cheese
½ cup sour cream
¼ cup sliced pickled jalapenos
1 cup pico de gallo
2 tablespoons cilantro, chopped
Instructions
For the Impossible Chorizo:

In a large frying pan, heat the oil on a medium flame. Cook the onion and garlic, occasionally stirring, for 3-4 minutes until translucent. Add in the Impossible Burger and cook for 4-5 minutes until nicely browned, stirring and scraping the bottle of the pan often. Once cooked, add in the chipotle in adobo, adobo sauce, water, chili powder, cumin, paprika, oregano, salt, and pepper. Stir to thoroughly combine, then cook for 5 minutes until most of the liquid is cooked out. Lower the heat while assembling the nachos.
For the Guacamole:

In a large bowl, mash the avocados. Add in the lime juice, lemon juice, onion, garlic, jalapeno, and cilantro. Season with salt and pepper, to taste. Cover tightly with plastic wrap until serving.
Assembly:

Preheat the oven on the broil setting. Place the chips on a large baking sheet and top with half the cheese followed by the Impossible Chorizo then the other half of the cheese. Put the baking sheet in the oven on the middle rack and broil for 3-4 minutes, until the cheese is melted. Top with spoonfuls of guacamole, sour cream, pickled jalapenos, pico de gallo, and cilantro. Serve immediately.
https://www.eitanbernath.com/2020/01/27/impossible-chorizo-nachos/