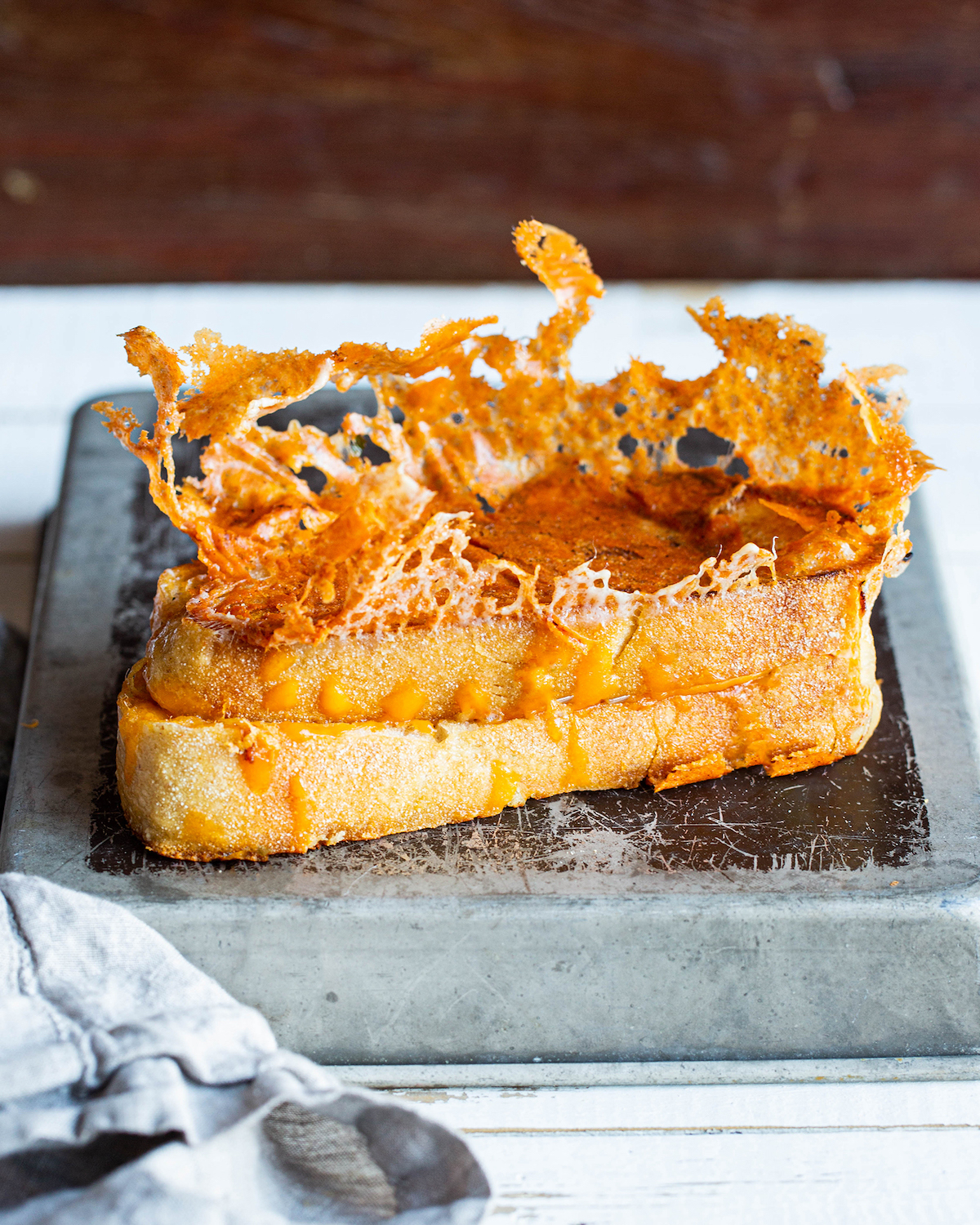 Boujee Grilled Cheese With A Cheese Crown
Ingredients
1 tablespoon vegetable oil
1 large white onion, sliced
2 teaspoons truffle oil (optional)
4 slices thick-cut sourdough bread
4 tablespoons butter, softened
1 ½ cups cheddar cheese, grated
½ teaspoon kosher salt
Instructions
In a small frying pan, heat the vegetable oil on a medium flame. Add in the sliced onion and saute for 10-12 minutes until it begins to caramelize. Pour the truffle oil and salt into the pan, stir, and cook for an additional 1-2 minutes.
Spread both sides of each slice of bread with the softened butter. Take two of the slices and top with ½ cup of the grated cheddar cheese, followed by half of the sautéed onions, then finally another slice of bread.
Heat a large non-stick frying pan on medium heat. Transfer one of the sandwiches into the pan and cook for 3-4 minutes per side, until golden brown. Remove the grilled cheese from the pan and set aside.
Sprinkle ¼ cup of the grated cheese into the empty frying pan, still on medium heat. Once melted, place the cooked grilled cheese in the middle of the pan and cook for about a minute until the cheese begins to turn golden brown. Carefully slide a spatula under the sandwich and slowly lift until the strings of cheese pull from the pan and hang down. Hold for about 30 seconds until the cheese hardens. Flip the grilled cheese upside down and place it on a serving plate. Serve immediately.
© 2023 Eitan Bernath Productions, LLC.