Arguably one of the most classic Italian foods of all time, Basil Pesto, is the perfect mix of nutty, savory, and fresh. In its purest form, pesto consists of crushed garlic, European pine nuts, coarse salt, fresh basil leaves, and a hard cheese such as parmesan, all blended with olive oil. Traditionally the ingredients are crushed in a marble mortar through a circular motion of a wooden pestle to a paste. Nowadays, a blender or food processor will do the job.
Recently I bought fresh Cavatelli pasta, and it's perfect for picking up the little bits of pesto sauce. If you can't get your hands on Cavatelli, then you can use any other pasta you'd like. It can be served both hot, right out of the boiling water, or chilled in the fridge. Although serving pesto with pasta is the most traditional way it's eaten, it is also delicious as a sauce for pizza, poured on top of salmon, or with some focaccia bread dipped into it. I like to top mine off with a little sprinkle of red pepper flakes for an added note of heat!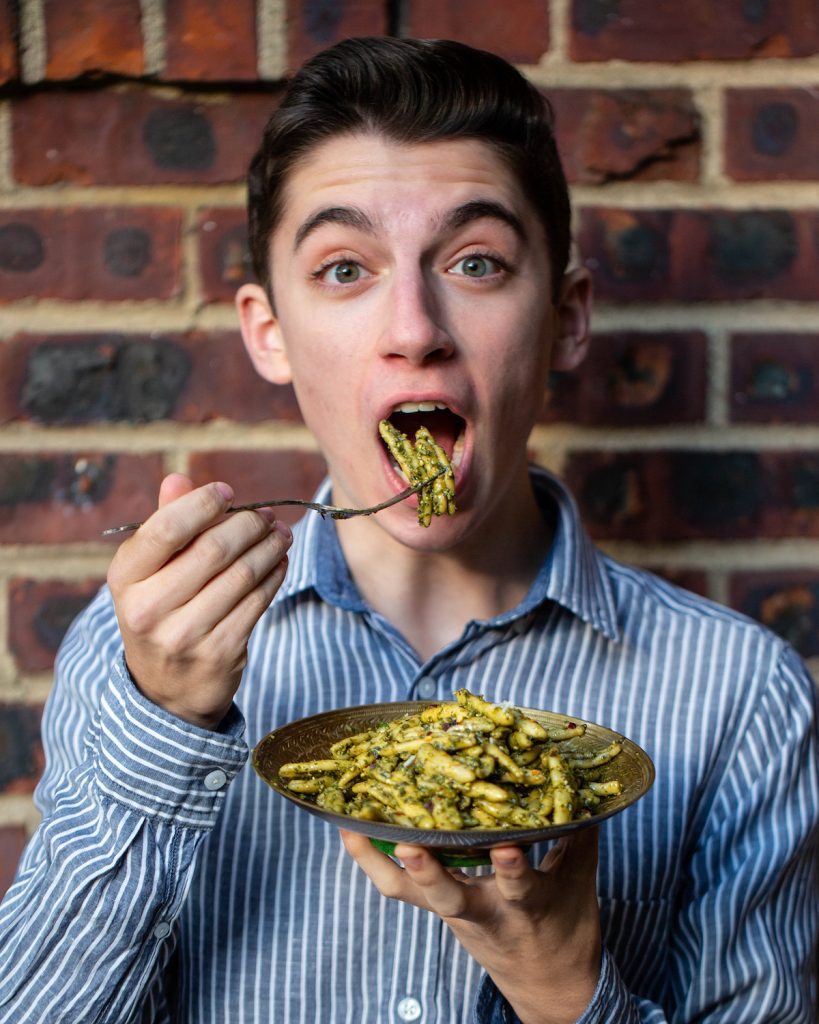 Basil Pesto Cavatelli
Ingredients
2

cups

fresh Cavatelli pasta

2

cups

packed fresh basil leaves

2

cloves

garlic

1/4

cup

pine nuts

¼

cup

freshly grated parmesan cheese

1/2

cup

extra-virgin olive oil

divided

Kosher salt

to taste

Freshly ground black pepper

to taste

Red pepper flakes

to taste
Instructions
Bring a large pot of salted water to a boil. Add in the Cavatelli pasta and cook to al dente as instructed on the packages.

Meanwhile, pulse the basil, garlic, pine nuts, and parmesan cheese in a food processor until coarsely chopped. Add in the olive oil and process until fully incorporated and smooth. Taste then season with salt, pepper, and red pepper flakes.

Once cooked, drain the pasta then place it in a large bowl. Pour the pesto over the cooked pasta and stir to fully combine. Serve immediately hot or chilled in the fridge.
Nutrition
Calories:
532.5
kcal
|
Carbohydrates:
41.63
g
|
Protein:
11.83
g
|
Fat:
36.06
g
|
Saturated Fat:
5.82
g
|
Cholesterol:
6.32
mg
|
Sodium:
258.28
mg
|
Fiber:
2.3
g
|
Sugar:
1.83
g
|
Vitamin A:
51.09
IU
|
Vitamin C:
2.7
mg
|
Calcium:
148.19
mg
|
Iron:
1.82
mg