I'm making this beautiful Fully Loaded Summer Hummus recipe on my brand new show "Eitan's Outdoor Summer Cookout" premiering today on my YouTube channel! In today's episode I showed you the secret to the creamiest hummus EVER, topped it with some fresh produce, and served it up with crispy za'atar pita chips. The not-so-secret secret to creamy hummus is removing the skin from the outside of the chickpeas. The extra five minutes to remove the skin is totally worth the effort! It results in a really creamy hummus that is so delicious.
Stay tuned for new episodes of "Eitan's Outdoor Summer Cookout" featuring new guests every Monday this summer! It's a whole new show with a new kitchen, format, and style! I know you guys are going to love it! Happy Summer!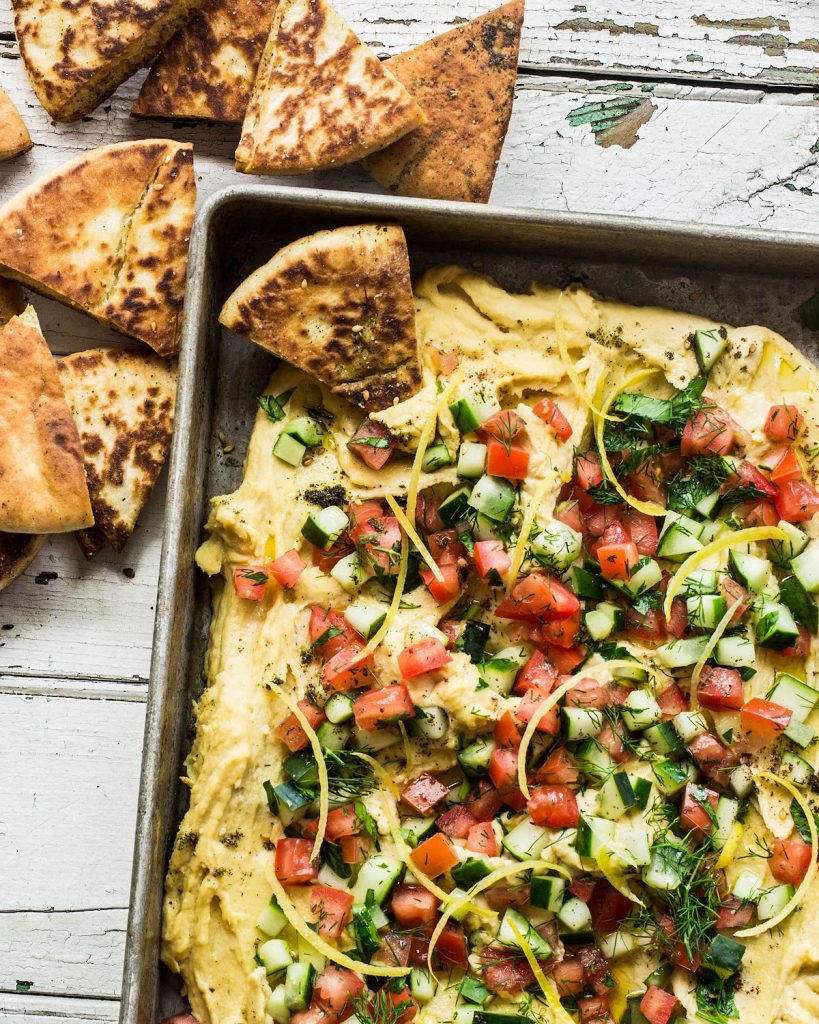 Fully Loaded Summer Hummus
Ingredients
For the Homemade Hummus
4 – 15.5 oz cans of chickpeas
3 garlic cloves
1 cup olive oil
½ cup tahini
1 lemon, juiced
½ teaspoon cumin powder
Salt and pepper, to taste
For The Toppings
1 lemon
3 plum tomatoes, chopped
1 large cucumber, chopped
Salt and pepper, to taste
¼ cup olive oil
½ cup dill, chopped
½ cup parsley, chopped
1 teaspoon za'atar
1 teaspoon sumac
For the Za'atar Pita Chips
4 pita breads
2 tablespoons olive oil
2 teaspoons za'atar
1 teaspoon kosher salt
½ teaspoon freshly ground pepper
Instructions
For the Homemade Hummus:
Pour the chickpeas into a large bowl and using your fingers carefully remove the clear skin front outside of each of the chickpeas. This will result in a much smoother hummus.
Place the chickpeas, garlic, olive oil, tahini, lemon juice, cumin, salt, and pepper in the bowl of a food processor and blend until smooth. Add a little water to thin out the hummus if too thick.
For the Toppings & Assembly:
Using a chef's knife, carefully cut off the zest of the lemon into long strips. In a small bowl, combine the tomatoes, cucumber, juice of the lemon, a drizzle of olive oil, salt, and pepper. Cut the strips of zest into super thin slices.
Spread out the hummus on your serving platter. Drizzle olive oil over the top. Top with the chopped vegetables, followed by a sprinkle of za'atar and sumac. Finally, top with a few of the slices of lemon zest and serve with pita chips.
For the Za'atar Pita Chips:
Preheat the oven to 375 degrees Fahrenheit. Cut each pita into 8 triangles. Place them in a single layer on a sheet pan and drizzle lightly with olive oil, za'atar, salt, and pepper. Bake for about 10 minutes, until crisp.
© 2023 Eitan Bernath Productions, LLC.