Homemade Pumpkin Spice Latte

Homemade Pumpkin Spice Latte
Ingredients
2 cups milk
¼ cup pumpkin puree
2 tablespoons brown sugar
1 tablespoon vanilla extract
1/2 teaspoon pumpkin pie spice, plus more for serving
1/2 cup strong hot coffee
Whipped cream, for serving
Instructions
Add milk, pumpkin puree, sugar, vanilla, pumpkin pie spice, and the coffee to a saucepan over medium heat. Heat until hot, but do not boil. Divide the mixture between two mugs. Top with whipped cream and a sprinkle of pumpkin pie spice.
© 2021 Eitan Bernath Productions, LLC.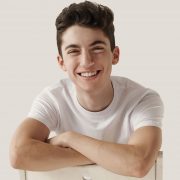 Eitan Bernath
Eitan Bernath is a 19 year-old chef, food & lifestyle content creator, entertainer, TV personality, and entrepreneur, best known for his viral videos on social media that showcase his cooking expertise and captivating personality.