Today I am bringing you the freshest, most refreshing, light, and summeriest (yes, I invented that word just for this recipe) dish that is perfect for this summer. These beautiful Thai Chicken Summer Rolls are what I am talking about! They are really easy and quick to make. So make sure to put the ingredients on your food list because you'll want to make these for dinner this week!
To make these Summer Rolls, you start by soaking a sheet of rice paper in some warm water, then you place the piece of Boston lettuce in the center, then you top it with strips of cooked chicken, cold sushi rice, sliced cucumbers, grated carrot, and minced scallions with pieces of ripped mint, basil, and cilantro. Finally, you roll it up into a bundle of deliciousness. If I haven't convinced you yet that these are amazing, then just look at how happy I am holding them in the picture below!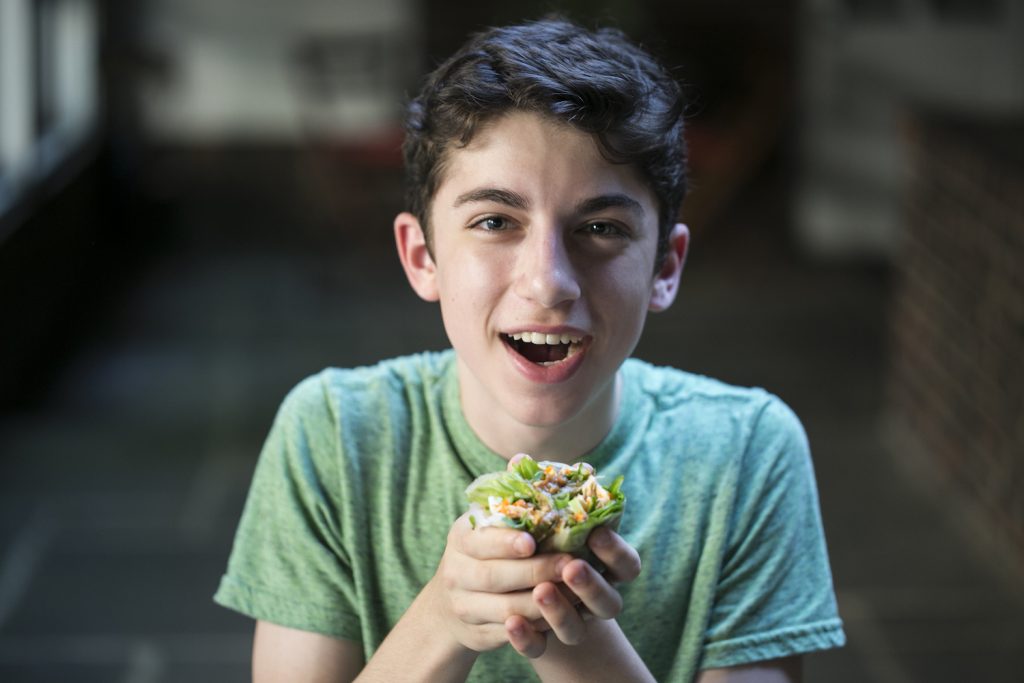 I don't know if you can relate with me on this one but aren't peanut sauces just the best ever?! I already love peanuts and peanut butter but when you mix in some coconut milk, soy sauce, and a dash of a sriracha, it just becomes something magical on a whole other level. If you have never tried a savory peanut sauce before then you have got to make this recipe. Trust me, you'll be thanking me later.
By the way, if you are in the mood for more peanut butter recipes might I suggest my Peanut Butter Chocolate Chip Cookie Cakes, Chicken Satay with Peanut Sauce, Over-The-Top Peanut Butter Chocolate Milkshake, or my Peanut Butter Football Cookies. I basically am obsessed with peanut butter. I think you get the point.
You can check out the recipe for these Thai Chicken Summer Rolls below. As always, if you make this recipe or any of my others I would love if you sent me a picture and gave me your feedback! It makes me so happy to see how my recipe comes out in your kitchens! Enjoy!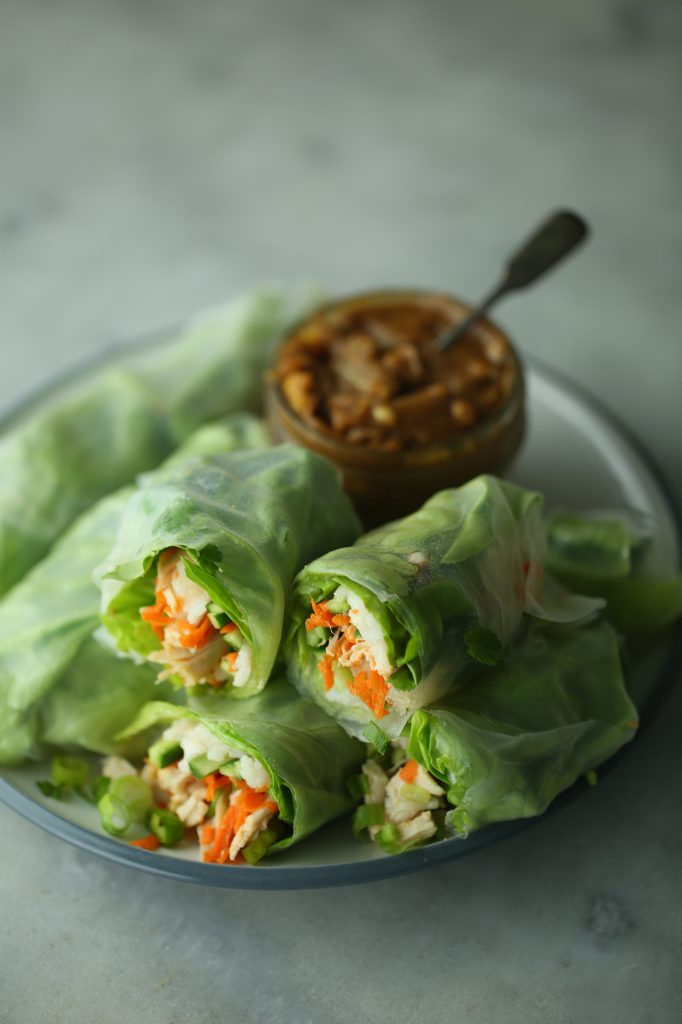 Thai Chicken Summer Rolls
Ingredients
1/4

cup

rice vinegar

1

tablespoon

sugar

2

cups

shredded

cooked chicken (from a rotisserie or leftover chicken)

1

medium-large carrot

shredded (about 1 cup)

6

rice paper wrappers

1

kirby cucumber

julienned

4

scallions

finely chopped

1/2

cup

fresh mint leaves

cilantro, or basil

6

Boston lettuce leaves

1/2

cup

cooked white rice

1/2

cup

chunky peanut butter

2

tablespoons

soy sauce

1/4

cup

coconut milk

1

teaspoon

sriracha
Instructions
In a medium bowl mix together the rice wine vinegar with the sugar until the sugar dissolves. Add in the chicken, carrot, and salt, to taste.

Fill a large bowl with warm water. Place a sheet of the rice pepper in the water until it is a little softened, about 20 seconds. Remove and spread out on a clean cutting board then pat dry with a towel to remove excess water.

Lay a piece of lettuce in the center of the rice paper. Place 1/4 cup of chicken and carrot mixture on the lettuce, top with a tablespoon of rice and 4 to 5 pieces cucumber, scallions, some mint, cilantro, or basil leaves.

Roll up the paper halfway into a cylinder. Fold both edges in, to tuck while continuing to roll the paper to seal. Place the rolls on a plate covered with a damp towel so they stay moist as you make the other rolls.

In a separate bowl, mix together the peanut butter, soy sauce, coconut milk, and sriracha. Serve the rolls on a plate with a small bowl of the peanut sauce and enjoy!
Nutrition
Calories:
472.65
kcal
|
Carbohydrates:
38.36
g
|
Protein:
27.67
g
|
Fat:
24.59
g
|
Saturated Fat:
7.35
g
|
Trans Fat:
0.02
g
|
Cholesterol:
52.5
mg
|
Sodium:
580.17
mg
|
Fiber:
4.36
g
|
Sugar:
9.74
g
|
Vitamin A:
282.01
IU
|
Vitamin C:
9.34
mg
|
Calcium:
88.21
mg
|
Iron:
4.47
mg