For as long as I can remember, I have not been into salads. I would always go for the carbs instead of the salad any day of the week. But recently, I had been trying to eat healthier and I have started eating salads. While a slice of pizza with fries is way tastier, I just overall feel better after eating a bowl of salad. After adding in salads into my diet I have just felt more energetic and its overall helped my productivity. As a proud workaholic, I will do almost anything to increase my productivity, so salad it is! I have even come now to really enjoy eating salads so that's a plus! Additionally, you may her been on my Instagram Story that I have been drinking protein filled smoothies every morning. Now, don't think I am tearing into a crazy healthy eater, this boy still loves his pizza, french fries, and ice cream all day every day!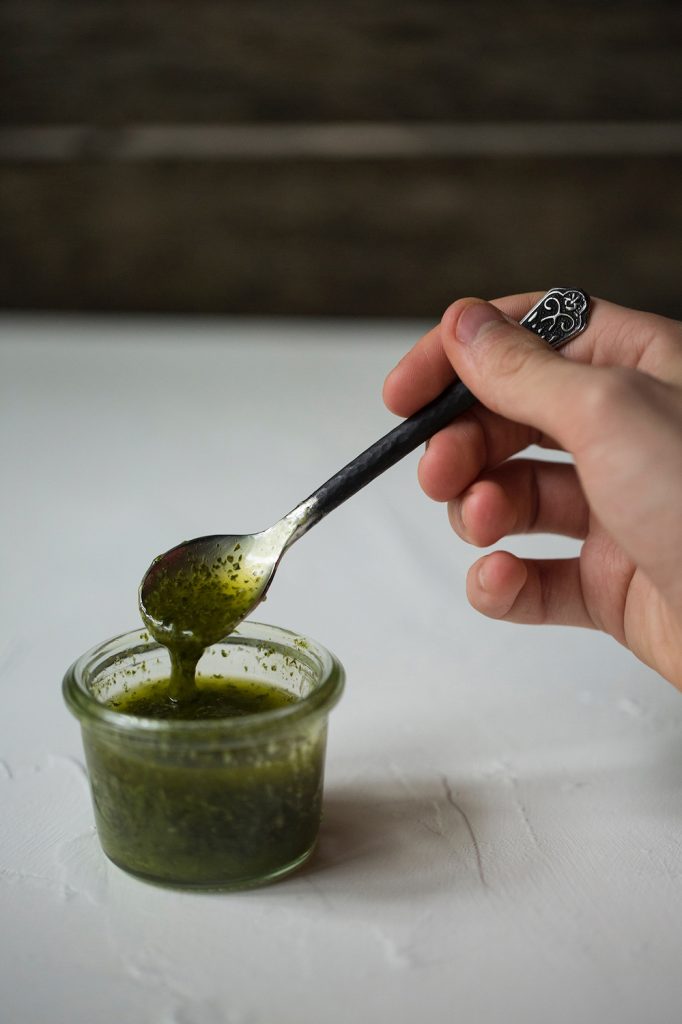 Today it's hitting 94 degrees and school is officially over in just four days so summer is upon us. You know it's summer when you start bringing out your grills. Everyone loves a good salad at a barbecue with family and friends. So why not stick it on a grill?! Yeah, that's right, we are gonna grill this salad. I threw some Romain halves onto the grill with a drizzle of olive oil and a pinch of salt and pepper. I then topped it off with all my favorite including chunks of avocado, diced onion, grape tomatoes, grilled corn and more. I finished it with a generous drizzle of a beautiful Cilantro Lime dressing because you can never have too much cilantro and lime! Ami-right?!  You can customize this salad however you'd like with all your favorite toppings. When you serve it, everyone cuts off chunk they want and digs in! It's a whole new way to enjoy a salad that will seriously wow your guests.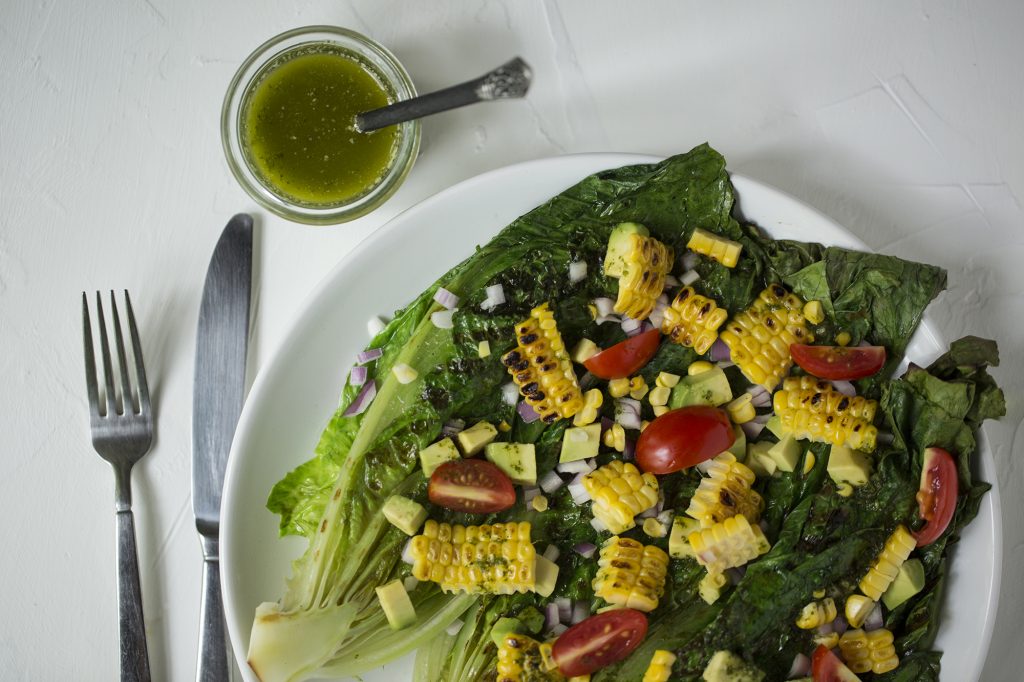 Grilled Romaine Salad with Cilantro Lime Dressing
WHAT YOU'LL NEED
1

garlic clove

peeled

1

tablespoon

honey

1/4

cup

fresh squeezed lime juice

1

cup

cilantro

1/4

cup

vegetable oil

plus more for drizzling

Salt and Pepper

2

heads of romaine lettuce

cut in half vertically

2

ears of corn

½

avocado

chopped

¼

cup

grape tomatoes

halved

¼

cup

red onion

chopped
Instructions
In a food processor, blend the garlic, honey, lime juice, cilantro, oil and salt and pepper to taste. Heat up a grill or large grill pan on a medium flame. Drizzle some oil on the halves of romaine lettuce and sprinkle with salt and pepper. Place the lettuce, flat side down, onto the grill and grill for 1-2 minutes then flip and continue grilling for 1-2 minutes. Remove the lettuce and grill the corn until it is nicely charred all around, then cut of the corn kernels from the cob. Place the grilled lettuce onto a serving platter and top with the avocado, grape tomatoes, red onion, grilled corn, and the cilantro lime dressing.
Nutrition
Calories:
309.64
kcal
Carbohydrates:
35.37
g
Protein:
6.96
g
Fat:
19.22
g
Saturated Fat:
1.67
g
Trans Fat:
0.11
g
Sodium:
1074.53
mg
Fiber:
10.86
g
Sugar:
11.58
g
Vitamin A:
1392.69
IU
Vitamin C:
27.65
mg
Calcium:
125.44
mg
Iron:
3.91
mg
Tried this recipe?
Tag %eitan% on Instagram!