I love this time of year when the weather is just right, the sun shining but still a cool breeze. It is the perfect time to eat some feel good food, outside with family and friends. That is why this recipe is perfect for this time of year. The versatility of the salmon allows this dish to be eaten hot or cold. You can serve it fresh off the pan or cold from a cooler at a picnic. Also, that the mix of the spicy salmon with the freshness from the salsa is what makes this recipe a delight to eat.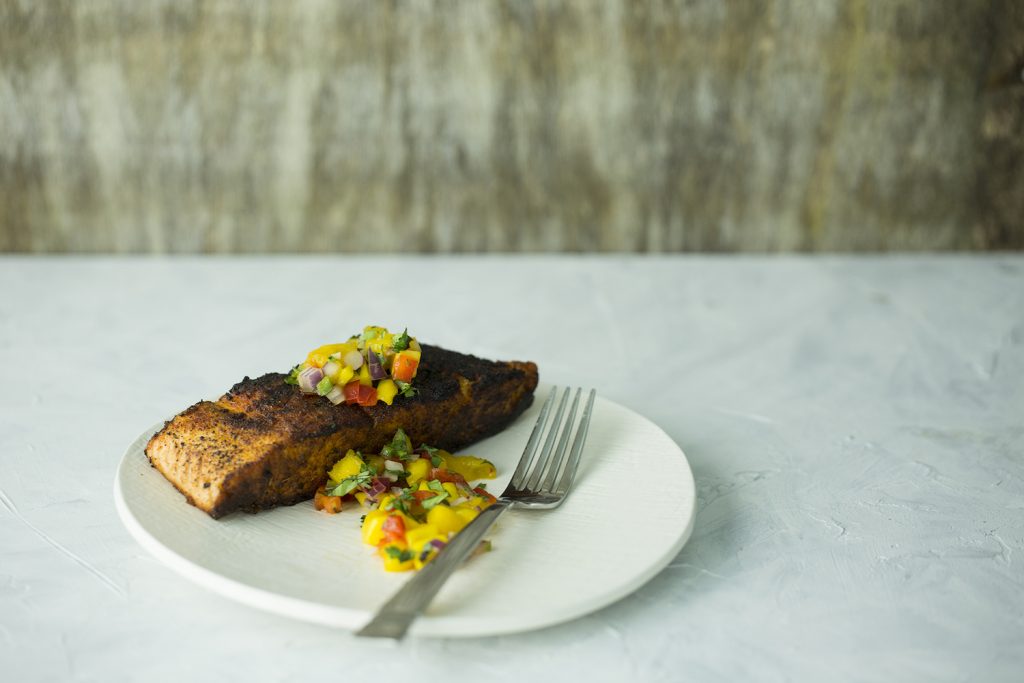 Blackening is one of my favorite ways to cook fish. I really love the flavor and texture it adds to the fish. Additionally, salmon has been my favorite fish to eat, ever since I was young. You may feel hesitant to put a salsa with a fruit on fish but trust me, its magic! The mango salsa takes this fish to a whole other level. The mango really adds a nice sweetness a creaminess to the salsa which pairs well with the salmon. There are only three weeks left of school and I can't wait for summer to get in full swing!
Blackened Salmon with Mango Salsa
Ingredients
1

tablespoon

ground cumin

1

tablespoon

chili powder

1

teaspoon

smoked paprika

1

teaspoon

onion powder

1

teaspoon

kosher salt

½

teaspoon

freshly ground pepper

½

teaspoon

oregano

2

lb

salmon cut into 2 inch portions

2

tablespoon

vegetable oil

1

cup

mango

chopped

¼

cup

radish

diced

½

red bell pepper

chopped

¼

cup

red onion

chopped

2

teaspoons

cilantro

chopped

1

teaspoon

jalapeno

diced

3

teaspoons

lime juice
Instructions
In a small bowl, combine the cumin, chili powder, smoked paprika, onion powder, kosher salt, freshly ground pepper, and oregano. Coat the salmon with the spice mixture on all sides. Sear the salmon for 5 minutes per side in a large skillet with the vegetable oil. In a medium sized bowl combine the mango, radish, red pepper, red onion, cilantro jalapeno, lime juice, salt, and pepper. Spoon the Mango Salsa over the cooked salmon and enjoy!
Nutrition
Calories:
585.45
kcal
|
Carbohydrates:
11.38
g
|
Protein:
47.71
g
|
Fat:
38.38
g
|
Saturated Fat:
7.52
g
|
Trans Fat:
0.05
g
|
Cholesterol:
124.74
mg
|
Sodium:
669.35
mg
|
Fiber:
2.58
g
|
Sugar:
7.19
g
|
Vitamin A:
91.51
IU
|
Vitamin C:
46.7
mg
|
Calcium:
58.89
mg
|
Iron:
2.53
mg