I know making your own bread might sound scary but trust me this is the easiest bread you will ever make. This crusty, fluffy, professional looking bread only uses four ingredients. Ya, thats right only FOUR! Just flour, salt, yeast, and water. There is no baking skills needed at all. You don't even need to knead the dough. It's that simple.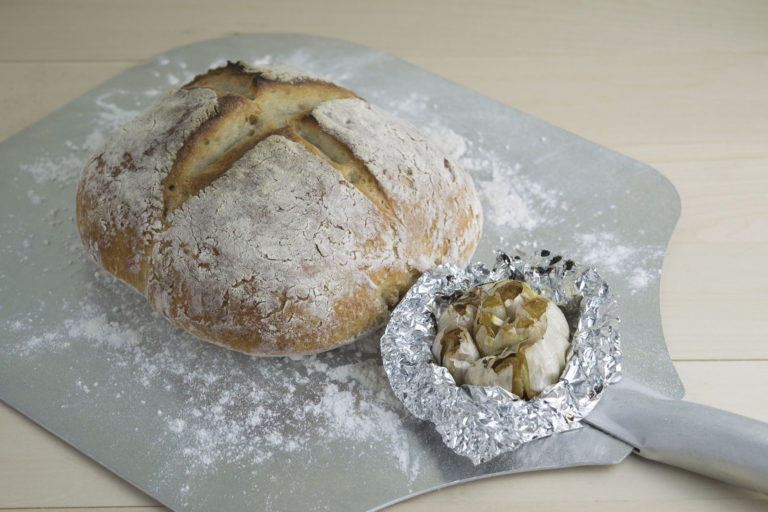 Along with the bread I love to slather on some roasted garlic on top of my slice of bread. The creamy, buttery texture of the garlic on the soft bread makes it addictive. The little bit of fresh rosemary on the garlic before roasting gives the garlic an even better flavor.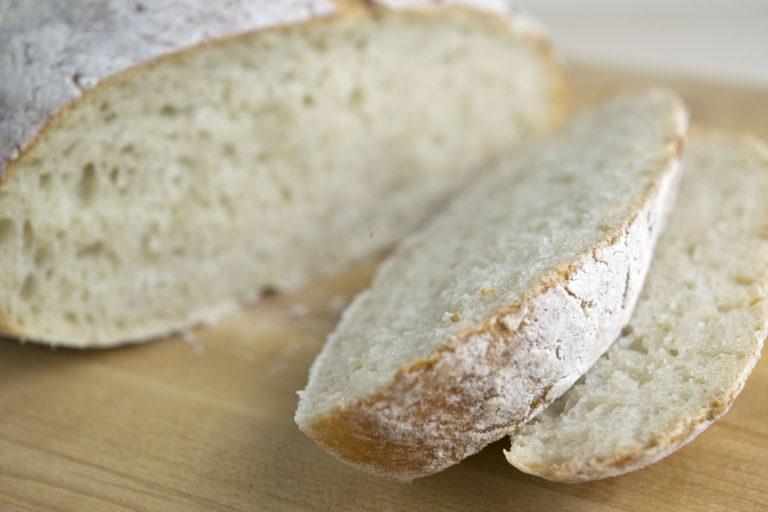 Homemade Artisan Bread with Rosemary Roasted Garlic
Ingredients
3

cups

flour

2

tsps

salt

½

tsp

Platinum Yeast from Red Star

1 ½

cups

water

1

bulb of garlic

2

tsps

olive oil

1

tsp

chopped rosemary
Instructions
In a medium bowl stir together the flour, salt, and Platinum Yeast from Red Star. Then add the water and mix until just combined. Do not over stir. Then cover the dough with plastic wrap and place in a warm stop in your kitchen for 10-24 hours.

Close to when you want to bake the dough, preheat the oven to 450 degrees and put in your pizza stone to preheat. Also, place a dish with 1 inch of water in the bottom of oven to make a steam bath. This will mimic a steam oven which helps makes the crust crunchier.

Meanwhile, pop your dough out onto a well floured surface. It will be sticky, but with floured hands you can easily form it into a round dough ball.

Once you have a nice cohesive round ball, cut an "x" on top of the ball of dough using a sharp serrated knife.

Next cut off the top of your bulb of garlic and place the bottom in the center of a piece of aluminum foil. Sprinkle on the chopped rosemary then pour on the oil. Finally close the foil by bunching all the excess foil on top of the garlic.

Once your oven has come to temperature place your dough on the pizza stone and your garlic in the oven.

Bake the bread for 30-45 minutes, until the outside is browned and the garlic for 30-45 minutes, or until caramelized.
Nutrition
Calories:
381.62
kcal
|
Carbohydrates:
75.92
g
|
Protein:
10.69
g
|
Fat:
3.28
g
|
Saturated Fat:
0.48
g
|
Sodium:
460.56
mg
|
Fiber:
2.95
g
|
Sugar:
0.38
g
|
Vitamin A:
0.26
IU
|
Vitamin C:
3.94
mg
|
Calcium:
40.36
mg
|
Iron:
1.35
mg

This blog post contains branded content brought to you by Red Star Yeast. All words and opinions are my own.