Food with Friends: California Burrito

Today I teach Noah Schultz, Head of Operations at Eitan Productions and my good friend, how to make a California Burrito! Filled with luscious carne asada (inspired from J. Kenji Lopez-Alt's recipe), spicy pico and salsa verde, and (get this) FRENCH FRIES! You'll never look back once you've had this burrito.
Ingredients
For the Carne Asada
3 Guajillo chilies, stems and seeds removed
3 Ancho chilies, stems and seeds removed
¾ cup pineapple juice
¼ cup lime juice (juice from 2-3 limes)
8 garlic cloves, peeled
3 tablespoons soy sauce
1 small bunch cilantro, tough ends removed
1 tablespoon cumin seeds, toasted and ground
1 tablespoon coriander seeds, toasted and ground
6 tablespoons vegetable oil, divided
2 pounds skirt, hanger or flank steak
Kosher salt, to taste
For the Pico de Gallo
1 cup chopped tomatoes
¼ cup chopped white onion
¼ serrano pepper, chopped
¼ cup chopped cilantro
1 lime, juiced
Kosher salt, to taste
For the Salsa Verde
¾ pound tomatillos (about 4 medium tomatillos), husks and stems removed
½ serrano pepper, top removed and roughly chopped
¼ cup chopped white onion
1 small bunch cilantro, tough stems removed
Kosher salt, to taste
For the French Fries
2 Russet potatoes, scrubbed, peeled and cut into ¼ inch matchsticks
Kosher salt, to taste
Vegetable oil, for frying
For the Guacamole
1 avocado, pitted
1 lime, juiced
3 tablespoons chopped cilantro
Kosher salt, to taste
For Assembly
Cheddar cheese (I used plant based), for serving
Sour cream (I used plant based), for serving
Instructions
For the Carne Asada
In a small skillet over low heat, add chilies. Toast chilies until they become fragrant and lightly soft, 1-2 minutes.
Transfer chilies to a high powered blender and add pineapple and lime juice, garlic, soy sauce, cilantro, cumin and coriander seeds. Blend on high for 1 minute, or until a smooth puree forms.
Add marinade and steak to a large resealable bag and seal. Squish the marinade around the steak, ensuring it's fully covered. Refrigerate for at least 4 hours and up to 12.
Once steak has marinated, remove from plastic bag and remove any excess marinade with your hands or a paper towel. Season both sides with salt.
Add 2 tablespoons of oil to large skillet over medium high heat and add 2-3 pieces of steak (depending on the size of your pan) and cook for 3-4 minutes on each side, or until lightly charred. Remove from skillet onto a cutting board, and allow to rest for 5 minutes. Add an additional 2 tablespoons of oil and repeat the process with remaining steak.
Once the steak has fully rested, cut against the grain into ½ inch strips, then cut the strips into ½ inch cubes. Set steak aside until ready to assemble.
For the Pico de Gallo
Add all ingredients to a small bowl and mix to combine. Taste and adjust with salt and lime as needed. Set aside.
For the Salsa Verde
To a small sauce pot over medium high heat, add tomatillos and enough water to just cover them. Bring to a boil and then reduce to a simmer and cook for 10 minutes, or until tomatillos have softened and turned an army green color.
Using a slotted spoon, transfer cooked tomatillos to a high powered blender, reserving cooking liquid. Add peppers, onion, cilantro and ¼ cup of reserved liquid to blender and blend on high for 30 seconds. Taste and season with salt and blend for 5 more seconds. If additional water is needed to thin out salsa, add 2 tablespoons at a time and blend for 5 seconds, until desired thickness is achieved.
Transfer to a resealable container and refrigerate until ready to serve.
For the French Fries
Line 2 baking sheets with paper towels and set aside.
In a large, deep skillet on medium high heat, add 1 ½ inches of vegetable oil. Heat to 350°F and fry potatoes in small batches until they begin to brown around the edges, 3-4 minutes. Once fried, transfer to one of the prepared baking sheets. Repeat with remaining potatoes, being sure to check the oil temperature in between frying batches.
Once all of the potatoes have been fried, place in the refrigerator to cool for at least 30 minutes.
Once all the potatoes are fried, bring the oil up to 400°F. Fry the par-cooked potatoes for an additional 1-2 minutes, or until crispy and golden brown all around. Transfer to the other paper towel-lined baking sheet and repeat with the remaining fries. Keep warm until ready to serve.
For the Guacamole
Remove avocado from its outer skin and place in a small mixing bowl. Add lime juice and a sprinkle of kosher salt and mash with a fork until a chunky, but spreadable consistency is achieved. Add cilantro and fold into avocado mixture.
For Assembly
Add 2 slices of cheese to the middle of the tortilla and microwave in 30 second intervals until the cheese is melted. Then add 10-12 French fries on top of the cheese, gently pressing down to adhere the fries to the cheese. Top with a generous amount of chopped carne asada, followed by sour cream, guacamole and both salsas.
Gently fold the side closest to you over the ingredients and quickly tuck in the sides. Tightly roll the burrito away from you, closing it. Serve immediately with additional salsa, if desired.
© 2022 Eitan Bernath Productions, LLC.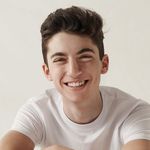 Eitan Bernath
Eitan Bernath is a chef, food & lifestyle content creator, entertainer, TV personality, and entrepreneur, best known for his viral videos on social media that showcase his cooking expertise and captivating personality.