If I were to describe these fries in one phrase, I'd say they are, "Boujee on a Budget"! While they may sound all fancy and like something you'd find on an overpriced steakhouse menu, in reality, they are totally accessible and easy for anyone to make at home. I'd bet you probably have most of the ingredients in your kitchen already and just need to run to the store to get some truffle oil. And if you already keep truffle oil in your pantry, then you're even boujee-er than me, in which case, I'm impressed!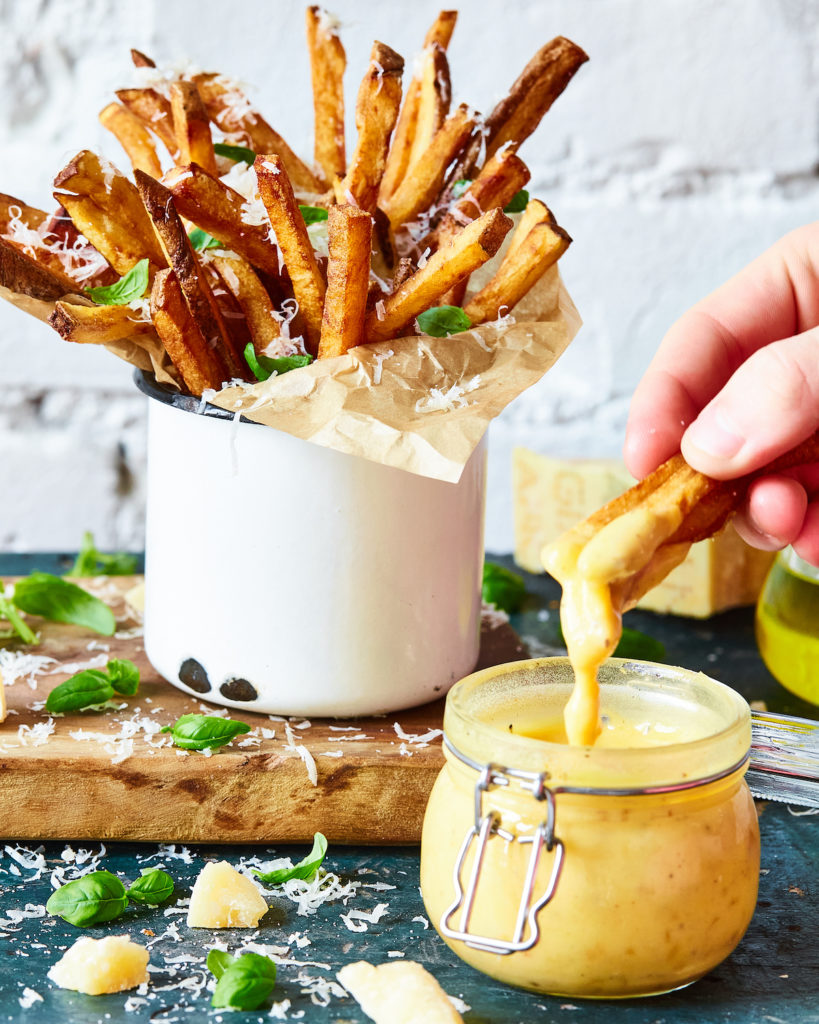 If you don't have much experience with truffle oil, here's some quick background. Truffles are the fruit of a rare subterranean fungus that can go for up to $2,500 a pound due to their unique taste and complicated cultivation process. Truffle oil is a fraction of the cost of fresh truffles, but has the same beloved flavor. It is the essential ingredient to get that high end taste you deserve, but on a budget. These fries are the upscale version of the best form of potato: deep fried. Now, go make them, but be warned….these fries are so good that everyone at the table will be fighting for the last one!
Parmesan Truffle Fries with Quick Garlic Aioli
Ingredients
For the Roasted Garlic Aioli:
6

large garlic cloves

chopped

¼

cup

neutral oil

Kosher salt

to taste

2

egg yolks

2

teaspoons

lemon juice

1/2

teaspoon

Worcestershire

Hot sauce

to taste

Freshly ground pepper

to taste
For The Parmesan Truffle Fries:
Vegetable oil

for frying

4

Russet potatoes

scrubbed and cut into ¼ inch matchsticks

1/4

cup

freshly grated Parmesan

2

tablespoons

basil

thinly sliced

1

teaspoon

black truffle oil

Kosher salt

to taste

Freshly ground pepper

to taste
Instructions
For the Roasted Garlic Aioli:
In a small sauce pan on medium low heat, add oil and garlic. Cook the garlic for about 3 minutes, or until lightly golden brown.

While the garlic is cooking, set a small fine mesh sieve over a heatproof glass measuring cup with a spout and set aside.

Once the garlic is cooked, carefully pour garlic and oil into sieve lined measuring cup. Transfer garlic to a medium mixing bowl and put oil in the fridge to cool to room temperature, at least 10 minutes.

Set a kitchen towel over top of a small sauce pot. Place the medium mixing bowl over the towel lined pot, this will keep your mixing bowl stable while making the aioli. Next, add egg yolks, lemon juice, Worcestershire sauce, hot sauce and pepper and whisk to combine. Slowly whisk in the reserved cooled oil, starting with a few drops, and increasing to a slow stream. Whisk continuously until the mixture has emulsified into a mayonnaise consistency. If the mixture is too thick, add a few tablespoons of warm water and whisk to thin it out. Transfer the mayo to a resealable container and refrigerate until ready to use.
For the Parmesan Truffle Fries:
Line 2 baking sheets with paper towels and set aside.

In a large, deep skillet on medium high heat, add 1 ½ inches of vegetable oil. Heat to 350°F and fry potatoes in small batches until they begin to brown around the edges, 3-4 minutes. Once fried, transfer to one of the prepared baking sheets. Repeat with remaining potatoes, being sure to check the oil temperature in between frying batches.

Once all the potatoes are fried, bring the oil up to 400°F. Fry the par-cooked potatoes for an additional 1-2 minutes, or until crispy and golden brown all around. Transfer to the other paper towel-lined baking sheet and repeat with the remaining fries.

Place the fries in a large mixing bowl. Add grated parmesan, basil and truffle oil. Toss to fully combine, then taste and season with salt and pepper. Transfer to serving dish and serve immediately with garlic aioli.
Nutrition
Calories:
767.91
kcal
|
Carbohydrates:
48.74
g
|
Protein:
10.34
g
|
Fat:
60.98
g
|
Saturated Fat:
6.07
g
|
Trans Fat:
0.38
g
|
Cholesterol:
79.38
mg
|
Sodium:
770.38
mg
|
Fiber:
3.81
g
|
Sugar:
1.86
g
|
Vitamin A:
48.89
IU
|
Vitamin C:
17.62
mg
|
Calcium:
175.44
mg
|
Iron:
2.75
mg