Deep Frying Every Chocolate Bar At The Store
Deep-Fried Chocolate Bars
Ingredients
2-3 inches vegetable oil, in a large pot
1 cup flour
¼ cup cornstarch
Pinch of baking powder
½ cup seltzer
½ cup milk
Pinch of salt
8-10 assorted chocolate bars
Instructions
In a large bowl, mix together flour, salt and soda water. The batter should be thin and lumpy. Set aside for 15 minutes.
Place vegetable oil in a pot and fill it two thirds full. Preheat over low heat to 350F. Dip each chocolate bar in batter and then, using tongs, gently guide into the oil. Let cook for 1 minute and then remove and drain on a plate covered in paper towel. Repeat with each chocolate bar.
© 2022 Eitan Bernath Productions, LLC.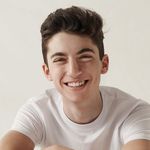 Eitan Bernath
Eitan Bernath is a chef, food & lifestyle content creator, entertainer, TV personality, and entrepreneur, best known for his viral videos on social media that showcase his cooking expertise and captivating personality.