Korean restaurants are famous for their open-flame grills that are built in the center of the table, where patrons grill thinly cut proteins (from chicken, to rib steak to fish to vegetables) to their liking. One famous cut is the thinly cut short rib or flanken. We love to marinate the thinly sliced ribs for an extra boost of flavor.
Ingredients
8-12 Miami Ribs or Korean Short ribs
¼ cup teriyaki sauce
¼ cup gochujang
¼ cup apple sauce
2 tablespoon rice vinegar
2 tablespoons honey (optional)
1 tablespoon toasted sesame oil
1 tablespoon freshly grated ginger
1 bunch scallions, for serving
1 tablespoon vegetable oil
2 tablespoons toasted sesame seeds, for garnish
Reserved marinade, for serving
Instructions
Combine the teriyaki sauce, gochujang, apple sauce, rice vinegar, honey, sesame oil and ginger together. (You can literally do this in the ziplock bag you plan to marinate the meat in.)
Add the short ribs and marinate 30 minutes-24 hours.
Heat grill to high heat.
Grill 3-4 minutes per side.
As ribs are grilling, toss scallions with some oil and grill alongside ribs.
Serve immediately.
Dust with toasted sesame seeds, if you'd like the extra crunch and nuttiness.
You can also serve the ribs with Boston lettuce leaves and eat like a wrap. Remove bone before doing so.
© 2021 Eitan Bernath Productions, LLC.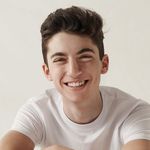 Eitan Bernath
Eitan Bernath is a chef, food & lifestyle content creator, entertainer, TV personality, and entrepreneur, best known for his viral videos on social media that showcase his cooking expertise and captivating personality.