While it may sound impossible to make ramen with a rich mushroom miso broth in under 30 minutes, it's not! Using the power of the Chefman Electric Pressure Cooker, you are able to go from raw chicken, mushrooms, miso, and some more delicious ingredients to a flavor packed broth in less than half an hour. What gives this ramen it's great flavor are the five different types of mushrooms and the fermented red miso paste. It's topped off with all the classics like a soft boiled egg, scallions, carrots, and thinly sliced red chiles that make it just as beautiful as it is delicious!
Real deal ramen in 30 minutes?!? YES.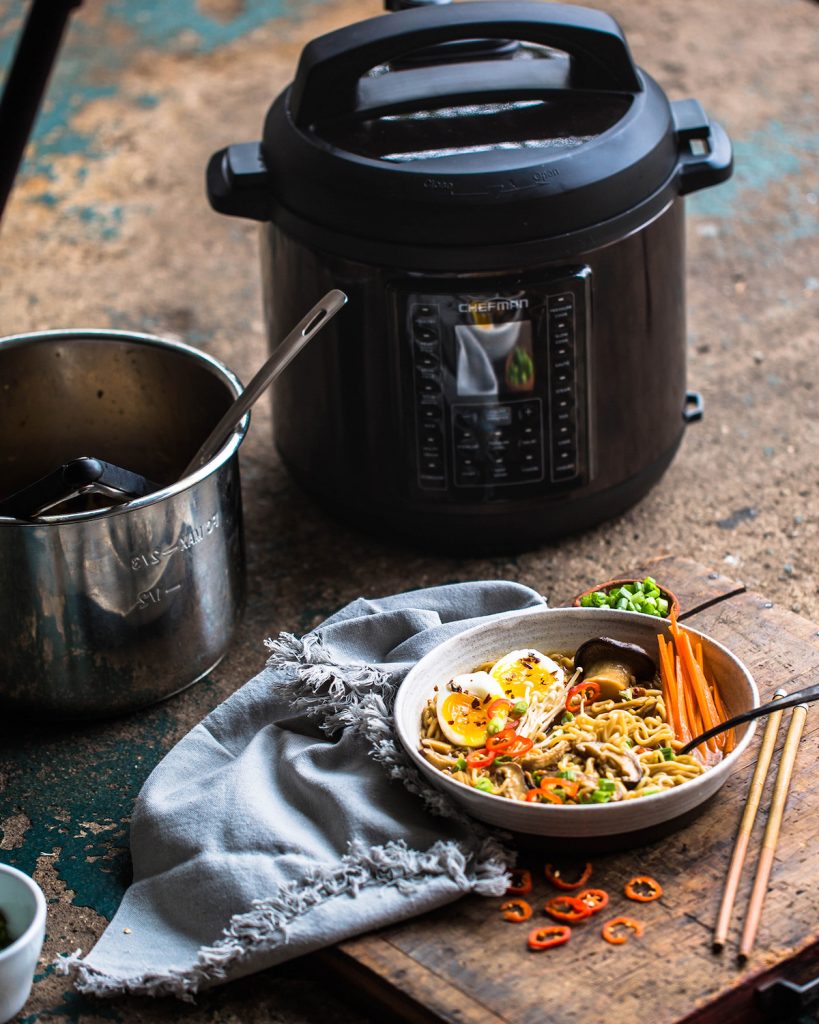 30 Minute Wild Mushroom Miso Ramen
Ingredients
For the Soup:
1 packet beef bacon, chopped
1 inch fresh ginger, grated
2 garlic cloves, grated
1 lb chicken breast, skin on
1/2 ounce dried porcini mushrooms
8 ounces fresh shiitake mushrooms, sliced
4 ounces oyster mushrooms
2 ounces king oyster mushrooms
2 ounces enoki mushrooms
4 cups low sodium chicken broth
2 tablespoons soy sauce
1/4 cup rice vinegar
2 tablespoons red miso paste
1 tablespoon sriracha
1 tablespoon sesame oil
3 squares ramen noodles
For the Garnish:
3 soft boiled eggs, cut in half for serving
1/2 cup carrots, shredded
1/4 cup green onions, sliced
1 red chilli, sliced thinly
½ cup cilantro, chopped
Instructions
Prepare all the ingredients according to the details listed in ingredients list. Set the Chefman Electric Pressure Cooker to saute mode. Add in the beef bacon and fry until crisp, about 5 minutes. Stir in the ginger and garlic; saute for 2 more minutes. Add in the chicken, skin side down, and sear for 5 minutes. Add in the porcini mushrooms, shiitake mushrooms, oyster mushrooms, and king oyster mushrooms, chicken broth, soy sauce, rice vinegar, red miso paste, sriracha, and sesame oil.
Place the lid onto the base of the pressure cooker. Set to high pressure mode, select 25 minutes, and click start to begin the cooking process.
Once done cooking, carefully switch the pressure valve to release and allow all the steam to be released and the pot to come to pressure. Take off the lid and remove the chicken. Add in the ramen noodles and allow to cook in broth. Shred the chicken with two forks until it falls apart then add it back to the soup.
Serve it up in a large bowl topped with a soft boiled egg, shredded carrot, green onion, red chili, and cilantro. Eat with chopsticks and a large spoon.
© 2023 Eitan Bernath Productions, LLC.
This is a sponsored post written by me on behalf of Chefman. The opinions and text are all my own. Thank you for supporting my sponsors that allow me to create new and special content like this for EitanBernath.com!