Happy Taco Tuesday! To be totally honest with you, I don't need it to be Tuesday to eat tacos. I like tacos any day of the year and any time of the day. But it being Tuesday is another great excuse, so imma going with it! Aside from giving you a rocking taco recipe, I wanted to give you my views on the philosophy of a taco. I consider tacos one of my favorite foods so I've got a lot to say! I hope you enjoy reading it!
In order to make a great taco, you need to have a good foundation. I typically prefer a corn taco over flour tortillas. I prefer the corn's flavor and texture over the flour, but it is a great option as well. After you choose your tortilla, you have got to toast it. My favorite toasting technique is to hold the tortilla right over the fire on my range. It gives it a nice charred flavor that I really love. Another thing you can do is toast it in a pan with some fat. If you want to get some extra flavor into the tacos, you can toast it in the pan with the fat from your filling. It may make them the tacos a little more messy to eat but tacos are already messy so it's totally ok.
The next part of a great taco is the protein. You can fill a taco with almost any protein like fish, chicken, beans, beef and more. This taco has got an awesome Tequila Lime Marinated Skirt Steak. I really love the subtle flavor of the Tequila Lime marinade on the skirt steak. For all of you wondering, all the alcohol is cooked out when you grill the beef so don't worry! The drink in the picture is a refreshing Non-Alcoholic Watermelon Mojito. The recipe for the think is on the blog.
The final step to a great taco is the toppings. When I make tacos, I like to have a chunky and a smooth salsa. On this taco, the chunky salsa is a refreshing Corn Salsa and the smooth salsa is the Avocado Tomatillo Salsa, a creamy play on traditional Salsa Verde. To top it all off you can hit it with some cilantro or scallions and you got yourself a rocking taco. Now all you gotta do is make much more and share with your friends and family because tacos were not meant to be eaten alone!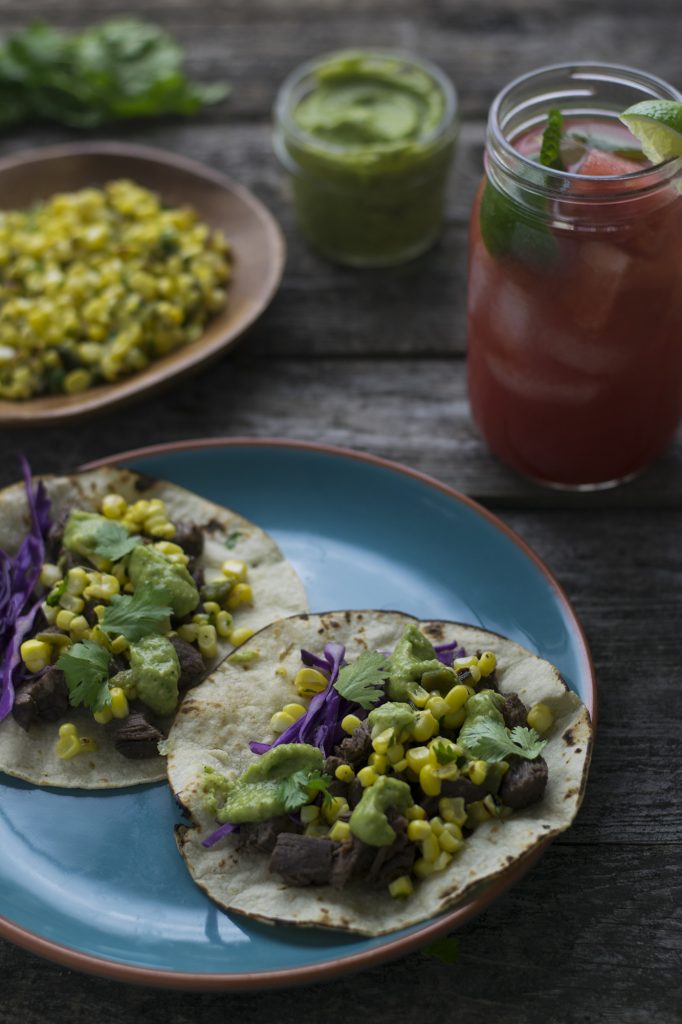 Tequila Lime Skirt Steak Tacos
Ingredients
For the Tequila Lime Skirt Steak:
2

lbs

skirt steak

2

limes

zested

4

limes

juiced

½

cup

tequila blanco

2

garlic cloves

chopped

1

teaspoon

cumin powder

1

teaspoon

cayenne powder

Salt and Pepper
For the Corn Salsa:
1

cup

grilled corn

½

lime

juice and zest

1

tablespoon

cilantro

chopped

2

tablespoons

poblano

roasted and chopped

Salt and pepper
For the Avocado Tomatillo Salsa:
4

tomatillos

2

cloves

garlic

1

onion

½

avocado

¼

cup

cilantro

¼

cup

pablo

toasted and chopped

½

lime juice

Salt and pepper
Assembly:
Corn Tortillas

Cilantro

Sliced Red Cabbage

Lime Wedges
Instructions
For the Skirt Steak:
In a medium sized bowl, combine the lime juice, lime zest, tequila, garlic powder, cumin powder, cayenne powder, salt and pepper. Once combined, add in the skirt steak, cover, and place in the fridge for at 2 hours. Remove the steak from the fridge and let it get to room temperature. Cook the steak on either a grill, grill pan, or frying pan to your desired doneness. Once you take the skirt steak off the heat, let the meat rest for a 4-5 minutes. Slice the meat into small cubes.
For the Corn Salsa:
In a small bowl combine the corn, lime juice, lime zest, cilantro, poblano, salt, and pepper.
For the Avocado Tomatillo Salsa:
Grill the tomatillos, garlic, and onion until they are lightly charred on all the sides.

In the bowl of a food processor place the tomatillos, garlic, onion, cilantro, poblano, salt, and pepper and blend until smooth. Refrigerate until ready for use.
Assembly:
Toast your corn tortillas then place the Tequila Lime Skirt Steak in the center. Top with the Corn Salsa, Avocado Tomatillo Salsa, chopped cilantro, sliced red cabbage, and a squeeze of lime juice.